Farage: "If Govt. Don't Deliver Brexit, I'll Be Back In Politics"
12 December 2016, 18:57 | Updated: 12 December 2016, 19:09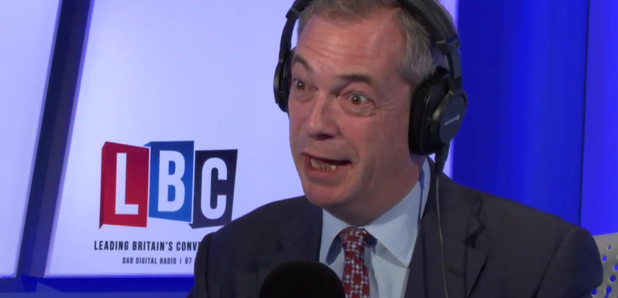 As the government suggest the UK needs a "transitional deal", the former Ukip leader gives a clear warning to the government over its obligations.
"Oh dear, oh dear, oh dear. More backsliding."
That was Nigel Farage's withering assessment of the Chancellor's statement today about the government's latest views on Brexit.
"Basically they fundamentally oppose the will of the British people and they will do all they can to delay, to make arguments… and I don't like the feel of it one bit."
"My suspicion is while we'll leave the EU in the sense of leaving the Treaty of Rome, I think they're going to fudge and give us a Norwegian style deal."
This would mean that the UK would still have to obey EU laws and pay its contributions in exchange for access to the single market. Mr Farage warns that if this is the best the government can do, then "they'll be in for an even bigger shock in the 2020 general election".
And that won't be the only shock. The former leader of Ukip and sometime advisor to president-elect Donald Trump warned that if the government doesn't deliver on Brexit, then he'll be back to battle on in UK politics.
"If they don't deliver, then I'll don khaki, as it were, and get back in the frontline."
Iain Dale also brought up a fancy dress party that Mr Farage and Donald Trump are rumoured to have gone to, and asked the burning question; did he go as Lord Nelson as people are suggesting? Mr Farage was unusually tight lipped.
"It might have been a naval theme going back a couple of hundred years, but that's all I'm going to say."
We're left to use our imaginations then…