Iain Dale: Farage's March On Courts "Fundamentally Un-British"
7 November 2016, 16:48 | Updated: 7 November 2016, 17:02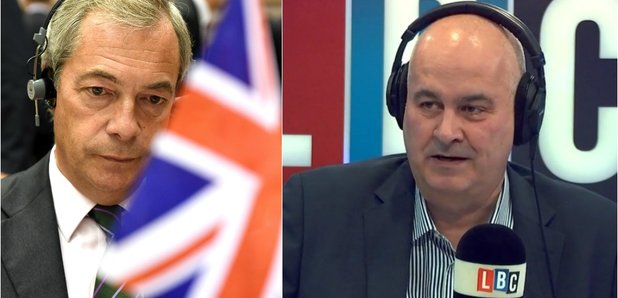 Iain Dale calls for some calm in the heated debate about the Brexit court ruling, even as he describes Nigel Farage's march on the Supreme Court as "fundamentally un-British".
Farage is planning to lead a march of 100,000 Brexit voters to the Supreme Court, as it decides on the legal challenge to the referendum process.
The former Ukip leader has faced a lot of criticism over the plan, including from LBC's own James O'Brien.
But even though Iain thinks marching on the court is wrong and "fundamentally un-British", he insists that comparing Farage and other annoyed Leave voters to Hitler and fascists is over the top.
"I voted Leave," said Iain. "The remains my position.
"Some of the reaction to what's gone on, on both sides, has been just so extreme. We're told that we're headed towards a fascist state if anybody dares to even criticise the judiciary.
"Suzanne Evans...said that maybe there should be some sort of political vetting of judges. I don't agree with that, but the response to that was: that's what Hitler had in 1931.
"What an over the top reaction!"