Iain Duncan Smith Slaps Down Ex-Trade Chief Over "Packet Of Crisps" Brexit Jibe
27 February 2018, 18:29 | Updated: 27 February 2018, 18:48
The government's former top trade official described life outside the EU's single market as like swapping a three-course meal for a packet of crisps and this was Iain Duncan Smith's epic response.
Sir Martin Donnelley said Britain faced a direct threat to its status as a leading service economy if it did not pursue with close alignment to the bloc's single market rules.
But, Mr Duncan Smith, a leading Brexit campaigner, rubbished such claims with a food analogy of his own.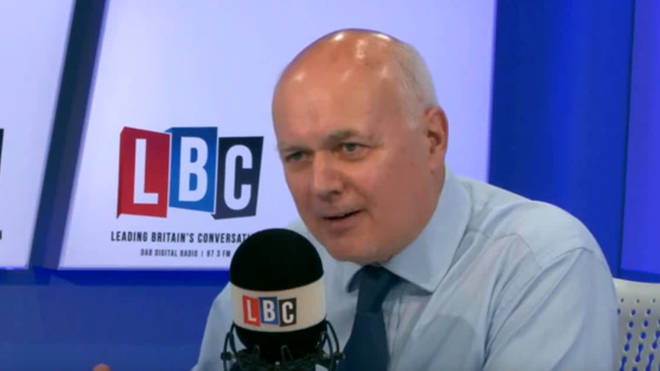 - Liam Fox: Current Brexit plans 'more complicated than a packet of crisps'
Speaking to Iain Dale, the former Tory leader said: "I don't know what kind of a diet this bloke has frankly.
"Maybe he should feast on two grab bags and get his calculations correct."
He continued: "The reality is he's wrong. He is wrong, I believe, because every forecast that has been put together by a government body has now been wrong.
"They forecast we'd fall away, half a million jobs would be lost, as soon as we voted for Brexit they forecast businesses would go down, we'd have a recession.
"Instead of which we've grown, exports are now at their highest levels and it looks like the economy will be growing even faster than the forecasters said."
Mr Duncan Smith finished: "If you want to tell me this man who was part of all that process is now telling us that all is doom and gloom rather like Fraser from Dad's Army… well the answer is ignore this.
"Everyone of those predictions that he and his ilk have made has been wrong."