Jacob Rees-Mogg: Eurosceptic MPs Say I've Been Too Soft With PM Over Brexit
5 July 2018, 17:35 | Updated: 5 July 2018, 17:49
Jacob Rees-Mogg says that even some of his closest allies have accused him of being too soft with Theresa May over her handling of Brexit.
The Conservative backbencher is the chairman of the European Research Group (ERG) - a powerful group of Tory Eurosceptic MPs
They met with the Chief Whip on Wednesday to warn the party would be "toast" if the government fails to deliver on their Brexit promises.
It's as the Prime Minister prepares for a crunch meeting with her top team on Friday to nail down the Cabinet's position on leaving the EU.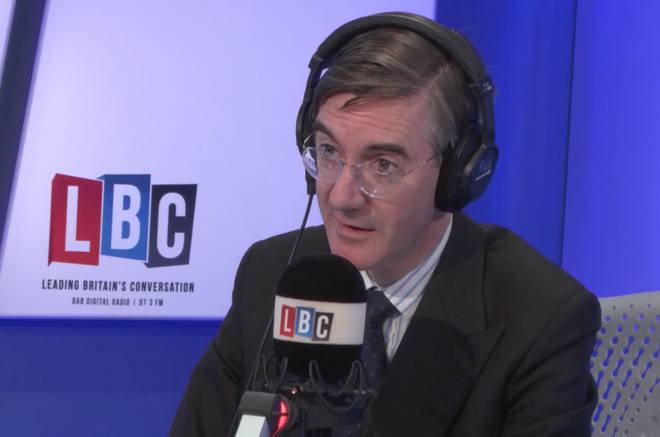 There are fears among eurosceptic MPs that Mrs May is preparing to soften her Brexit red lines.
Mr Rees-Mogg warned a "Brexit in name only" would leave Britain as a "vassal state" and be a "very bad result".
An LBC listener asked why the MP for North East Somerset hadn't intervened earlier and was accused of being "too trusting" of the Prime Minister.
He responded by telling Iain Dale: "People have accused me of that, even within the ERG they think I'm some lily-livered eurosceptic and should have been tougher.
"The key in my view was ensuring the legal basis for leaving was in place and we now have that.
"Last week the Withdrawal Act received royal assent and any of these proposals that are going to be brought forward tomorrow need to be passed into law through the Houses of Parliament.
"If they don't get passed into law, and the timetable is going to be very tight, then we leave on the 29th March come what may.
"And that was my priority until a week ago and we've got that."