Ledbury Estate Resident Didn't Know About Evacuation Until He "Read It In The News"
11 August 2017, 17:22 | Updated: 22 August 2017, 09:55
A Ledbury Estate resident has told LBC he wasn't aware his south London tower block was being evacuated until he saw it on the news.
Safety fears led to the gas supply at Ledbury Towers in Southwark being immediately cut off on Thursday.
It followed an investigation which found a gas explosion could lead the building to collapse.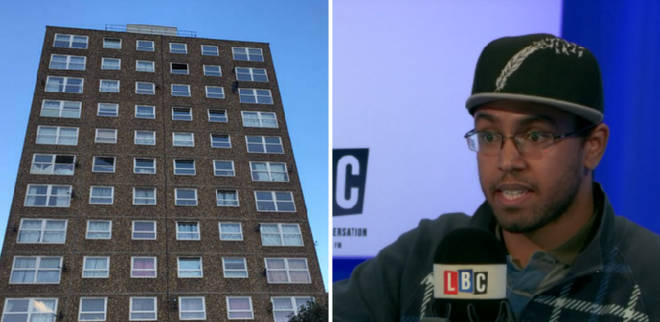 Southwark Council has instructed 242 flats in the Peterchurch, Bromyard, Skenfirth and Sarnsfield blocks to leave.
It says the move is "inconvenient" but was "not willing to take any risks" following the Grenfell tragedy in June.
Asher Baker is one of those affected, however speaking to Iain Dale, he said he didn't know what was going on until he read the Guardian website.
He said: "I got home and there was nothing from anyone else, it was reported on the news before I got the letter from the council the following morning explaining the situation."
In announcing the evacuation, the local authority said in 1968 a similarly constructed block in Newham collapsed after a gas explosion - killing three.
Read more: Four Peckham Tower Blocks To Be Evacuated Over Fears They Might Collapse
Ledbury residents claim their concerns about the blocks have been "ignored for decades".
Describing the condition of the flats, Asher said: "There are cracks where the walls join, where the ceiling joins the walls.
"It's so bad you can hear conversations going on upstairs, going on downstairs.
"I can hear people's alarm clocks going off all hours of the night."