Liam Fox Says Critics Of UK's Bid For US Brexit Deal Are "Anti-Trade"
1 October 2018, 20:07 | Updated: 1 October 2018, 20:29
Liam Fox has denied the UK's food standards will slip in any post-Brexit trade deal with the US, describing fears as a "complete fabrication" concocted by the "anti-trade Left".
Some have warned that the UK will have to make concessions on its agricultural standards in order to secure a free trade deal with America once Britain leaves the EU.
They say it would see products such as hormone-treated US beef and chlorine-washed chicken being imported to the UK.
But, the international trade secretary denied the UK was planning to reduce its food standards post-Brexit.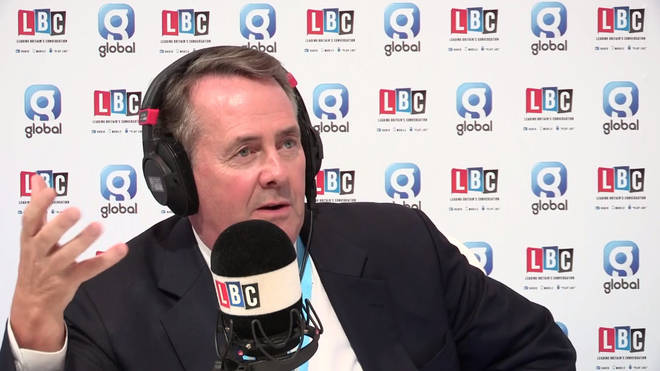 Going on the attack, he told Iain Dale: "It's a complete fabrication.
The anti-trade Left of course have been having these lies over and over again, it's how they tried to disrupt the [Transatlantic Trade and Investment Partnership] in fact they did.
"I would ask your listeners, not to go by rhetoric of others but judge the government by its performance.
"We have actually ratified in law the UK agreement with Canada which sets out a number of things including maintaining environmental standards, including labour markets standards and it gives us the ability... to completely regulate our public services.
"In other words we are the ones who are in charge of the standards we apply, in UK domestic law, not anyone else."