Piers Morgan "Rethinking" Friendship With Trump After Anti-Muslim Retweets
29 November 2017, 16:42 | Updated: 29 November 2017, 17:27
Piers Morgan has told LBC he is reconsidering his friendship with Donald Trump after the US President retweeted anti-Muslim videos shared by the deputy leader of Britain First.
The three inflammatory clips appeared in succession on the US President's official Twitter account, which is followed by more than 43 million people, on Wednesday.
The first of the unverified videos posted by Jayda Fransen, claims to show a Muslim migrant attacking a man on crutches - although this has since been found to be fake.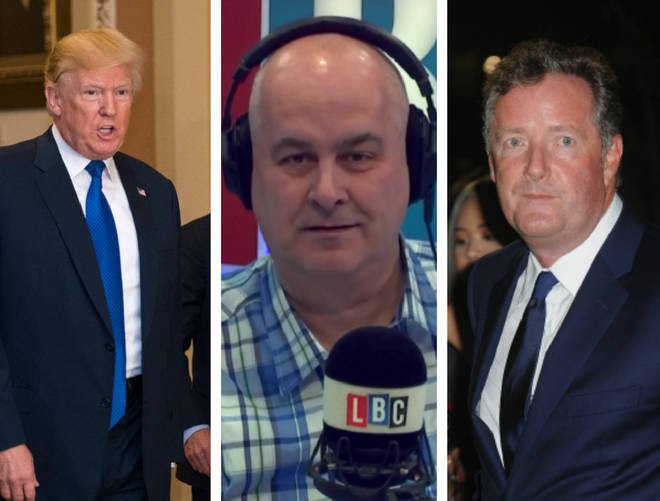 Two others supposedly show violent attacks being carried out by Muslims.
Downing Street says Trump was "wrong" to share the videos.
Giving his reaction to the story, Piers Morgan demanded the President retract the tweets and apologise immediately.
The GMB host is one of only 45 people followed by Trump on Twitter and has met him on numerous occasions.
He told LBC: "This is a very difficult moment for anyone like me.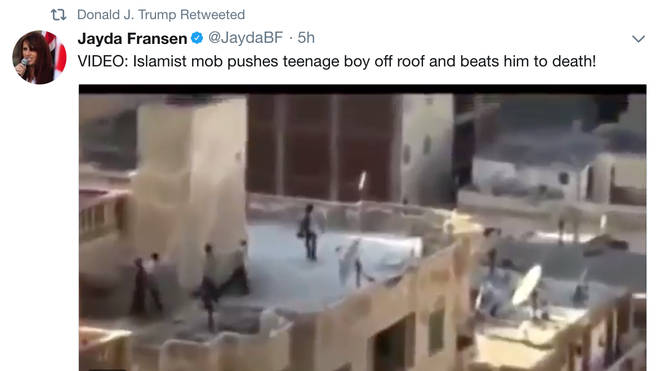 "He's not my politics, I wouldn't endorse Trump, I never told anyone to vote for him but certainly I'd consider myself to be a friend of his.
"We have a friendly relationship, it's very hard though to see a friend become President of the United States and start retweeting the most vile, anti-Muslim material which has been put out there by a bunch of neanderthal fascists."
He added: "I've got to think about this.
"If Donald Trump doesn't withdraw these retweets and doesn't apologise I've got to look at this guy like I haven't done before and say 'who is this guy?'"