Piers Morgan's Blistering Message To The UK Anti-Trump Protesters
29 January 2018, 19:23 | Updated: 29 January 2018, 19:36
Piers Morgan has ripped into those planning to protest against Donald Trump's UK state visit, accusing them of "double standards".
The Good Morning Britain host questioned why such demonstrations were not held for similar visits for the likes of Bashar al-Assad and Robert Mugabe.
Tens of thousands of anti-Trump activists have already signed up to protest against the US President when he visits the UK later this year.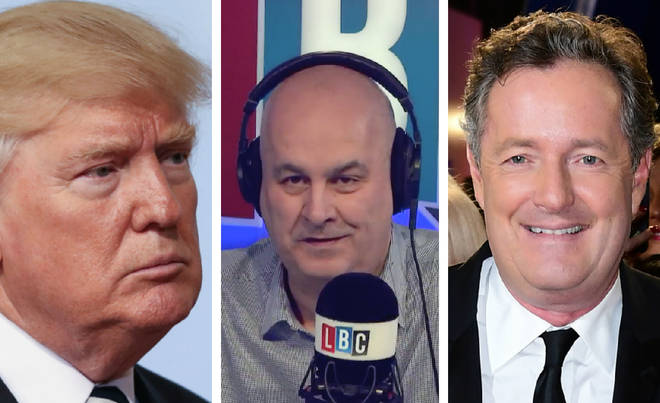 It's being described as the "biggest protest in UK history".
Giving his reaction to Iain Dale following his interview with Trump, Mr Morgan thundered: "Why are we reserving it for a guy who is the leader of our number one ally?
"Just after he said 'I want to do a great new trade deal with you after Brexit and by the way if you get into any trouble with your defences I will be right there with you'.
"Why are we making that guy the worst ever?"
"Worse than Saudi Arabia which we know sponsors terrorism and treats women more despicably than any country on earth - I don't get that double standards.
"I'm afraid Trump maybe an easy target and people may not like his tweets and the way he talks or indeed the way he's behaved in the past.
"Please, can we get real as a country? Are we really going to have millions of people marching against the leader of the United States of America."