Stephen Lawrence's Father Explains Why He Forgave His Son's Killers
17 April 2018, 17:09 | Updated: 17 April 2018, 17:44
The father of murdered teenager Stephen Lawrence has told LBC forgiving his son's killers felt like a "weight lifting off my shoulders".
Dr Neville Lawrence said he'd now consider visting the two men convicted to "hear what they had to say".
Stephen was 18 when he was stabbed in an attack by five white youths at a south-east London bus stop 25 years ago.
Two men were jailed for life in 2012.
Speaking to Iain Dale, Dr Lawrence said the burden of "carrying around bad feelings about these people" had "taken its toll" on his life.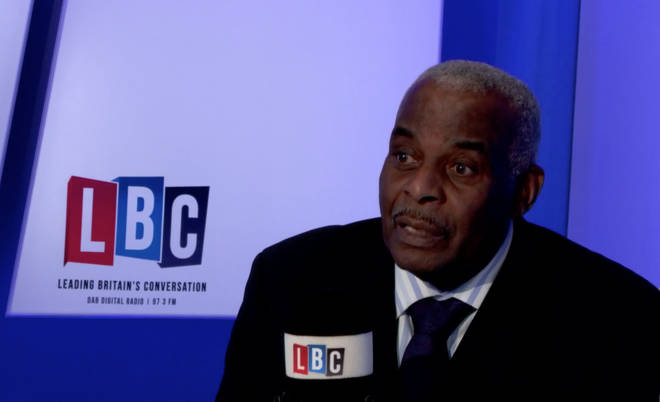 So, he decided to get baptised in January last year, and said part of the process was about forgiveness.
He said: "I have been able to do that, and there has been a weight lifted off my shoulders".
"That feeling of a person robbing me of my lifestyle that I had before sends all kind of bad things in your brain.
"You want them to be knocked down by a car, you want somebody to shoot them so all that used to be in my brain, now that's all gone."
Dr Lawrence added: "When you say you're going to forgive somebody at one stage I thought they had to ask your forgiveness.
"Whether they want you to forgive them or not doesn't matter, you can do it without their permission.
"If at any time we get to a stage where they say 'well I'm sorry for what I've done and I'd like to see Mr Lawrence', I would go and see them and listen to what they have to say."
You can watch the interview in full below: