Biden: US evacuation from Afghanistan 'extraordinary success'
31 August 2021, 20:47 | Updated: 1 September 2021, 00:22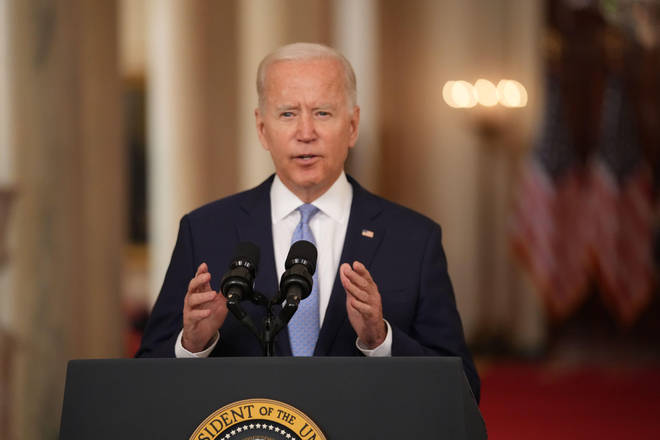 US President Joe Biden has hailed the "extraordinary success" of the US evacuation from Afghanistan, which he said has seen more than 120,000 people evacuated to safety.
In his address to the nation, Mr Biden said that the US had "succeeded in what we set out to do in Afghanistan more than a decade ago and we stayed for another decade."
He added: "My fellow Americans, the war in Afghanistan is now over."
He said the success of the evacuation was due to the "skill, bravery and selfless courage" of the US military, saying: "We owe them and their families a debt of gratitude we can never repay."
Read more: Final US evacuation flight departs Kabul as Taliban hails 'full independence'
Read more: Taliban holds mock UK and US funeral after troops withdraw from Afghanistan
He again defended his decision to withdraw troops from Afghanistan, saying that remaining in the country carried no benefits for America's security, and that threats existed elsewhere that required the country's attention.
"The threat of terrorism continues...but it's changed," he said.
"Our strategy has to change too."
He added: "It's time to look to the future, not the past."
He also said that, although the collapse of the Afghan government happened earlier than expected, the US were prepared for it.
He said that 90 per cent of US nationals have been evacuated from the country, with 100-200 still remaining.
Mr Biden said that work would continue to get those out of the country who wanted to leave, and that there was "no deadline" for their departure.
He went on to say that he was "determined to make the Taliban live up to their commitments" to ensure safe passage for civilians wanting to leave, saying: "We do not take them by their word alone but by their actions."
He said that the US had the "leverage" to ensure the Taliban kept their promise, and, of the evacuation effort, said: "We are far from done."
Read more: 'Reprehensible' US Military leaks blame UK for Kabul airport bombing deaths
Read more: Afghanistan: Taliban fire gunshots into night sky to celebrate final US withdrawal
He then addressed Isis-K - the Isis offshoot that claimed responsibility for last week's attack on Kabul airport - directly, saying: "We are not done with you yet."
He went on: "To those who wish America harm, know this. The US will never rest. We will never rest. We will hunt you down to the ends of the Earth and you will pay the ultimate price."
The president took no questions at the end of his address.
The final US evacuation flight departed from Afghanistan on Monday.
Speaking at a news conference at the Pentagon, the head of Central Command, General Kenneth McKenzie, said yesterday: "I'm here to announce the completion of our withdrawal from Afghanistan and the end of the military mission to evacuate American citizens, third country nationals and vulnerable Afghans.
"The last C-17 lifted off from Hamid Karzai International Airport on August 30 this afternoon... and the last manned aircraft is now clearing the airspace above Afghanistan."
The announcement brought 20 years of US military presence in Afghanistan to a close.
Read more: Raab: 'Low hundreds of Brits still in Afghanistan but UK will live up to commitments'
Read more: Julie Etchingham shares Afghanistan memories she'll 'never forget'
In a statement after the last flight left Kabul, Mr Biden said: "The past 17 days have seen our troops execute the largest airlift in US history, evacuating over 120,000 US citizens, citizens of our allies, and Afghan allies of the United States.
"They have done it with unmatched courage, professionalism, and resolve.
"Now, our 20-year military presence in Afghanistan has ended."
He said the decision to withdraw from the country was done on a "unanimous recommendation of the Joint Chiefs and of all of our commanders on the ground" and that the Secretary of State would continue working with international partners to "ensure safe passage for any Americans, Afghan partners, and foreign nationals who want to leave Afghanistan".
He added that the world would "hold [the Taliban] to their commitment to offering safe passage to anyone wishing to leave".
Celebratory gunfire was reportedly heard across Kabul after the last US flight left, as the Taliban fired their weapons in the air.
In a tweet, Taliban spokesperson Zabihullah Mujahid said Afghanistan had "gained its full independence".
Since, the militant group have been filmed holding a mock funeral for British, American and French-flagged coffins.
Coffins draped in the Nato, French, British and American flags can be seen in the video, which will likely evoke memories of the hundreds of Union Jack-draped coffins that were driven through Royal Wootton Bassett as Britain's casualties of war were brought home.