David Cameron comeback sparks Brexiteer backlash: Rishi Sunak under fire from Tory right over reshuffle
14 November 2023, 01:19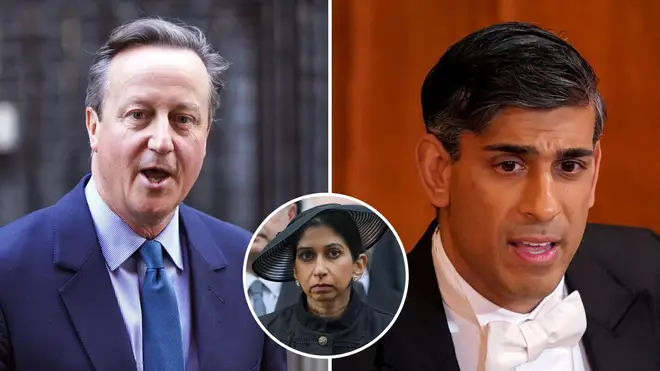 Rishi Sunak is facing a backlash from the right of the Conservative Party after bringing David Cameron back in his Cabinet reshuffle.
Mr Cameron was made Foreign Secretary after Suella Braverman was ousted from the Cabinet on Monday, with James Cleverly replacing her as Home Secretary.
But the controversial move has not been welcomed by everyone in the party.
Former minister Dame Andrea Jenkyns submitted a furious letter of no confidence in Mr Sunak to the Tory backbench 1922 Committee as a result of the decision.
Hardline MPs - including Deputy Tory chairman Lee Anderson - also gathered at a Commons meeting, where concerns were shared about the removal of Ms Braverman.
Sir Jacob Rees-Mogg said Ms Braverman "seems to have been sacked for following Conservative policy and principles too loudly" while Lord Frost wrote in the Telegraph that the reshuffle showed that the PM was taking the country "back to the past".
Former MP Nadine Dorries criticised Mr Cameron's appointment and peerage - telling LBC it is "easy" for someone who went to Eton.
Tensions could be further ramped up on Wednesday, when the Supreme Court hands down its judgement on the Rwanda asylum policy, which is central to Mr Sunak's pledge to "stop the boats".
Ms Braverman, who warned she will have "more to say in due course", could add to pressure by championing leaving the European Court of Human Rights if the government loses the appeal.
Read more: 'It isn't sour grapes': Dorries blasts Cameron's Cabinet role and peerage saying he had it 'easy' as he went to Eton
Read more: Rishi Sunak brings in Esther McVey as 'minister for common sense'
Nadine Dorries tells Andrew Marr that David Cameron's appointment as Foreign Secretary is 'bizarre'
It comes after Mr Cameron admitted it is "not usual" for a former PM to come back to frontline politics in the way he has done - following his shock return.
He said his belief "in public service" is what motivated him to come back.
Mr Cameron said: "The prime minister asked me to do this job and it's a time when we have some daunting challenges as a country.
"Of course, I hope that six years as PM, 11 years leading the Tory Party gives me some useful experience and contacts and relationships and knowledge that I can help the prime minister to make sure we build our alliances... and we keep our country strong."
He said he has "tried to keep quiet about politics".
Mr Cameron, who stepped down in 2016 after six years at No10, was made a Baron along with his appointment as Foreign Secretary. Tradition dictates that any member of the Cabinet must be an MP or a peer.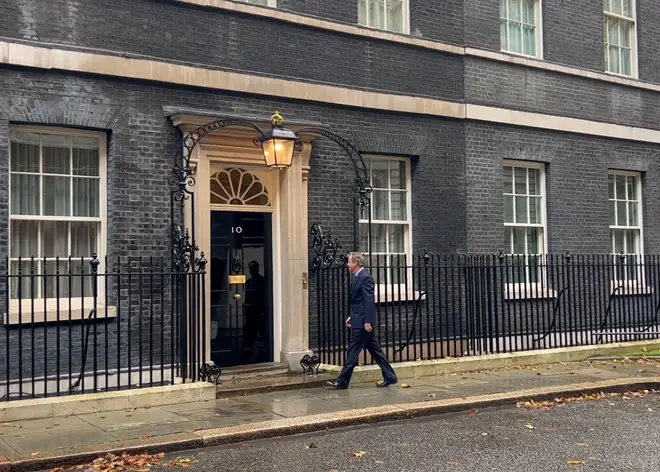 He said after his appointment: "We are facing a daunting set of international challenges, including the war in Ukraine and the crisis in the Middle East. At this time of profound global change, it has rarely been more important for this country to stand by our allies, strengthen our partnerships and make sure our voice is heard.
"While I have been out of front-line politics for the last seven years, I hope that my experience – as Conservative Leader for eleven years and Prime Minister for six – will assist me in helping the Prime Minister to meet these vital challenges. Britain is a truly international country.
"Our people live all over the world and our businesses trade in every corner of the globe. Working to help ensure stability and security on the global stage is both essential and squarely in our national interest. International security is vital for our domestic security."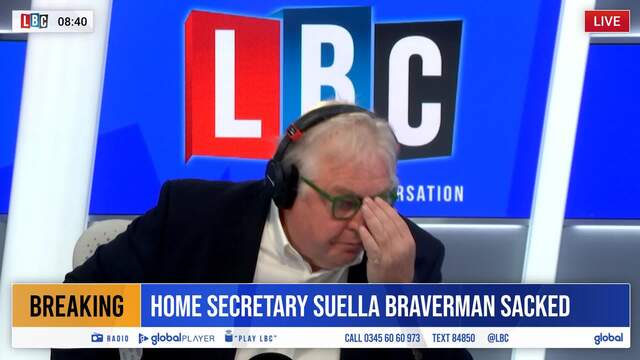 Nick Ferrari and Natasha Clark's immediate reaction as Suella Braverman is sacked
Mr Cameron has publicly agreed with the government's Rwanda scheme for migrants, which has been locked in a legal battle.
The former PM told LBC's Nick Ferrari in May: "If you don't have a better answer to the things that the government is doing to try and stop this illegal trade, there's no point criticising."
Read more: James Cleverly confirmed as Home Secretary after Suella Braverman sacked over inflammatory policing comments
But Mr Cameron has also been critical of some aspects of Mr Sunak's government, and recently hit out at the decision to scrap the northern leg of HS2.
He said after his appointment: "Though I may have disagreed with some individual decisions, it is clear to me that Rishi Sunak is a strong and capable Prime Minister, who is showing exemplary leadership at a difficult time."
A former Prime Minister returning to Cabinet in a lesser role is extremely rare: the most recent time it happened was when Conservative former PM Alec Douglas-Home became Foreign Secretary in the 1970s.
Mr Cameron was embroiled in a lobbying row in 2021 after it emerged that he had pressed for an emergency loan during the pandemic for his employer, Greensill Capital. He privately lobbied ministers including then-Chancellor Mr Sunak for access to an emergency loan.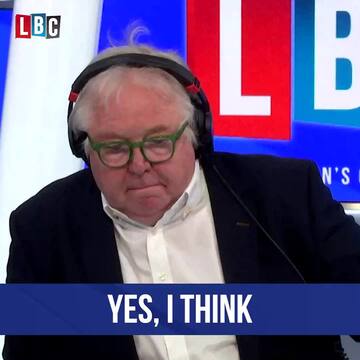 Caller: It is 'right' that Suella Braverman has been fired
The former PM later acknowledged me made mis-steps and accepted he should have communicated with the government "through only the most formal of channels".
The Liberal Democrats called for Mr Cameron's peerage to be blocked. The party's Foreign Affairs spokesperson said: "Bringing back a scandal-hit, unelected former Prime Minister who has been criticising Sunak's government at every turn has the stench of desperation. There is not even the bottom of the barrel left for Sunak to scrape in the Conservative party.
"David Cameron was at the heart of the biggest lobbying scandal of recent times. Handing him a peerage makes a mockery of our honours system."
Mr Cameron came to power in 2010, becoming the first Conservative Prime Minister since 1997. He stepped down after EU referendum, having backed Remain.
The legacy of his time in office is contested: along with Chancellor George Osborne, he slashed government spending, as the economy reeled after the 2008 financial crash, and many have been critical of the austerity policy. But it was also a period of relative stability in British politics, in comparison with the turmoil of recent years.
Among Mr Cameron's most notable foreign policy efforts was his government's ill-fated military intervention in Libya in 2011. A report in 2016 by parliament's foreign affairs committee said that the intervention was "founded on erroneous assumptions and an incomplete understanding of the country and the situation."
Read more: Suella Braverman sacked as Home Secretary following inflammatory comments about policing
Read more: Reshuffle LIVE: Suella Braverman sacked as Rishi Sunak shakes up top team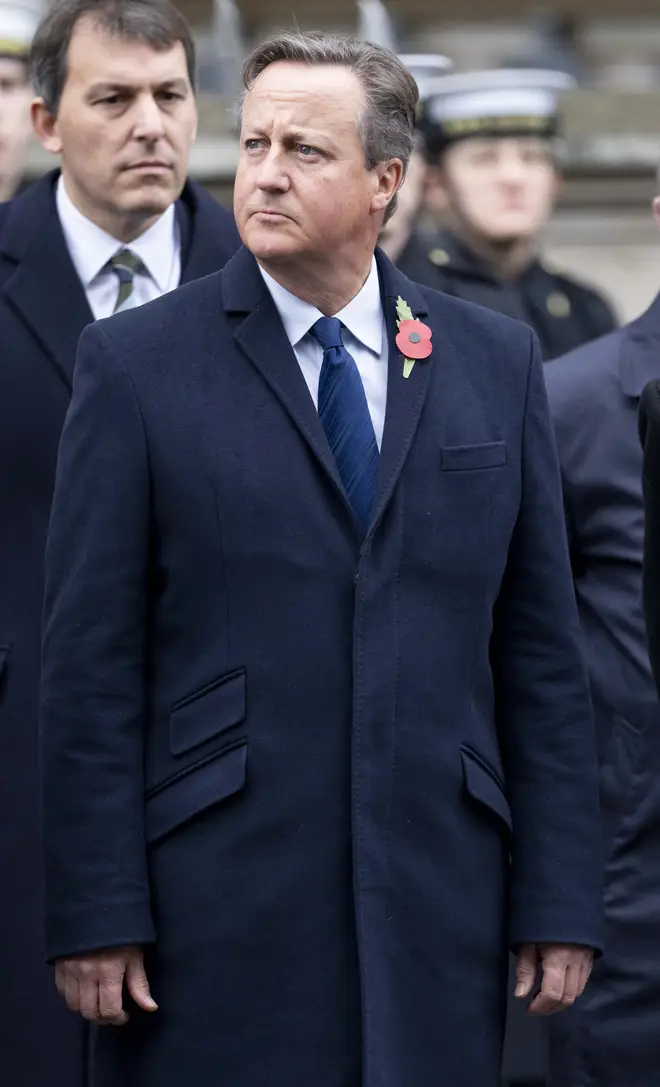 Ms Braverman was fired after writing a strongly-worded article in The Times, complaining about a "double standard" between how causes are policed ahead of a weekend of demonstrations and counter-protests.
Some blamed Ms Braverman's language for inflaming the problem on Saturday as dozens of people were arrested.
LBC's Natasha Clark said that Ms Braverman was "setting herself up to be future leader of the opposition".
Ms Braverman said: "It has been the greatest privilege of my life to serve as home secretary.
"I will have more to say in due course."
Schools minister Nick Gibb and health minister Neil O'Brien have also stepped down.