Junior doctors' walkout could see number of NHS cancellations caused by strikes soar past one million, LBC told
11 August 2023, 06:41 | Updated: 11 August 2023, 07:10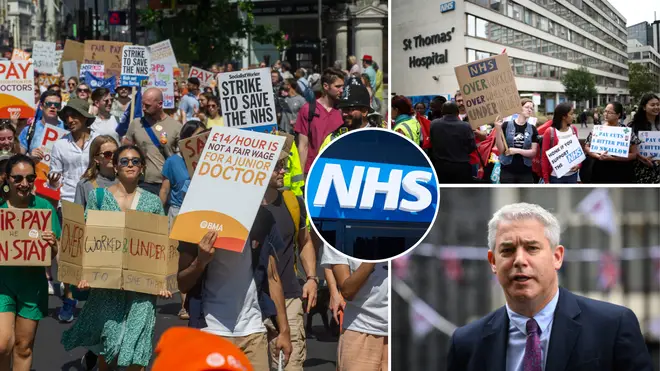 The latest junior doctors' strike could see the total number of appointments cancelled due to industrial action top one million for the first time, LBC understands.
NHS bosses fear health staff are spending nearly a third of their time dealing with walkouts and their aftermath as junior doctors walk out for the fifth time on Friday.
Officially, 835,000 appointments and operations have been cancelled due to to strikes by various groups within the NHS, including nurses, junior doctors and consultants.
Ahead of the latest four-day walkout by the BMA junior doctors committee, Rory Deighton, Director of the NHS Confederation's Acute Network, told LBC that "we could be looking at" a figure of more than one million cancellations and postponements by Tuesday morning - when action ends.
"On average cancellations are going up at something like 15,000 – 20,000 per day on strike days," Mr Deighton told LBC.
He added that because the NHS is only "recording is 'on the day' cancellations, there is a hidden level of postponements impacting the its ability to respond to the elective backlog".
Factoring this in, Mr Deighton said the current figures may represent "the tip of the iceberg" and that staff had told the NHS Confederation patients are starting to exhibit "an increase in tension and frustration".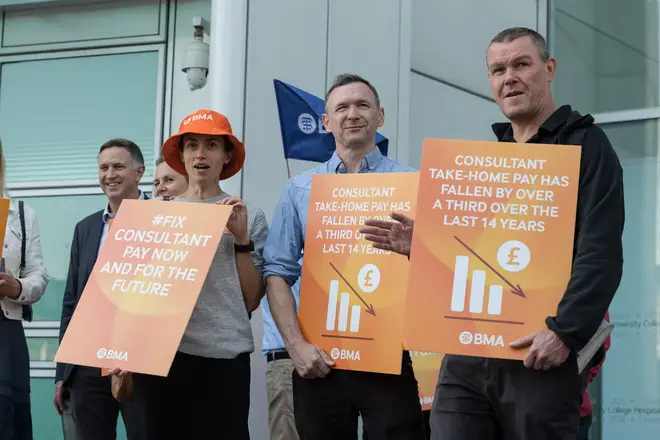 It comes as the same organisation claimed that nearly third of NHS workers' time is being dedicated to the disruption caused by industrial action.
Mr Deighton said staff are "spending 30% of their time preparing for strikes and dealing with the aftermath" - time which could be allocated to "looking for new ways to deliver care, improving the way care is delivered [and] preparing for winter".
Yesterday, official statistics published by NHS England showed the backlog for starting elective treatment had swelled to a record-breaking 7.6 million patients, equivalent to one in seven people being on the waiting list.
Read More: Junior doctors' strikes costing NHS £1bn as health secretary labels fresh wave of industrial action 'reckless'
Read More: James O'Brien lambasts 'quasi-racists' who argue that to solve NHS problems we've got to 'train our own'
Speaking exclusively to LBC's Nick Ferrari at Breakfast last week, the Prime Minister blamed junior doctors for exacerbating the pressures of the NHS waiting lists.
Answering a call from Olivia, a junior doctor in Newcastle, Rishi Sunak said: "We were making progress on bringing the overall numbers down [but] what happened? We had industrial action."
"We all have a shared mission to bring the waiting lists down. I've done my bit by backing the NHS with a long-term workforce plan and record funding and I would ask people to think about accepting an independent offer [of a 6% pay rise and £1,250 payment for junior doctors] and come and serve patients."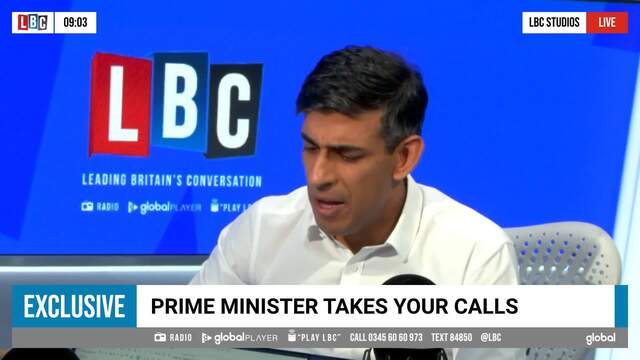 Sunak comments on waiting lists.
In response, the BMA's Council Chairman Professor Philip Banfield accused the Prime Minister of adopting a "ridiculous stance" by refusing being "emphatic and saying there is no more negotiation".
The knock-on effects of the junior doctors' strike are likely to be compounded by further action from consultants, with two 48-hour walkouts scheduled for later in August and September.
Meanwhile, new figures have suggested that striking junior doctors have cost the NHS around £1 billion so far this year after 16 days of industrial action.
The figure accounts for finding cover for absent staff and making up for lost appointments, which the NHS chief financial officer estimated makes up a third of strike costs.
Consultants providing cover during the strikes have reportedly been paid up to £2,000 a day, or £5,000 for a 24-hour shift, as the union members remain in an ongoing pay dispute with the government.
Junior doctors who are members of the British Medical Association (BMA) are set to start up strikes for a fifth round on Friday August 11 at 7am lasting until Tuesday August 15 at 7am.
"The BMA continues to act recklessly by going ahead with further unnecessary strike action this week, which serves only to harm patients and put further pressure on their own colleagues," Health Secretary Steve Barclay said.
He also said: "Patients are bearing the brunt of the impact of continuous strikes across the NHS and further action by the BMA will cause more appointments and procedures to be postponed, while costing the NHS significant amounts of money that should be spent on front-line services.
"My door is always open to discuss how to improve doctors' working lives, but this pay award is final so I urge the BMA to end its strikes immediately."