Starmer says 'incredible night' shows voters are 'crying out for change' as he celebrates historic by-election wins
20 October 2023, 09:28 | Updated: 20 October 2023, 09:37
Labour leader Sir Keir Starmer has said the party's "incredible" by-election wins show voters are "crying out for change".
Sir Keir praised Labour's Alistair Strathern after his win in Mid Bedfordshire, saying: "He has not only won here, he has made history here in the last 24 hours. What an incredible achievement already."
He said it was "an incredible night in politics, an incredible morning, an incredible result".
"It is clear that the voters here have turned their back on a failed Tory government," Sir Keir said.
"They've had enough of the decline of the last 13 years and they're crying out for change.
"Positive change that the Labour party can bring them. Positive change that a changed Labour party can bring them - building that economy so that it raises living standards for everywhere across the country, not just rebuilding our NHS but taking it forward so it's fit for the future, making sure that we have the skills and opportunities for all of our young people across the country.
"We take this incredible victory humbly. We know that voters here have voted for us and put their trust and confidence in a changed Labour party. We will repay them for that trust and confidence and we do so humbly.
"And I know there were people yesterday that probably voted Tory in the past who voted for a changed Labour party because they despair at the state of their own party. I'm glad that they've seen that our party is changed and that they can put their trust and confidence in them."
Read more: 'We have a big job to do', Tory chairman tells LBC after party suffers historic by-election defeat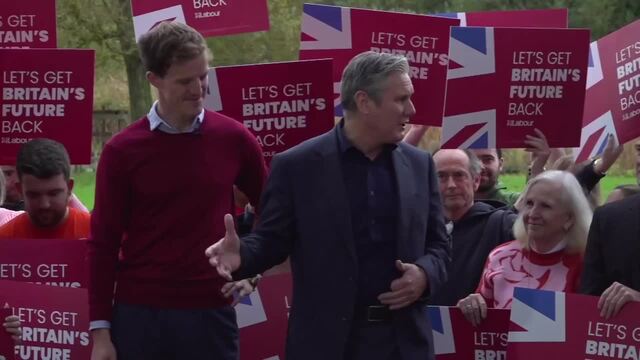 Starmer hails by-election victory in Mid-Bedfordshire
It comes after Tory chairman Greg Hands admitted to LBC that the Tories have "a big job to do" after the by-election defeat.
Speaking on LBC's Nick Ferrari at Breakfast, Mr Hands said the party intended to "get on with delivering a good government".
"We've got a big job to do," he said. "We've got to get on with delivering a good government - which is exactly what Rishi Sunak is doing - whilst laying out an agenda for change for the future.
"We've seen the more balanced approach with net zero, the launch of Network North, a lot of extra money going into transport projects in the midlands and the north, serious reforms to A-levels and tackling one of the biggest blights on public health – smoking."
Read more: Starmer hails 'redrawing political map' as Tories suffers double by-election defeat
Read more: 'America is a beacon to the world, still': Joe Biden to ask Congress for urgent aid for Israel and Ukraine
Mr Hands instead blamed the historic by-election defeat on less voters coming out to back the Tories.
"The number of people that voted Conservative is down significantly on 2019," he said.
"It's not people switching it's people staying at home."
The chairman later added: "With both those by-elections, there were legacy issues in relation to the previous members of parliament.
"We need to find ways of incentivising people to come back to voting Conservative.
"That is a significant job for us to do – to show people that Rishi Sunak continues to be a strong and competent Prime Minister."
We've got a 'big job to do' says Tory Chairman
Tamworth and Mid Bedfordshire both went from blue to red early on Friday morning, overturning huge majorities in both constituencies.
In Tamworth, Labour's Sarah Edwards defeated Tory Andrew Cooper. Edwards won 11,719 votes in the Staffordshire race compared to Cooper's 10,403 - giving her a majority of 1,316.
After Labour won both seats, Sir Keir said: "These are phenomenal results that show Labour is back in the service of working people and redrawing the political map.
"Winning in these Tory strongholds shows that people overwhelmingly want change and they're ready to put their faith in our changed Labour Party to deliver it.
"Voters across Mid Bedfordshire, Tamworth and Britain want a Labour government determined to deliver for working people, with a proper plan to rebuild our country.
"To those who have given us their trust, and those considering doing so, Labour will spend every day acting in your interests and focused on your priorities. Labour will give Britain its future back."
Tamworth saw a turnout of 35.9%, with a total of 25,630 votes - aa swing of 23.9%, the highest by-election swing to Labour since 1945.
In Mid Bedfordshire, Labour's Alistair Strathern beat the Conservative Festus Akinbusoye. Labour won 13,872 votes, compared to the Conservatives' 12,680 votes, for a majority of 1,192. That was a swing of 20.5%.
The Liberal Democrats won 9,420 votes. The turnout was 44%.
The by-elections were triggered by resignation of former Conservative MPs Nadine Dorries and Chris Pincher.
Read more: Labour win Mid Bedfordshire from Tories in by-election, overturning huge majority in seat held by Tories since 1931
Read more: Labour wins Tamworth by-election from Conservatives, wiping out huge majority in 'phenomenal' result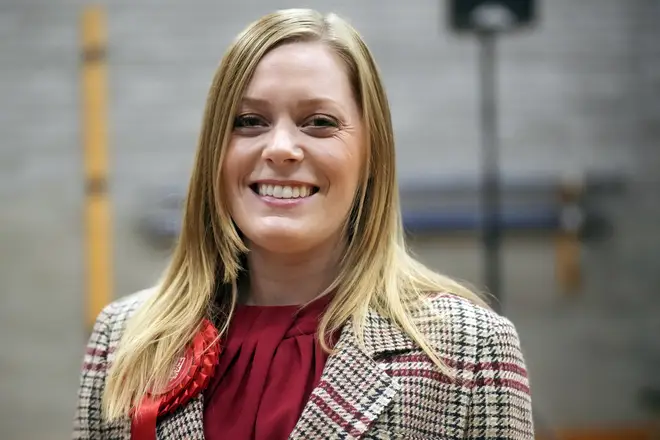 Mid Bedfordshire had been a Conservative seat since 1931 and former Culture Secretary Dorries had a majority of 24,664 votes.
The Conservatives had had a 19,600 majority in Tamworth.
The overturning of two huge Tory majorities comes just under a year after Rishi Sunak took over as PM, following the disastrous short tenure of Liz Truss.
Edwards said after her victory: "The people of Tamworth have made it clear: it's time for change."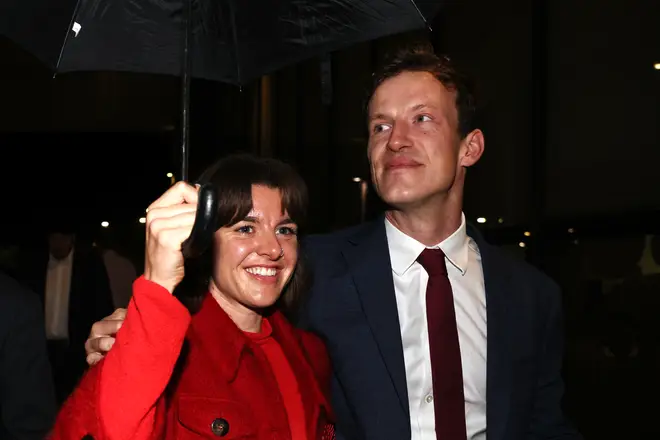 "They've sent a clear message to Rishi Sunak and the Conservatives that they have had enough of this failed government which has crashed the economy and destroyed our public services."
Mid Bedfordshire's Strathern said: "After decades of being taken for granted, feeling left behind, feeling under-represented, they made the decision it was time for a change."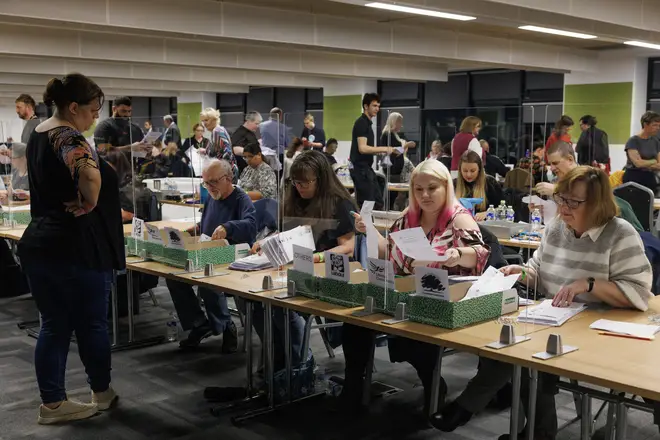 Dorries, a former Cabinet minister under Boris Johnson, stepped down as an MP after being denied a peerage in Boris Johnson's resignation honours list.
Pincher resigned after he was found to have drunkenly groped two men in an "egregious case of sexual misconduct" at the Carlton Club in London last year.
That scandal helped trigger Mr Johnson's departure from Downing Street, as a result of his handling of the situation.
The results will send shockwaves through Westminster, and make for ominous reading for Rishi Sunak as he prepares to lead the Conservatives into the next general election.
But Sir Keir and his party will be feeling very buoyed by the twin victories as he looks to become the first Labour Prime Minister since 2010.
This was the third and fourth by-elections Labour has won in 2023, after victories in Selby and Ainsty in July, and Rutherglen and Hamilton West earlier this month.