Keir Starmer facing growing mutiny as more Labour shadow ministers back calls for Gaza ceasefire
28 October 2023, 22:13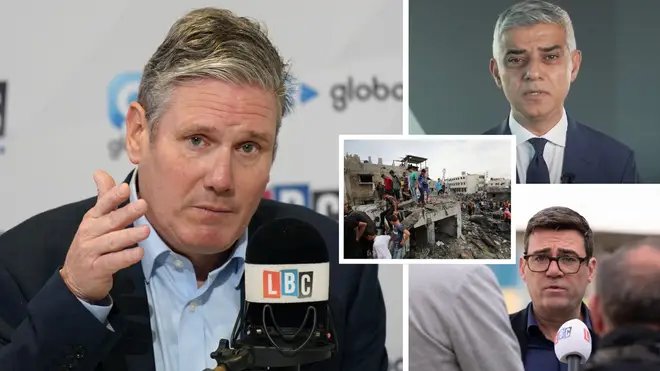 Pressure is continuing to grow on Sir Keir Starmer as more senior politicians defy the party line by backing calls for a ceasefire in Gaza.
The Labour leader has reiterated that Israel has a right to defend itself after Hamas' terror attacks on October 7, though backed 'humanitarian pauses' to allow aid into the Gaza strip.
His reluctance to call for a ceasefire, as well as comments made on LBC about Israel's right to withhold water and electricity, has caused a backlash among Labour politicians.
That includes a number of shadow ministers, including loyalist Jess Phillips, who retweeted a statement from UN Chief Antonio Guterres, in which he reiterated calls for a ceasefire.
Ms Phillips joins other senior dissenters in speaking out, despite the Labour party's stance, including including Andy Burnham, the Manchester mayor, and Anas Sarwar, the party's Scottish leader, and Mayor of London Sadiq Khan.
You cannot tell people who have no where to go to leave for their safety. It's merely a gesture to appease.

— Jess Phillips MP (@jessphillips) October 28, 2023
It is understood Mr Khan warned the Labour leader he would be putting out a video calling for a ceasefire in Gaza the night before it was posted on Twitter, but Sir Keir's pleas were ignored, the Times reports.
Mr Khan was the most senior Labour figure to call directly for a ceasefire in the current conflict, which started on October 7 with a massacre of Israeli civilians by Hamas.
Statements by Mr Burnham and Mr Khan then followed.
Naz Shah and Imran Hussain, who represent seats in Bradford; Yasmin Qureshi, the shadow women and equalities minister, and Afzal Khan, a shadow exports minister, have also called for a ceasefire.
Meanwhile, 20 Labour councillors have resigned, including in Oxford, causing the party to lose control of the council, after comments made by Sir Keir on LBC.
Speaking days after Hamas' recent terrorist attack on Israel, Sir Keir told LBC's Nick Ferrari at Breakfast that Israel "has the right" to withhold power and water from Gaza.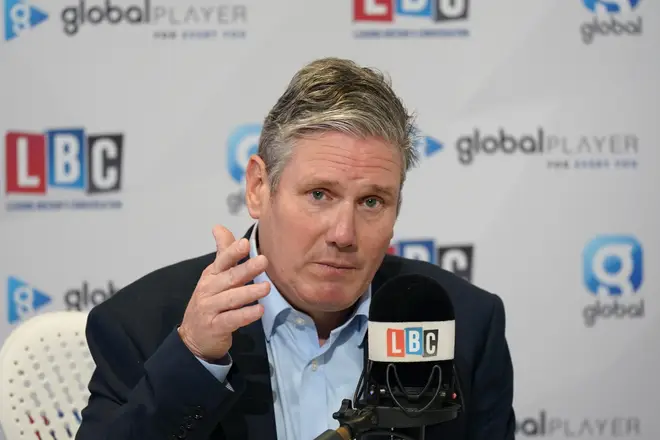 In a statement published on Twitter today along with a video, the mayor of London said: "Thousands of innocent civilians have already been killed in Israel and Gaza.
"With the humanitarian crisis set to deteriorate even further, I'm calling for a ceasefire."
Scottish Labour leader Anas Sarwar joined him, saying: "We are all so desperate for peace and are desperate to see the end of violence.
"And that is why we need to see the immediate release of hostages, immediate access to humanitarian supplies, food, medicine, electricity, water, into Gaza...
"The immediate cessation of violence, with an end of rocket fire into and out of Gaza. And let me be clear, that means a ceasefire right now."
And Greater Manchester mayor Andy Burnham said in a joint statement that while Israel has a right to defend itself, there was concern about Palestinian casualties.
"Given the humanitarian disaster unfolding in Gaza, the mayor, deputy mayor and 10 leaders of Greater Manchester join the growing international calls for a ceasefire by all sides and for the hostages to be released unharmed," he said.
Sir Keir used the phrase "humanitarian pauses" as he described what he thinks should be the way forward in the Israel-Hamas war.
Thousands of innocent civilians have already been killed in Israel and Gaza.

With the humanitarian crisis set to deteriorate even further, I'm calling for a ceasefire.pic.twitter.com/9HPau9X9jP

— Sadiq Khan (@SadiqKhan) October 27, 2023
Fears are growing in the Labour party that there could be further resignations over the conflict, according to The Times.
Up to four shadow ministers are on resignation watch, sources told the outlet, as the party works to keep them onside.
"There's a real concern that if we lost a shadow minister, for example, that all of the others come under real pressure," a senior member of Sir Keir's team said.
Some MPs have been critical of their leader's comments, with more than 30 backing a call for a ceasefire between Israel and Hamas.
About 150 Muslim Labour councillors wrote to Sir Keir to call for an "immediate ceasefire" in Gaza.
Sir Keir met with MPs in Westminster on Wednesday afternoon then released a statement in which he called for "humanitarian pauses" in the fighting.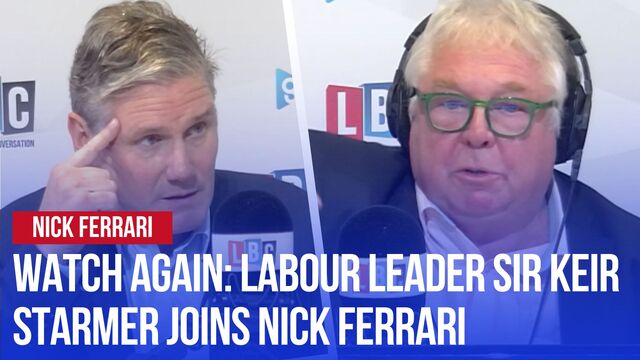 Keir Starmer joins Nick Ferrari at Breakfast | Watch Again
He said it was "clear that the amount of aid and essential utilities getting into Gaza is completely insufficient" and said aid, fuel, water, electricity and medicines must be "ramped up".
"We welcome [US secretary of state] Blinken's comments last night and we support humanitarian pauses," he went on.
"In the long term there can only be a political solution to this crisis which is why we need to restart the hard work of talks for a two-state solution of a viable Palestinian state alongside a safe and secure Israel."
He has previously tried to clarify his comments, insisting that he did not mean to imply that Israel would be justified to cut off power and water to Gaza, which is home to 2.2million civilians.
He stressed that Israel had a right to defend itself following Hamas' terror attack two weeks before.
Sir Keir also visited the South Wales Islamic Centre in Cardiff and met leaders from the Muslim community.
Read More: Israel 'has the right' to withhold power and water from Gaza, says Sir Keir Starmer
Read More: Sir Keir Starmer tries to clarify comments on Gaza-Israel siege after LBC interview sparks backlash
The Labour leader said he had been "deeply moved" during his visit, in which he heard "their pain and horror at the suffering of civilians in Gaza".
"I made clear it is not and has never been my view that Israel had the right to cut off water, food, fuel or medicines. International law must be followed," he said in a statement after the meeting.
"I repeated our calls for all hostages to be released, more humanitarian aid to enter Gaza, for the water and power to be switched back on, and a renewed focus on the two state solution".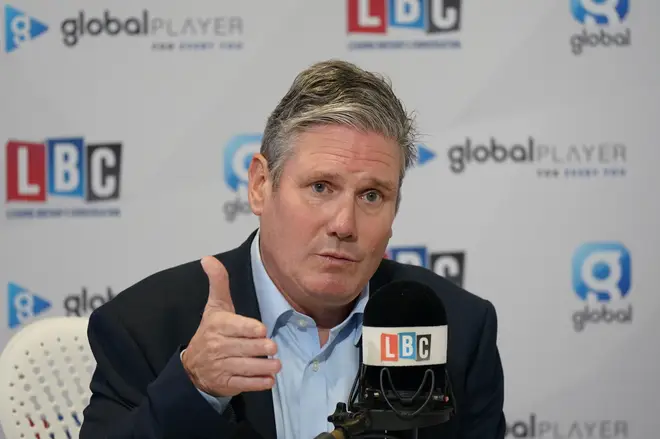 But these comments also provoked a backlash, with the Muslim Council of Wales expressing its "dismay" at Sir Keir's comments.
"Our intention was to raise the concerns of the Muslim community around the suffering of Palestinians," a spokesperson said.
"There was a robust and frank conversation which reflected the sentiments Muslim communities are feeling at this time.
"We wish to stress Keir Starmer's social media post and images gravely misrepresented our congregants and the nature of the visit. We affirm, unequivocally, the need for a free Palestine."