'This is not over': Labour and Lib Dems demand more changes to 'kamikaze Budget' as pound surges after Govt U-turn
3 October 2022, 06:09 | Updated: 3 October 2022, 14:22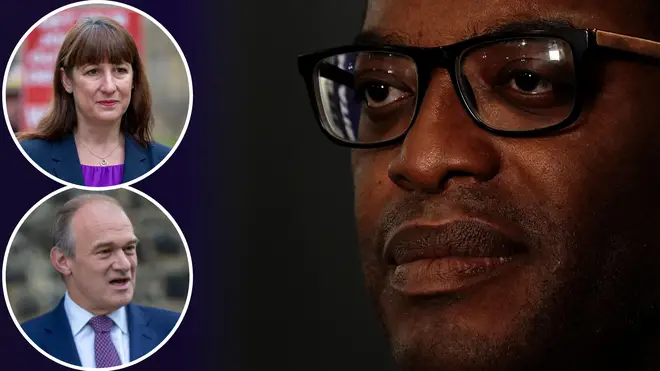 Labour and the Liberal Democrats have demanded more changes be made to Kwasi Kwarteng's budget after the pound partially recovered following a U-tun on abolishing the top tax rate.
The Chancellor announced a mini budget on September 23 that sent markets into turmoil, with the pound plummeting to a record low against the dollar.
But he performed what Labour's shadow chancellor Rachel Reeves called a "screeching U-turn" on one of the most contentious parts of the policy – the abolition of the top tax rate.
The pound responded positively overnight amid rumours of the change, hitting 1.125 US dollars at one stage, although it pared back some of the gains in early morning trading to stand at 1.119.
Ms Reeves said it was now time for Mr Kwarteng to reverse the whole plan, calling for an end to the "discredited trickle down strategy" – the idea that tax breaks for richer people and corporations 'trickle down' to benefit poorer people.
Read more: Britain faces blackout: 'Significant risk' of UK gas supply emergency, energy regulator warns
Read more: Kwarteng fails to rule out further U-turns after humiliating 45p tax cut reversal
She said the U-turn "comes too late for the families who will pay higher mortgages and higher prices for years to come".
"The Tories have destroyed their economic credibility and damaged trust in the British economy," she added.
"This is not over - it's not just some distraction.
"The Tories need to reverse their whole economic, discredited trickle down strategy.
"Their kamikaze Budget needs reversing now."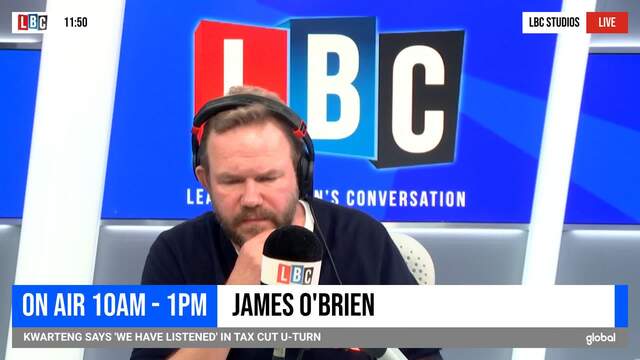 Trader of government debt says government has 'lost credibility'
Lib Dem leader Ed Davey also called for the whole budget be reversed – and saying the Chancellor should go with it.
"I welcome this U-turn but the unfortunate truth is that this Conservative Government is in complete chaos," he said.
"I don't think the Chancellor has the credibility to make all the changes that are needed and I think he has to go, and I think that would really restore confidence."
Sir Ed said the Government has made a "small change", adding: "We need a far more radical overhaul of the Budget, we need it soon and we need it to be done in a transparent way, and I come to the conclusion, regrettably, that I think this Chancellor can't deliver that."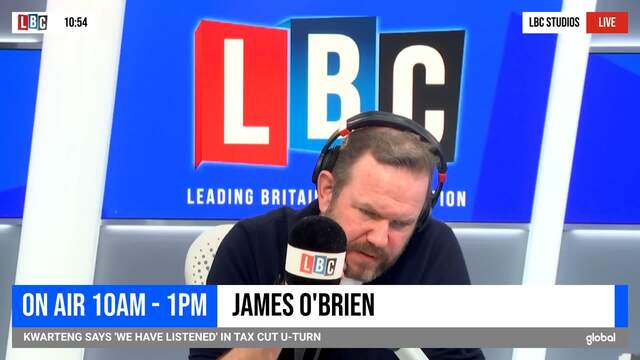 James O'Brien rebukes Chancellor's mini-budget
Mr Kwarteng admitted earlier that the planned abolition of the 45p top rate of income tax was a "huge distraction" after backlash from his own party.
The under-fire chancellor told LBC's Nick Ferrari - just after he announced the embarrassing reversal - that he had listened to critics and decided to go back on cutting the rate that affects people on £150,000 or more.
Mr Kwarteng made the statement just 10 days after he announced it, with PM Liz Truss having said it was his idea.
Speaking to LBC's Nick Ferrari, he said: "I've seen the reaction, people have expressed concerns, I've talked to MPs… I've took the decision his was actually a huge distraction."
He added: "I was responsible for the budget, I take full responsibility for it."
Mr Kwarteng insisted the Bank of England's intervention to buy up Government bonds in a £65bn spree after his mini-budget was announced was not the result of the plan to cut the 45p bracket, insisting a "range of things going on in the gilt market".
"I'm listening, and I get it, and in a spirit of contrition and humility I have said 'actually this doesn't make sense, we won't go ahead with the abolition of the rate'," he added, saying there are "lots of reversals" in politics, including "Marcus Rashford's campaign".
Earlier, in a statement, he said: "From supporting British businesses to lowering the tax burden for the lowest paid, our growth plan sets out a new approach for a prosperous economy," he said in a statement on Monday morning.
"However, it is clear that the abolition of the 45 tax rate has become a distraction from our overriding mission to tackle the challenges facing our country.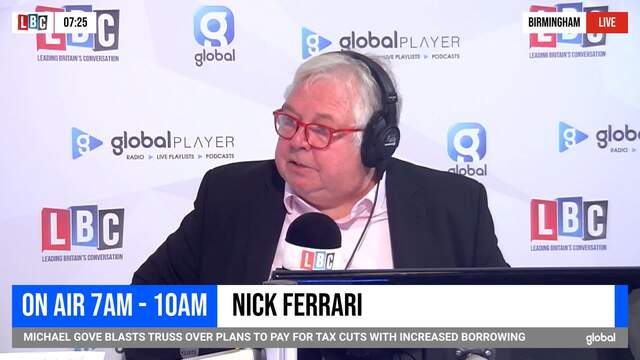 Theo Usherwood reports confirmation that 45p tax rate abolition won't go ahead
"As a result, I am announcing we are not proceeding with the abolition of the 45p tax rate.
"We get it, and we have listened. This will allow us to focus on delivering major parts of our growth package."
That is despite him insisting his mini-budget, which sparked turmoil in the markets, was the "right thing to do" and the Tories must "stay the course".
The U-turn came after a fraught opening to the Conservative Party conference in which well-known figures lined up to criticise the millionaires' tax cuts.
Mr Gove said over the weekend that Ms Truss's policies needed to be "in tune" with the 2019 manifesto, which he said looked after society's most vulnerable.
He added: "I'm wary of the changes that she's making in both those areas but she did win on that basis.
Read more: Ex-minister Michael Gove blasts Truss over 'non-Conservative' plans to pay for tax cuts with borrowing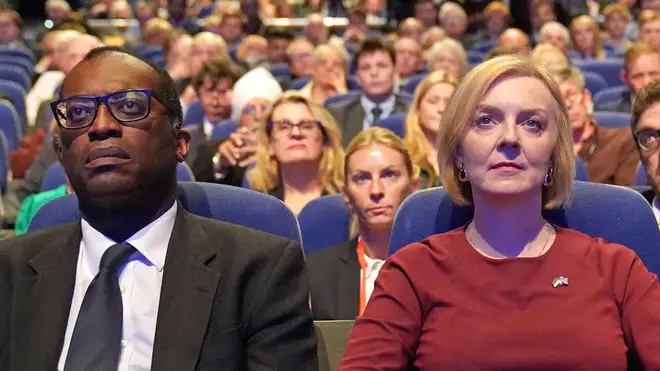 "But what was not discussed during the Conservative leadership election was the prospect of income tax cuts for the wealthiest."
It has also been reported that Conservatives will not be asked to vote on endorsing such a tax cut until November, when it will be announced how the cut will be funded.
Liz Truss admitted she should have prepared the country for her financial policies better before the mini-budget, which was followed by a tumbling pound and an extraordinary intervention from the Bank of England, which stumped up £65bn to buy Government bonds after fears some pension funds risked collapse.
She told the BBC: "I do stand by the package we announced and I stand by the fact that we announced it quickly because we had to act.
"But I do accept we should have laid the ground better. I do accept that. I have learned from that.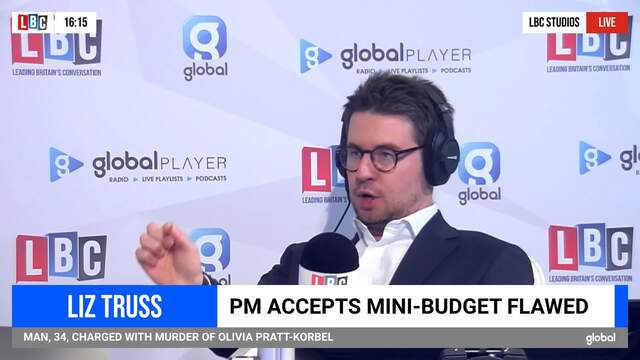 Liz Truss 'will be dead in the water' if she backtracks on mini budget
"And I will make sure that in future we do a better job of laying the ground."
But she said cutting tax for the richest was a "decision the Chancellor made" – leading a source close to the Chancellor to say that he and Ms Truss were in "lockstep".
Ex-Chancellor George Osborne said he believed it is "touch and go" whether Mr Kwarteng can survive the backlash over the mini-budget, having been in the job for a matter of weeks.
Read more: 'We must stay the course': Kwarteng stands firm on tax cuts despite threat of Tory rebellion
Setting out his "new economic deal", Mr Kwarteng was set to try to convince lenders that he has a plan to manage the Government's debt with an "iron-clad commitment to fiscal discipline".
The Government will be "wholly committed to economic growth", delivering "more businesses, more jobs, higher pay" and ultimately gain "more money for public services".
He was set to tell delegates at the Tory conference: "I refuse to accept that it is somehow Britain's destiny to fall into middle income status or that the tax burden reaching a 70-year-high is somehow inevitable.
"It isn't, and shouldn't be.
"We needed a new approach, focused on raising economic growth.
"That is the only real way to deliver higher wages, more jobs, and crucially, revenue to fund our precious public services and it is the only way to achieve long-term fiscal sustainability.
"We must stay the course. I am confident our plan is the right one."