'It's personal': Meet the paramedics terrified for their own families as the NHS plunges into crisis
23 January 2023, 09:27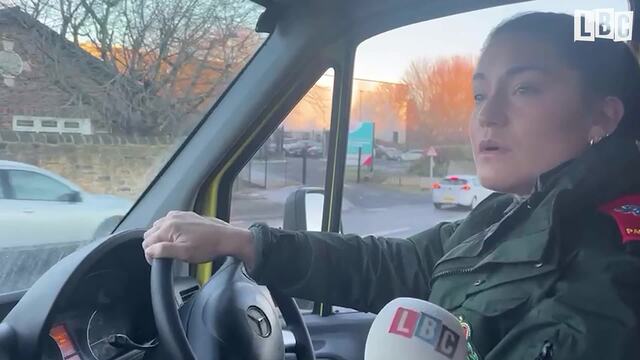 Paramedic expresses concern over issues facing NHS as pressure intensifies
"How long is this going to go on for? How long can we manage, and manage, and manage, and when will be the breaking point?"
Paramedic Kim Weatherburn, who's worked for the North East Ambulance Service for eight years, is asking those questions before her shift has even begun.
She's checking over her medication and making sure the ambulance is ready for the road, ahead of her fourth 12 hour shift in a row.
"My family is the public as well. I've got a mam, dad, brother, partner who it can affect. We're not just ambulance staff - it's personal."
The 27-year-old is based in her hometown of South Shields, but her job can take her anywhere in the region. At the beginning of every shift, she's facing the unknown.
Read more: Sunak ordered to 'come out of hiding' and end 999 strike as ambulance workers walk out for third time in five weeks
By her side throughout it is her crew mate, 22-year-old newly qualified paramedic Mia Richardson.
"There's a different type of expectation going in to the job now," she says. "We're prepared for more pressures, more handover delays, more queues and patients waiting longer. As someone who's brand new to the job, this is all we've known."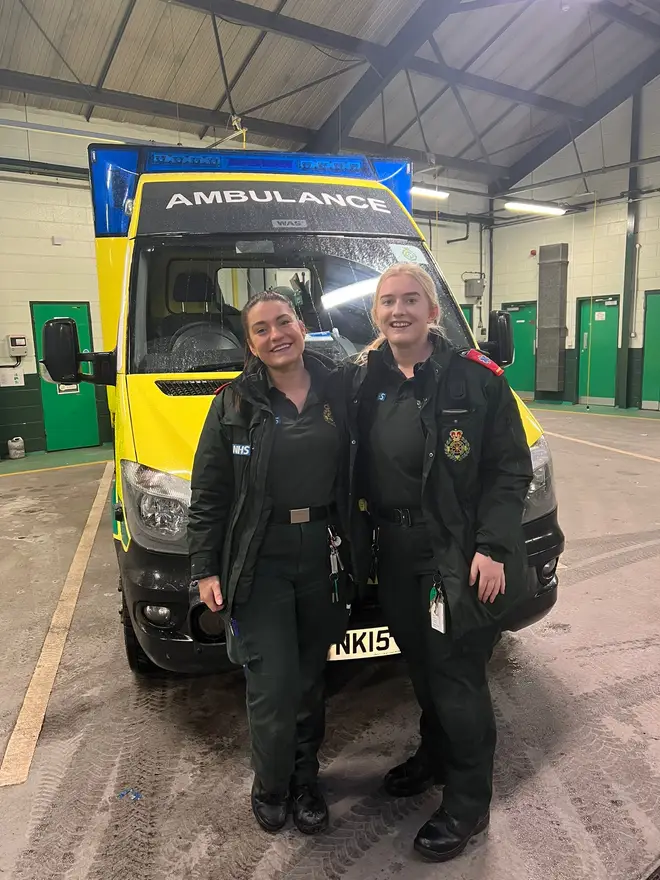 LBC has been granted exclusive access to the crew ahead of the third strike by ambulance workers in five weeks. Kim and Mia say everyone is doing what they can, "working their fingers to the bone", but recently there have been more than 100 patients waiting for ambulances in the North East.
"Last week we waited six hours in the hospital corridor - we were off the road because we needed to stay with the patient," says Kim.
"He needed to be monitored constantly, but during six hours on the corridor, he got worse and worse. It's awful - we're sitting watching somebody's relative deteriorate, and there's nothing we can do about it because there's no space to put them."
Read more: Police hunt as six injured after car ploughs into pedestrians in North London hit-and-run
Kim and Mia's first call-out is for an 80-year-old woman who's been on the floor for two hours. But en-route, they're diverted to a higher category of emergency - a COPD patient who is struggling to breathe.
Kim explains: "Hopefully the lady we were going to before will get a different crew to see to her, but she might have to wait a bit longer unfortunately."
They stay with the patient and calm him down, and they seem relieved when they decide he doesn't need to be taken to hospital. As soon as they've filled out their paperwork, which needs to be "watertight", the sirens are back on.
The next patient is transported to hospital. On the way, Kim says "we might be queuing for six hours, an hour, we might get straight in and out - we just don't know anymore".
Paramedic Lee Marshall is waiting in different ambulance outside of the A&E department, as Kim and Mia go inside to hand over their patient. Lee, who's been in the job for 15 years, is chatting whilst his crew mate fills out paperwork.
"It's stressful - it's stressful for us and for the patients as well. Nobody wants to sit on an ambulance for five, six, seven hours.
"It's more about staffing, members of the public can't get ambulances because we are queuing at hospitals. The staffing isn't there and the beds aren't there. The public need to use 999 wisely, try and speak to the pharmacist or the doctors, or use 111. I know it's very difficult to get a doctor's appointment, but don't just resort to the 999 service."
Thankfully, Kim and Mia say today is a "good day" - and the handover has gone smoothly.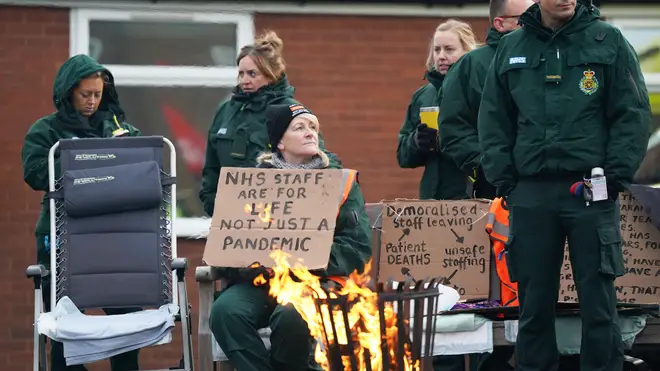 By the time we get to a different hospital with the next patient - an elderly lady who collapsed in a care home - the number of people waiting for an ambulance has almost tripled.
Still, they say the ambulance corridor is quiet compared to the previous week. "That's the part that takes up the time, we end up standing in that corridor for hours and hours."
The paramedics will get two 30 minute breaks during their 12 hour shift. But just as Kim and Mia are about to take their first, they're rushed to a local supermarket, where a man in his 30's has collapsed and had a seizure. That job takes two more hours.
Despite everything thrown at them, they're incredibly positive and resilient. They talk about their partners, their holiday plans and what they're going to eat that night. It reminds you that everybody is human - and some are super-human.