Devices recovered in Londonderry cemetery viable pipe bombs, police say
13 April 2023, 02:17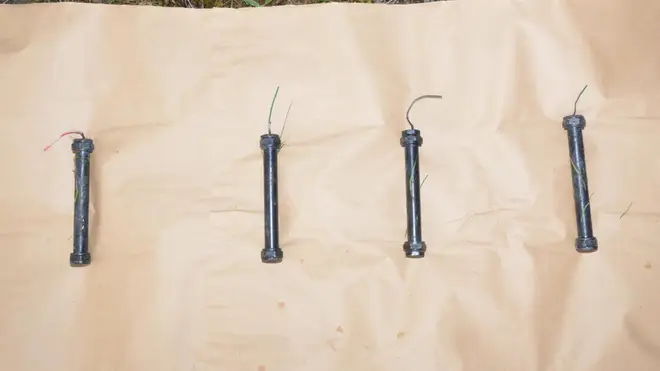 Four devices recovered at a cemetery in Londonderry were viable pipe bombs, police have said.
Londonderry's City Cemetery was closed to visitors on Tuesday morning as officers examined the scene.
It came after a republican parade in the city the day before.
Chief Superintendent Nigel Goddard said: "We believe these would have been used to attack police, and cause injury to our officers," he said. "Our colleagues from Terrorism Investigation Unit are continuing with their inquiries into this.
He said the police's main line of inquiry was that the devices were linked to dissident republican group the New IRA.
Read more: Hopes rise for end of royal rift as Prince Harry agrees to attend Charles coronation - but Meghan to stay stateside
Read more: Meghan won't go to King Charles's coronation as it 'clashes with Archie's fourth birthday'
The discovery came just hours before US president Joe Biden's visit to Belfast, around 70 miles southeast of Londonderry.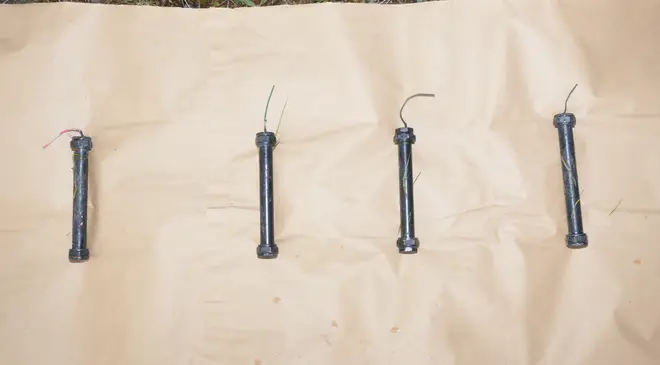 Assistant Chief Constable Bobby Singleton called the find a "sinister and worrying" development.
"The actions of those responsible are reprehensible and show a complete disregard and utter contempt for the community," he said.
"These suspected pipe bombs were left in a cemetery a place where people lay loved ones to rest and visit to pay their respects. That is absolutely shameful."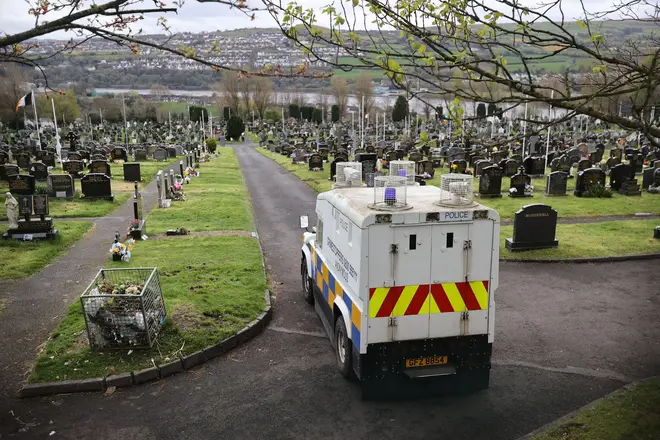 It came after scenes of violence in the Creggan area of Londonderry, during an illegal pre-commemoration parade.
As the parade moved towards the City Cemetery, masked youths threw petrol bombs at a police Land Rover that was monitoring the procession, before it drove off in flames.
Political leaders in Northern Ireland condemned the incident, with Sinn Fein vice president Michelle O'Neill describing the violent scenes as "deplorable".
Read more: Police divers return to river where Nicola Bulley's body was found as they investigate cause of death
Read more: Prince Harry and Meghan Markle face a 'lose-lose' situation as they risk being booed at King's coronation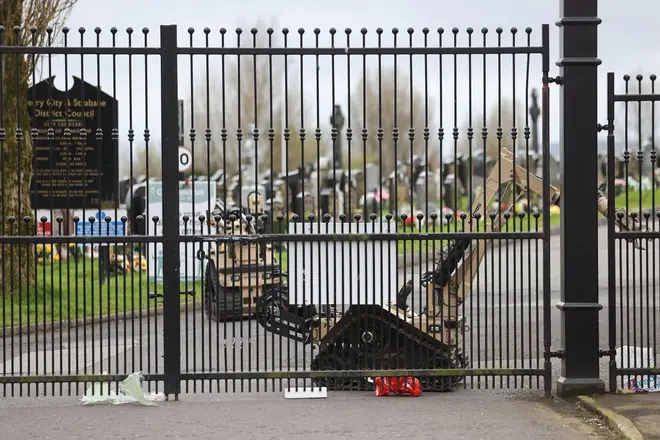 The incident took place on Easter Monday, which this year coincided with the 25th anniversary the Good Friday Agreement, a peace deal that largely ended thirty years of sectarian violence and political conflict in Northern Ireland.
Police had warned they had "strong" intelligence that terror attacks were being planned against police officers on the bank holiday.
In late March, MI5 raised the terrorism threat level in Northern Ireland from substantial to severe, meaning an attack is highly likely.
This followed the shooting of senior PSNI detective John Caldwell in Omagh.
Police have blamed the New IRA for the attack.