Sadiq Khan: Vast majority of Londoners support compulsory face masks on transport
14 July 2021, 11:12 | Updated: 14 July 2021, 11:45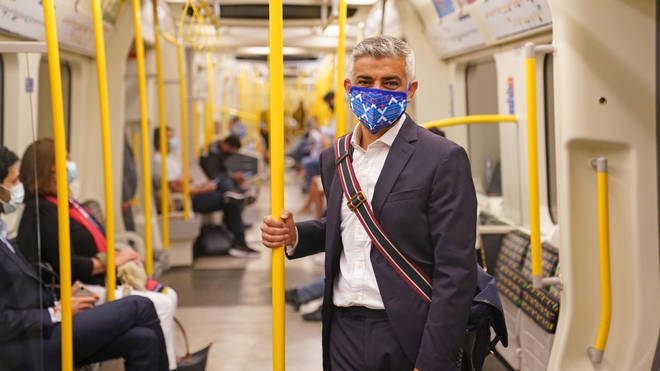 The Mayor of London has told LBC that an overwhelming majority of Londoners back the continuation of compulsory face masks on public transport.
Speaking to LBC's James O'Brien, he said that he had spoken to a wide range of individuals and businesses and found that most were in favour of the move to continue making face coverings a condition of carriage.
"We've also over the last two or three weeks spoken to not just our staff through the trade unions, not just individuals across our city, not just businesses, but also we've done some polling and the vast, vast majority of Londoners – more than two thirds – want face masks to continue to be compulsory," said Mr Khan.
Read more: Masks to remain compulsory on public transport in London after Sadiq Khan intervention
Read more: Mark Drakeford to confirm whether Welsh Covid restrictions will ease
He also said that throughout the pandemic compliance with the rules around mask-wearing in London has been high, and because of that he was confident that the rule would not need to be heavily enforced.
"The evidence we have from the survey work we we've done is, by and large, Londoners and visitors have done the right thing," he said.
"86 per cent wear a face mask and of those 14 per cent who don't, two thirds are either exempt or have a good reason, so I'm confident Londoners and those coming to our city will do the right thing."
The Prime Minister Boris Johnson confirmed on Monday that after July 19 face masks would no longer be mandatory, though he urged people to exercise "personal responsibility" in continuing to wear them in "crowded and enclosed spaces".
But Mr Khan put in a request with Transport for London (TfL) for them to remain mandatory across the capital's public transport including Tube, bus, tram, Docklands Light Railway (DLR), Overground and TfL Rail, saying he was "not prepared" to put people in the capital "at risk".
Read more: Nicola Sturgeon eases Scotland lockdown to Level 0 - but face masks remain mandatory
Read more: More than one million children of key workers living in poverty - report
He told James that the evidence from SAGE and the World Health Organisation was that "wearing a face mask indoors where you can't keep a social distance reduces the transmission more so than not wearing a face mask" and the move to continue the mandate on TfL networks would give people the "confidence" to travel around the capital.
"It's good for public safety, it's good for public reassurance," he said.
Transport Secretary Grant Shapps has spoken out in support of the move, telling LBC's Nick Ferrari that the decision was in line with what ministers expected.
He said the government "welcomed and anticipated" certain transport providers setting conditions of carriage which could require commuters to wear masks.
When asked about Mr Shapps' comments by James, Mr Khan said: "It's always good to see government ministers backing the Mayor of London."
He added: "To be fair to the government, what they have been clear to us about over the last few weeks - and I welcome this by the way - is giving us autonomy to do what we think is right."
However, Mr Khan did say he had "lobbied" for a national mask mandate to "avoid confusion" and to make it easier to enforce.
He said he was "disappointed" the Government decided against continuing to enforce one in England.