Police officers who took pictures of murdered sisters jailed for two years and nine months
6 December 2021, 16:22 | Updated: 6 December 2021, 20:35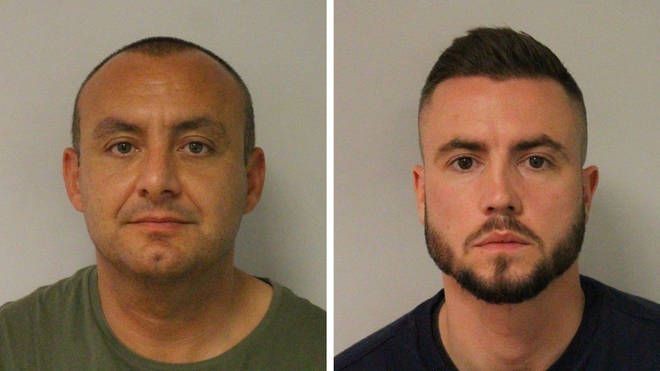 Two police officers who took pictures of murdered sisters Bibaa Henry and Nicole Smallman have been sentenced to two years and nine months each.
Pc Deniz Jaffer and Pc Jamie Lewis both pleaded guilty to misconduct in a public office. Last month, a tribunal found the officers committed gross misconduct.
Speaking outside court after the sentencing, Mina Smallman, the sisters' mother, said her family had been to "hell and back".
The Met has apologised over the incident.
Lewis was dismissed from the Met immediately, and Jaffer would have been sacked, had he not already quit the force.
They were assigned to guard the crime scene overnight after Ms Henry, 46, and Ms Smallman, 27, were found dead in bushes in Fryent Country Park, Wembley, north-west London.
Instead, they breached the cordon to take "inappropriate" and "unauthorised" photographs of the bodies, which were then shared on WhatsApp.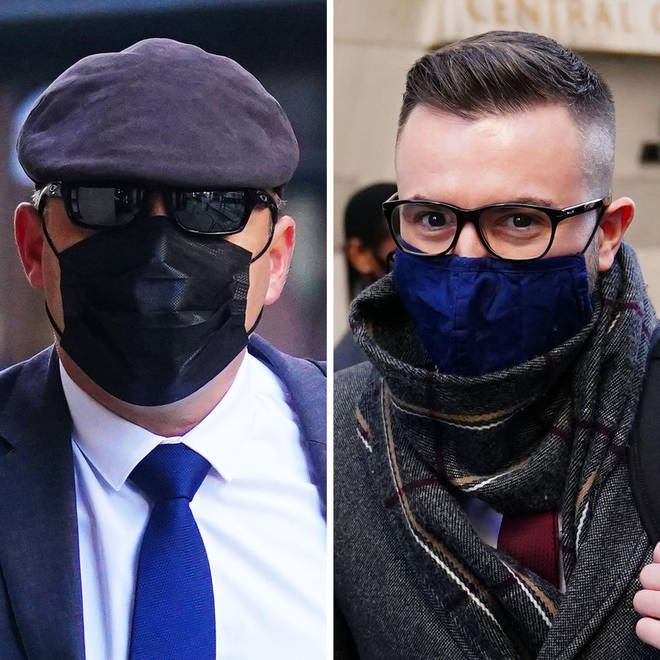 Read more: Moment police confront man for not wearing mask while 'ordering Subway'
Read more: Omicron: Variant spreading through community transmission in 'multiple English regions'
Lewis even superimposed his face onto a picture with the victims in the background.
He sent the doctored image to Jaffer, who forwarded it to a female officer at the scene.
Jaffer went on to show one of the photos to a male officer as they left the park and sent others to three friends on WhatsApp.
Lewis, who used "degrading and sexist" language, also shared crime scene pictures with a WhatsApp group of 40-plus officers called the "A Team".
The pair, who were attached to the Met's North East command unit, were suspended from duty following their arrests on June 22 last year.
Jaffer, 47, of Hornchurch, east London, and Lewis, 33, from Colchester, Essex, pleaded guilty to misconduct in a public office.
During the sentencing today, Judge Mark Lucraft QC rejected an appeal for the officers to be spared custody, jailing each of the men for two years and nine months.
Read more: Evil stepmother Emma Tustin 'poisoned with salt' in jail in revenge for killing Arthur, 6
Read more: Boris Johnson to decide on Christmas Covid restrictions within 10 days
The judge condemned their "appalling and inexplicable conduct".
Judge Lucraft said: "The public expects, and rightly so, the highest of standards from police officers.
"I am sure there will be many thousands of officers in police forces in this country and abroad utterly horrified by your actions.
"It is appalling and inexplicable conduct.
"Here, the two of you not only violated the police cordon with the effect that had on the scene and on the investigation, but then wholly disregarded the privacy of the two victims of horrific violence and their families for what can only have been some cheap thrill, kudos, a kick or some form of bragging right by taking images and then passing them to others."
Read more: 'Nowhere to hide' as Govt announces plans to crackdown on illegal narcotics
Read more: Italy bans unvaccinated from restaurants, theatres and museums ahead of Xmas
Previously, the sisters' mother Mina Smallman called on the Metropolitan Police to "get the rot out once and for all".
She said on the steps of the Old Bailey: "It's not a day for celebration, it never is...
"We haven't even dared to dream what it's going to feel like not having this hanging over your head.
"There's more work to be done, the most important thing is, I think because of the sentencing we are part of the change thats going to come in the culture of the police force.
"And I'll say it again, most of our police force are amazing and do amazing jobs but there is an element that has taken over the culture of how they banter."
Adding that the officers' actions were a "betrayal of catastrophic proportions" that amounted to "pure misogyny".
She continued: "Jaffer and Lewis callously and without any regard for our dead girls' bodies committed, to my mind, a sacrilegious act.
"We were told ...the police officers whose task it was to protect and preserve the crime scene had, in fact, for their own amusement, took selfies, posing for pictures with our dead daughters.
"We were horrified. I had never heard of anything so macabre.
"Those police officers felt so safe, so untouchable, they felt they would take photos of our murdered daughters. Those officers dehumanised our children. "
Read more: Storm Barra: How to stay safe and protect your home during a storm
Read more: Storm Arwen: All houses without power to be reconnected by tomorrow, says Boris Johnson
Last month, a tribunal found the officers had committed gross misconduct.
Lewis was dismissed from the Metropolitan Police immediately and Jaffer would have been sacked too, had he not already quit the force.
The force's ssistant commissioner for professionalism Helen Ball said: "Our thoughts are once more with the family and friends of Bibaa Henry and Nicole Smallman. I am so sorry that during the most difficult time in their lives the actions of these two officers caused them so much additional pain and distress.
"Today former Pcs Jaffer and Lewis have been punished for their actions which were utterly unprofessional, disrespectful and deeply insensitive.
"All of us in the Met and wider policing are horrified by their shameful behaviour."