Comedian Warns Of Tommy Robinson Political Movement If Brexit Is Betrayed
24 October 2018, 20:57 | Updated: 26 October 2018, 13:55
A comedian who backed Remain in the EU Referendum warned overturning Brexit would lead to the uprising of a Tommy Robinson-style political movement.
Konstantin Kisin was one of four members on Iain Dale's Cross Question panel on Wednesday night.
He spoke as Theresa May's leadership survived a crunch meeting of Conservative MPs and her Brexit critics.
The Prime Minister called for unity as she tried to avert a reckoning over her premiership.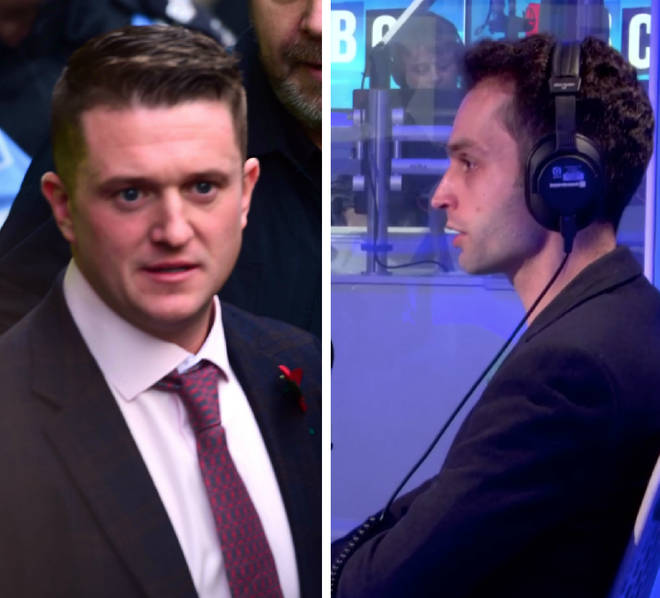 On Saturday hundreds of thousands of protesters marched through London demanding a so-called People's Vote.
But, Konstantin, who backed Remain, warned any attempts to overturn Brexit would see Brits lurch to the far-right.
He said: "I'm starting to come round to the position that unless we can allow people who voted Leave to get what they voted for which is the ability to control immigration, a sense of national identity and so on, unless we make that happen we're going to have very serious problems in this country."
"You see people like Steve Bannon already calling Tommy Robinson a 'British patriot', I suspect we will see if Brexit isn't delivered people like Tommy Robinson starting to lead a political movement."
You can watch the full episode below.
Cross Question With Iain Dale: 24th October 2018

It's time for Iain Dale's Cross Question, with tonight's panel: - Tory deputy chairman James Cleverly - Labour MP Anneliese Dodds - Columnist Charles Moore - Comedian Konstantin Kisin

Posted by LBC on Wednesday, 24 October 2018