Jacob Rees-Mogg Tickles Iain Dale With One Very Dry Fact About Penny Mordaunt
9 November 2017, 17:04 | Updated: 9 November 2017, 18:37
When Iain Dale asked Jacob Rees-Mogg for one thing we never knew about the new International Development Secretary his response was both very dry, yet very funny.
Penny Mordaunt was announced in the role on Thursday following the resignation of Priti Patel.
The job became vacant after it was revealed Ms Patel held unauthorised meetings with Israeli politicians while on holiday earlier this year.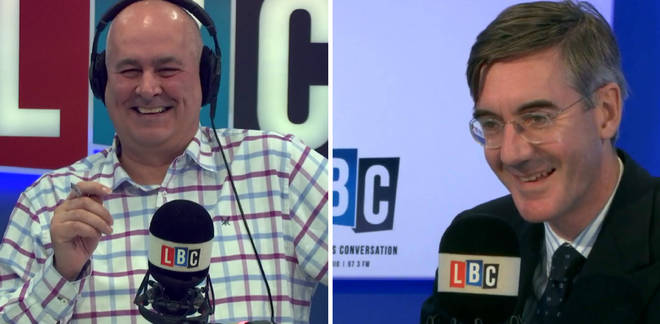 - Who Is Penny Mordaunt? Meet The New International Development Secretary
So to make people more familiar with the government's newest minister, Iain asked the Tory backbencher to give him one interesting fact about her.
And his response was so underwhelming the LBC presenter could do nothing but laugh.
Mr Rees-Mogg said: "Erm, she was on the European Scrutiny Committee and she was a very valuable member of it."
A chuckling Iain replied: "I was looking for something a bit more entertaining than that Jacob."
To which the MP for North East Somerset quipped: "You know dear, I'm not the right man for gossip, nobody ever tells me any gossip."
Watch the entertaining moment above.