'Language has consequences': Iain Dale reviews Lee Anderson's 'irresponsible' language directed towards migrants
8 August 2023, 22:09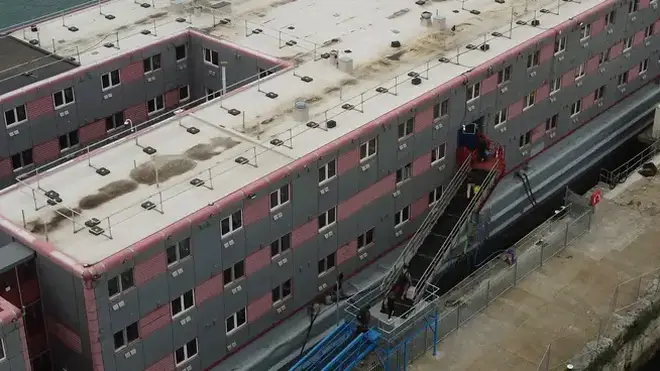 Iain Dale discussed Lee Anderson's controversial comments over migrants 'complaining' about the Bibby Stockholm barge.
Iain Dale spoke to listeners after Lee Anderson, MP for Ashfield, said those unhappy with the Bibby Stockholm, a housing barge for migrants, should "f*** off back to France" or "better not come at all in the first place".
Iain said: "I mean he's deputy chairman of the Conservative Party, I repeat Deputy Chairman of the Conservative Party which doesn't make him a formal member of the government but he does speak for the government...
"I completely accept that there will be people who cheer on Lee Anderson for that but my view is that politicians have a responsibility not to use inflammatory language when talking about immigration and race."
It comes after the first group of 15 migrants boarded the controversial barge on Monday, which is moored in Dorset.
However, it emerged that some 20 migrants who were set to board the barge had their transfers "cancelled" after lawyers acting on behalf of a refugee charity blocked the move.
Read more: 'I like it': First migrant to leave Bibby Stockholm gives verdict on what life is like on floating barge
Read more: Migrants who refuse to board Bibby Stockholm barge 'face losing government support'
Iain continued: "I think this is entirely irresponsible, it shouldn't have been said in those terms, it's insulting and it has consequences.
"Language has consequences and I'm afraid what we may well find, I hope I'm wrong on this but what we may well find is that there are now asylum seekers who reap the kind of consequences of this language."
Justice Secretary Alex Chalk also defended Mr. Anderson's comments on Tuesday, as he said the MP's comments contain "a lot of sense".
Mr. Chalk told LBC: "Lee Anderson expresses the righteous indignation of the British people. Yes, he does it in salty terms, that's his style, but his indignation is well placed."
The Justice Secretary said France is a safe country and a signatory to the European Convention on Human Rights.
Former shadow Home Secretary Diane Abbott criticised the MP's comments, as she said: "A new low even for the Tories."
Despite the backlash faced by Mr Anderson, he doubled down on his remarks, as he replied to Ms Abbott's tweet: "Wrong again... I told illegal migrants to go back to France, not genuine asylum seekers."
Read more: 'We will punish and disgrace rogue lawyers who help small boat migrants lie to stay in UK', justice secretary vows