Iain To Sophie Walker: "Maternity Rights Have Nothing To Do With Brexit"
26 January 2017, 18:17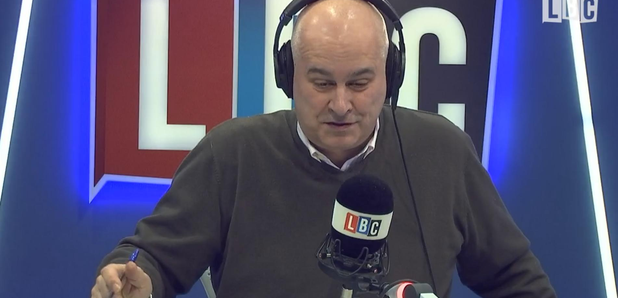 Iain Dale did not back down when the Women's Equality Party leader suggested Brexit will impact maternity legislation.
The LBC presenter got caught up in a fiery exchange with Sophie Walker during a discussion about Theresa May's meeting with the US President tomorrow.
The Women's Equality Party leader said: "This is not just about being a role model by dint of her sex anymore. This is about putting into place policies to represent 100% of the UK population, not just 50%.
"It's doubly important because this process of Brexit that we are in at the moment is so uncertain and there has been so little discussion of the impact specifically on women's rights.
"Whether we're talking about equal pay, whether we're talking about maternity and pregnancy protection, whether we're talking about workers' rights."
Iain then interrupted: "I'm sorry, maternity protection? There was legislation in this country long before we were members of the EU. That did not come through the EU. That was UK domestic legislation."
Sophie added that as part of UK legislation and workers' rights as part of trade deals women will not be protected.
But Iain wasn't having any of it. He said: "You're ignoring the point that I have just made. Is maternity legislation UK domestic legislation or EU legislation? It's domestic."
Sophie continued: "I am talking about trade deals and there has been no specific answer to the questions that have been asked many times about what that impact will be on women's rights."
Iain said: "There should be absolutely no impact on maternity rights given that that's UK domestic legislation anyway, so it's a completely spurious point that you're making."
Sophie maintained that her point was "an important one", and Iain maintained that maternity rights have nothing to do with the EU.
He went on: "Maternity rights have nothing to do with Brexit or the EU. They are legislated for in this country by the UK government, right or wrong?"
Sophie responded by saying that Theresa May has not given reassurance to the UK that women's rights will be protected post-Brexit.
Things then took a fiery turn. Iain said: "I can see you don't want to address that point...you're not. Will you admit to me that maternity rights legislation in this country, is it UK legislation or does it come from the EU? It's one or the other."
Sophie then answered: "I am talking about what Theresa May is doing next."
A frustrated Iain then said: "I thought you were a different kind of politician who comes on programmes and actually answers the question."
But Sophie hit back: "I thought that for once Iain we were actually going to have a respectful and helpful interview...I have absolutely answered the question, just not in the way you would like me to."
Iain responded: "I'm telling you that maternity rights have nothing to do with Brexit and you won't accept that."