This Is What Britain's Post-Brexit Immigration System Should Look Like - Iain Dale
17 August 2017, 16:36 | Updated: 22 August 2017, 09:53
Iain Dale has set out exactly what Britain's immigration system should look like once the country's departure from the EU is complete.
The LBC presenter was speaking as the former Conservative leader William Hague urged Theresa May to take a "liberal" approach to post-Brexit migration.
Lord Hague, who supported Remain, said it's possible to find a solution to leaving the bloc without "shooting your foot off".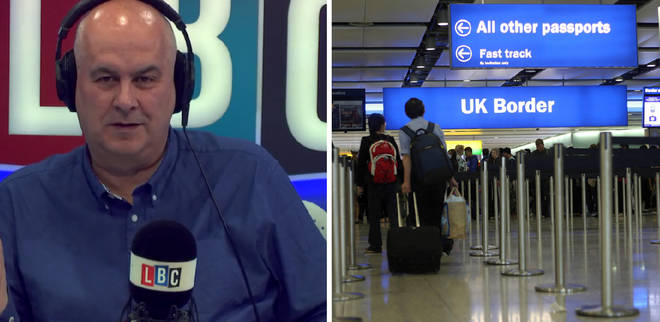 Leave-backing Iain said Lord Hague's remarks were "absolutely right" as he said a so-called liberal Brexit did not mean the continuation of freedom of movement.
He said: "We should not be giving any signal at all that we are shutting the door after March 29th 2019 - why would we do that?
"It would be an act of economic self-harm for us two that, it would be 'shooting ourselves in the foot'."
Iain continued: "The second point on that is, if we are going to control our borders we actually need to have a border force worth the name because we certainly don't at the moment."
Watch Iain's passionate rant in full at the top of this page.