South Korean President Yoon Suk Yeol makes surprise visit to Ukraine
15 July 2023, 12:44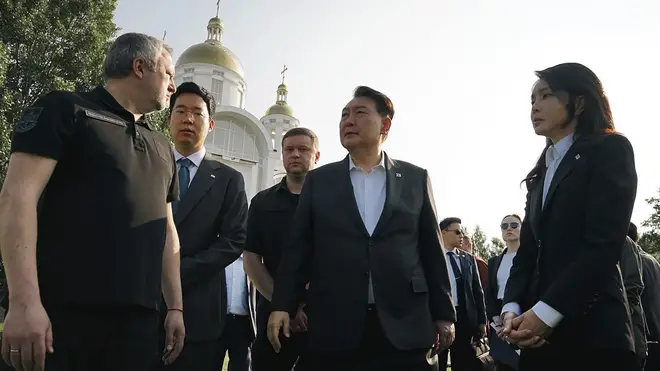 It was his first visit since Russia invaded Ukraine almost 17 months ago.
South Korean President Yoon Suk Yeol has made a surprise visit to Ukraine, offering an apparent show of support for the country in its war against Russia.
Mr Yoon's office said he travelled to Ukraine with his wife, Kim Keon Hee, after trips to Lithuania for a Nato summit and to Poland.
It was his first visit since Russia invaded Ukraine almost 17 months ago.
Mr Yoon toured Bucha and Irpin, a pair of small cities near Kyiv where bodies of civilians were found in the streets and mass graves after Russian troops retreated from the capital region last year.
He also laid flowers at a monument to the country's war dead.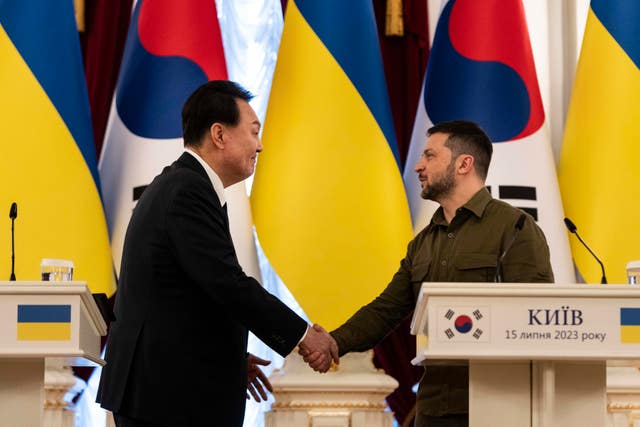 The South Korean leader was scheduled to hold talks with Ukrainian President Volodymyr Zelensky later in the day, spokesman Kim Eun-hye said in a statement.
South Korea, a key US ally in Asia, joined international sanctions against Russia and has provided Ukraine with humanitarian and financial support to Ukraine.
But the Asian nation, a growing arms exporter, has not provided weapons to Ukraine in line with its long-standing policy of not supplying arms to countries actively engaged in conflict.
Earlier this month, Mr Yoon said supplies of de-mining equipment, ambulances and other non-military materials "are in the works" after a request from Ukraine.
He said South Korea already provided support to replace the Kakhovka Dam, which was destroyed last month.
The Russian and Ukrainian governments have accused each other of blowing up the dam, but evidence suggests Moscow had more of a motive to cause deadly flooding, endanger crops and threaten drinking water supplies in a contested part of Ukraine.
"The government of the Republic of Korea is firmly committed to actively joining the United States and other liberal democracies in international efforts to defend the freedom of Ukraine," Mr Yoon said.
During a January visit to South Korea, Nato secretary-general Jens Stoltenberg called for the country to provide direct military support to Ukraine, saying Kyiv was in urgent need of weapons to fight off the prolonged Russian invasion.
In May, when Mr Yoon met Ukrainian first lady Olena Zelenska in Seoul, the president said he would expand South Korea's non-lethal aid to Ukraine. His spokesman Lee Do Woon said at the time that Ms Zelenska made no request for South Korean weapons during their conversation.
Since Russia's February 2022 invasion of Ukraine, South Korea has reached billions of dollars worth of deals to provide tanks, howitzers, fighter jets and other weapons systems to Nato member Poland.
An American official said in November that the US had agreed to buy 100,000 artillery rounds from South Korean manufacturers to provide to Ukraine, although Seoul officials have maintained that the munitions were meant to refill depleted US stocks.