Killer Afghan asylum seeker jailed for life as it emerges he 'chatted up girls at school while posing as boy, 14'
25 January 2023, 13:14 | Updated: 25 January 2023, 14:07
A killer Afghan asylum seeker who posed as a 14-year-old chatted up teenage girls and asked them on dates at secondary school, parents have said.
Lawangeen Abdulrahimzai was convicted of the knife murder of aspiring marine Thomas Roberts in Bournemouth Town Centre yesterday. He was sentenced to life imprisonment with a minimum term of 29 years this afternoon for Mr Roberts' murder.
It emerged he had been previously convicted of murder in Serbia and was sentenced to 20 years in his absence.
He was found guilty of two counts of murder as well as a related firearm offence in 2020 following a trial in his absence, having already fled Serbia.
Abdulrahimzai, 19, arrived in Britain in 2019 and was allowed to study at Winton Academy in Bournemouth, where he posed as a teenage pupil.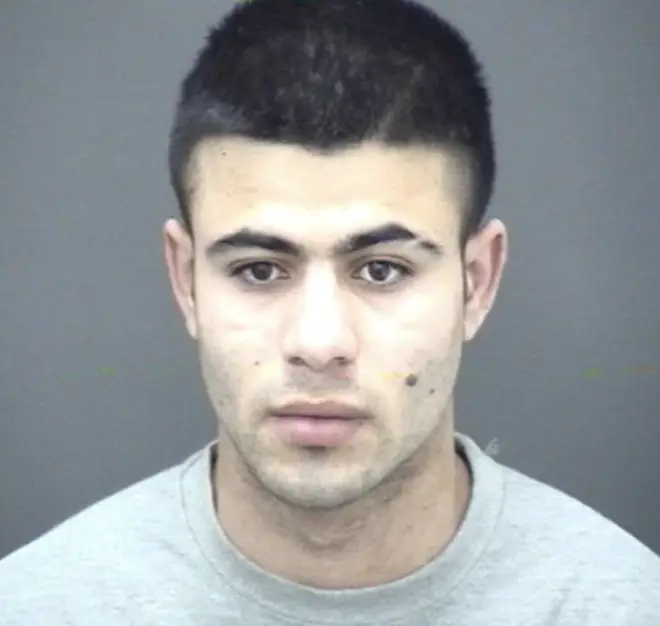 He claimed the Taliban had murdered both his parents to secure a place with a foster mother.
The cold-blooded killer was then able to mingle with teenage students with parents sharing their horror on Facebook.
One mother, Abbie Mercy, posted: "This scumbag was placed at Winton in my son's year after he had murdered two people at pretty much point blank range!
"He was allowed to be with two of my children on a daily basis under the assumption he was 14. He was asking girls out.
"My anger is not with the school, I feel their hands were tied. It's the local authority and the government. 
Read more: X-Ray asylum seekers' wrists to verify their age, minister demands after Afghan murders DJ after posing as 14-year-old
Read more: Asylum seeker who shot dead two people in Serbia murdered aspiring Royal Marine after posing as child to enter UK
"Where's the duty of care towards my children?'
Another parent said: "I was fuming when I found out he had been placed in my 14-year-old daughter's year group.
"The school did have their hands tied about accepting him as a student, however where they went wrong was not notifying us parents about it instead of trying to sweep it under the rug.
"Any kind of inappropriate behaviour could have occurred as he was asking 14-year-old girls out and changing with 14-year-old boys in PE."
A third said: "A lot of the pupils were scared of him. Lo used to get into fights all the time. In fact he was expelled from Winton Academy because of fighting.
"What I also find horrifying is that he was brazenly chatting up 14-year-old girls at lunchtime. He would come over and sit with them, it was really creepy. He asked a few girls out even though they were under age."
Abdulrahimzai was found guilty by majority verdict of murdering 21-year-old Thomas Roberts in Bournemouth, Dorset, last year.
Mr Roberts was acting as the "peacemaker" in the early hours of March 12 2022, after his friend James Medway got into an argument with Abdulrahimzai.
Mr Medway wanted to take an e-scooter Abdulrahimzai had claimed for himself and left propped against the window of the Subway sandwich shop in Old Christchurch Road.
The confrontation, which lasted only 24 seconds, saw Mr Roberts slap Abdulrahimzai in the face.
Abdulrahimzai then revealed the knife he had hidden between the two pairs of trousers he was wearing and stabbed Mr Roberts twice before running away into nearby woodland.
He buried the knife in the woods before burning the trousers, jacket, and Afghan flag he was wearing as a scarf.
However, he dropped his mobile phone as he fled and it was traced to his home address.
In the months before the incident, Abdulrahimzai shared pictures of himself posing with a knife about 10in long on the social media and video sharing app TikTok.
He had been seen carrying a knife by his foster parent, who had warned him not to, and had also been warned by police and social workers about the dangers of carrying a knife.
Abdulrahimzai told the court that he carried a knife because he was "fearing" for his life because there were people from Afghanistan who wanted to kill him, and he had also had death threats in Bournemouth.
The defendant said he posted photos of his knife on TikTok to get followers from "people out there liking knives".
Abdulrahimzai, who lived in Poole at the time of the offence, arrived in the UK in December 2019, and told the authorities he was 16 when he was arrested, but the court has since determined that he is now 21.
In his defence, Abdulrahimzai said he had no intention to kill or cause really serious harm to Mr Roberts - he "acted instinctively", said he "feared for his life", and felt he had to defend himself.
He will be sentenced at the same court by Judge Paul Dugdale on Wednesday.