Clashes in streets on London's final night before entering Tier 2 lockdown
16 October 2020, 23:30 | Updated: 17 October 2020, 13:42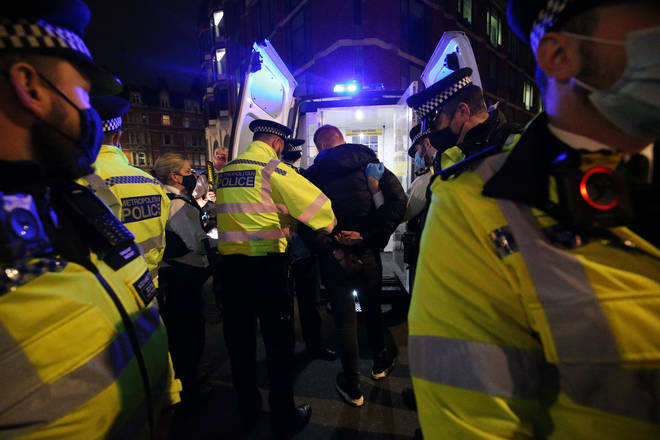 Crowds gathered and one person was arrested before the 10pm curfew on Friday, London's final night before entering a Tier 2 lockdown.
One person was arrested for being drunk and disorderly, while one other person was issued a dispersal order and directed away from the area.
Some pub-goers remained on the streets, along with police officers, after the 10pm curfew kicked in.
Read more: Police to step up action as London goes into 'tier two' at midnight
Read more: More than half of England living with heightened coronavirus restrictions
Just minutes before, bars were packed with people enjoying their final night of mixing indoors with people from outside their households or 'bubbles'.
Earlier in the day, police officers made a number of arrests following a disturbance involving a small group of anti-lockdown protestors who tried to take over the middle of the square.
However, most people appeared happy to return home once the curfew forced pubs and bars to close.
Spotted among the crowds was former Labour leader Jeremy Corbyn's brother Piers, who also attended an anti-mask protest in the capital last weekend.
Piers Corbyn has previously been fined £10,000 for organising a rally during the lockdown.
Police in London had earlier said they would be stepping up patrols and taking increased action to crack down on breaches of coronavirus rules from this weekend.
Nine million people in the capital face Tier 2 restrictions from midnight tonight, with a ban on different households mixing in any indoor setting.
Read more: Man, 51, charged with attempted murder of police officer
Read more: Nearly 28,000 Covid infections every day in first week of October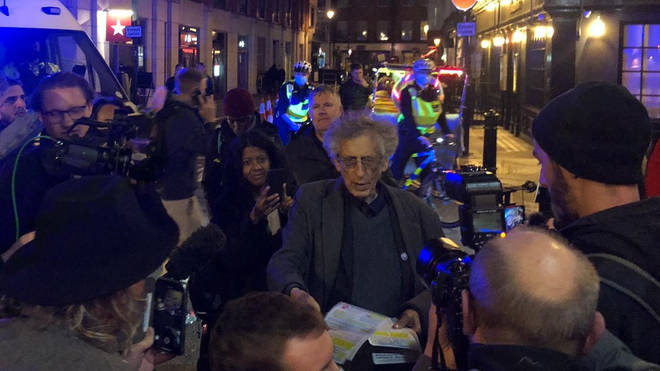 Deputy Assistant Commissioner Matt Twist, Met lead for Covid-19, said: "This is a critical moment in London's fight against this deadly virus and over the coming weeks I know the vast majority of Londoners will make the right decisions in order to keep themselves and their families safe.
"Frustratingly, we have seen a small number of dangerous and reckless breaches of the regulations and as the alert level in London increases, we are adopting our policing approach.
"Communities across London can therefore expect to see an increase in our efforts to deal with the most deliberate, harmful and flagrant breaches of regulations.
"We will not hesitate to take action against those individuals or businesses who put people at risk."
Other areas set to introduce Tier 2 restrictions on Saturday include Essex, Elmbridge, Barrow-in-Furness, York, North East Derbyshire, Erewash and Chesterfield.
More than half of England is now living with heightened coronavirus restrictions after the severest measures came into force in Lancashire and Londoners were banned from meeting indoors.
Listen & subscribe: Global Player | Apple Podcasts | Google Podcasts | Spotify
The measures came into force as Greater Manchester continued to resist the highest controls as the region's political leaders fight to secure more financial support for workers and businesses.
Pubs in Lancashire that cannot function as restaurants were closed on Saturday, as it joined the Liverpool region in having Tier 3 restrictions.
The new measures placed more than 28 million people in England into the top two tiers of restrictions.
Boris Johnson warned Greater Manchester mayor Andy Burnham on Friday he would impose Tier 3 measures if they could not reach an agreement as he warned of a "grave" situation.
"I cannot stress enough: time is of the essence. Each day that passes before action is taken means more people will go to hospital, more people will end up in intensive care and tragically more people will die," the Prime Minister told Downing Street press conference.
Mr Burnham and council leaders across Greater Manchester responded by insisting they have done "everything within our power to protect the health of our residents", and said people and firms need greater financial support before accepting the lockdown.
They also suggested in a joint statement that Downing Street had delayed discussions, adding: "We can assure the Prime Minister that we are ready to meet at any time to try to agree a way forward."
The row continued as people in Tier 2 or 3 areas in England, as well as the central belt of Scotland and the whole of Northern Ireland, were banned from entering Wales from 6pm on Friday.
And pubs, restaurants and cafes across Northern Ireland had to close their doors to sit-in customers.