Charles announces crackdown on 'the scourge of unlicensed pedicabs in London' during King's speech
7 November 2023, 12:04 | Updated: 7 November 2023, 13:34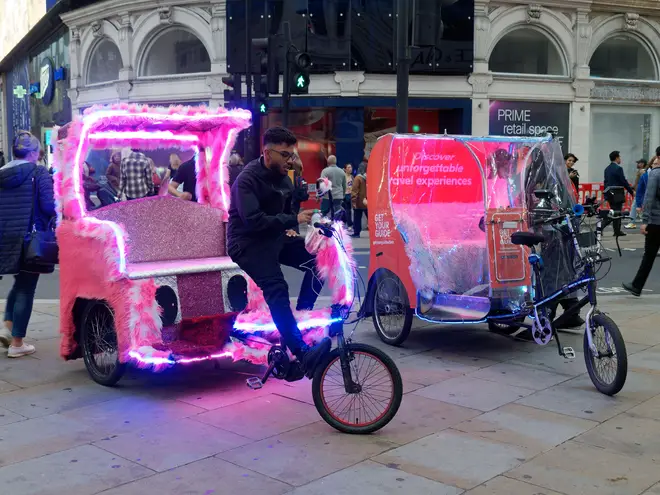 King Charles has announced plans to deal with the 'scourge of unlicensed pedicabs in London' during his first King's Speech to Parliament.
The King introduced a bill today that is expected to bring in a new licensing system for the three-wheeled carriages that take people around London.
The Government's Pedicabs (London) Bill will hand Transport for London (TfL) the power to implement a licensing regime for the vehicles.
The transport body will also be given the ability to control fares, ensure drivers undergo criminal record checks and set safety standards for operators and their vehicles.
Read more: Charles honours his 'beloved mother' as he announces crime crackdown and smoking ban in historic King's Speech
Read more: King's Speech at a glance: Smoking ban, crime crackdown and new football regulator
Nickie Aiken, Conservative MP for the Cities of London and Westminster, told The Evening Standard yesterday: "Currently we do not know if the vehicles are safe to be on the road, that the drivers are safe to take passengers, there is no regulation of fares which means time and time again tourists and visitors to London are ripped off, often by hundreds of pounds."
"Now that we've secured the Bill it's important to get it on the statute books as soon as possible," she added.
The plans will mean pedicabs will be licensed in the same way as other private hire vehicles in London, with standards for operators, drivers and the bikes themselves.
A pedicab bill was supposed to go on the statute books as part of the proposed Transport Bill under Boris Johnson's leadership but it ran into the sand when he resigned as PM.
Adam Hug, leader of Westminster City Council, welcomed the announcement on pedicabs but expressed disappointment that the King's Speech did not include action on e-bikes and scooters, which frequently obstruct pedestrians when parked.
He said: "I am disappointed that the Government has not delivered on promises made last year to legislate on e-bikes and scooters.
"While we welcome the action on pedicabs, this is an issue which mainly affects tourists and leaves the wider problems caused by some e-bike and scooter riders unchallenged.
"There are up to 2,000 e-bikes in the borough at any given time and with no regulations around their hire, operation or parking, forcing disabled people, people with prams and other pedestrians problems walking in busy roads.
"While we have established a network of around 300 parking bays through negotiations with e-bike operators and have seized dangerously placed bikes, we are hamstrung by the lack of legislation and subsequent regulation to give us as the local authority and TfL the powers we need to give us enforcement options against e-bikes and scooter riders with real teeth."
Dee Corsi, CEO of the New West End Company, said: ""The new regulation for pedicabs will be welcomed by businesses and members of the public alike. The licensing system which has been fought hard for by Westminster City Council and Nickie Aiken MP, will have an immediate, positive impact for the West End, which did not previously have the power to regulate the vehicles directly.
"However, with the Transport Bill no longer being prioritised by the Government, e-bikes remain an outstanding issue and we would urge a review of how they are regulated without delay."