Govt secures first nationwide injunction against 'reckless and disruptive' eco mob
25 October 2021, 21:12 | Updated: 25 October 2021, 23:02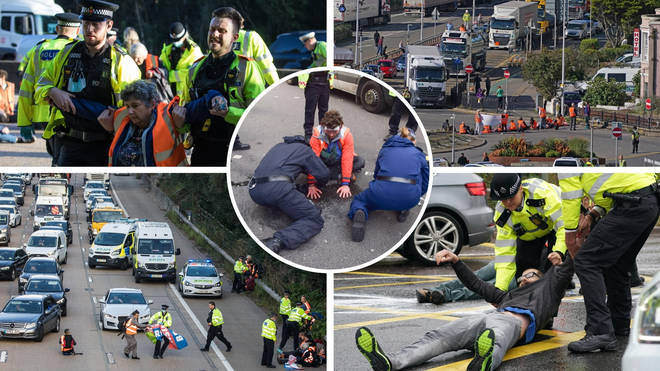 The Government has secured its first nationwide injunction against protesters who cause disruption on any key roads in England after Insulate Britain brought traffic in London and Canary Wharf to a standstill.
The High Court granted the interim injunction on Monday - when Insulate Britain returned from a 10-day break - following an application from National Highways.
Those who breach the injunction will be in contempt of court and at risk of imprisonment and/or an unlimited fine, the Government said.
The interim injunction comes as nine protesters face High Court proceedings for breaching other injunctions issued on key motorways such as the M25.
Read more: Dozens of arrests as eco mob returns to block busy London road
Read more: Eco mob returns for half term disruption as first activists face court cases
Transport Secretary Grant Shapps said they are "making use of every avenue of existing law to try to prevent the continued life-endangering action being carried out by Insulate Britain".
Mr Shapps said the protests have caused "intolerable disruption to motorists' lives and livelihoods".
"This new interim injunction will ban activities that obstruct motorways and major A roads across the entire country," he said.
"On top of the immediate measures we're taking, the long term solution lies in the changes to the Police, Crime, Sentencing and Courts Bill which were set out by the Home Secretary, giving additional powers against disruptive protests which target critical national infrastructure. This includes unlimited fines & prison sentences of up to 6 months for obstructing highways."
Read more: James O'Brien's powerful assessment of Insulate Britain coverage
Read more: Watch: Angry driver ties up Insulate Britain protester with his own banner
The new injunction bans activities that obstruct traffic and prevent access to 4,300 miles of motorways and major A roads. 
It also bans activities which cause damage to the road surface and infrastructure and prohibits activists from gluing themselves to the road or abandoning their vehicles. Anyone who breaches this injunction faces imprisonment and/or an unlimited fine.
Activists found in contempt of court may also be forced to repay the costs of their case.
On Monday, activists from Insulate Britain returned to the roads after a 10-day break.
Sixty-one demonstrators blocked three locations across London, including Upper Thames Street, Bishopsgate and Limehouse Causeway.
They demanded that the Government gets on with the job of insulating Britain's homes starting with the homes of the poorest people in the country.   
Read more: Furious mum blasts 'selfish' eco-mob for making daughter late to school
Read more: Traffic-blocking eco-mob are 'putting people off' climate issues, Sadiq tells LBC
Liam Norton from Insulate Britain said: "We know that the public is frustrated and annoyed at the disruption we have caused.
"They should know that one way or another this country will have to stop emitting carbon. We can do that now in an orderly, planned way, insulating homes and preventing thousands of deaths from fuel poverty or we can wait until millions have lost their homes and are fighting for water or starving to death.
"This treasonous government has betrayed the public. It is actively following a path that will lead to the death of millions - that's genocide.
"If you know this and are not joining nonviolent civil resistance then you are complicit. We can't be bystanders. Short term disruption or genocide - that's your choice."
Duncan Smith, acting executive director of operations at National Highways, said: "This new injunction covering the Strategic Road Network across the country is another step forward in helping to keep these reckless and dangerous protests away from our network and endangering peoples' lives.
"We continue to serve court papers on those who have breached the previous injunctions. People who breach the injunctions face imprisonment and/or an unlimited fine."
The latest interim injunction was granted in addition to three earlier injunctions including one covering the M25.
More than 100 activists have already been served with court papers in relation to these injunctions and may face imprisonment and/or a fine for contempt of court if they are found to be in breach of the orders going forward. O
On Friday, National Highways made nine applications to the High Court against protesters who had breached an existing injunction by blocking the M25.
Now an application for contempt of court has been made, the court will decide whether the protestors breached the injunction order.