Putin's nuclear threat is 'rhetoric', says Defence Sec as Ukraine faces critical 24 hours
28 February 2022, 07:31 | Updated: 28 February 2022, 08:47
The Defence Secretary today told LBC that Vladimir Putin's order to put Russia's nuclear deterrent on high alert was an example of him "flexing his muscles" to distract the rest of the world from the invasion of Ukraine.
Speaking to Nick Ferrari at Breakfast, Ben Wallace told LBC: "No, we're not going to have a nuclear war.
"President Putin is dealing at the moment in rhetoric. He wants to distract from what's gone wrong in Ukraine. He wants us all to be reminded that he has a nuclear deterrent.
"Britain has a nuclear deterrent. It's somewhere out there under the sea 24 hours a day, 365 days a year. It has kept us safe for decades. It is a deterrent by definition.
"President Putin knows that, and he also knows America and France also have a deterrent.
"This is more about putting it on the table to flex muscles and detract.
"No-one is going to do anything to unnecessarily provoke him or indeed to escalate this beyond trying to deter him from his actions in Ukraine. We know that he gets deterred by might."
Overnight blasts were heard overnight in several of Ukraine's cities, including the capital - Kyiv - and Kharkiv, according to Ukrainian officials.
Kyiv had been quiet for a few hours before the blasts took place, Ukraine's State Service of Special Communications and Information Protection said in a statement on Telegram.
Meanwhile, the United Nations' nuclear watchdog said missiles hit a radioactive waste disposal site in the capital.
In a statement late on Sunday, International Atomic Energy Agency director general Rafael Grossi said Ukrainian authorities informed his office about the overnight strike, but there are no reports of damage to the buildings or indications of a release of radioactive material.
It comes after Russian nuclear deterrent forces were put on alert by Vladimir Putin as Western nations unleash tough new sanctions on his regime.
New satellite imagery showed a three-mile column of Russian troops and tanks seen "moving towards Kyiv" on Sunday.
The images released by Maxar Technologies showed a deployment comprised of hundreds of military vehicles and extending more than 3.25 miles (5 km), Maxar said.
The worrying images were published as Ukraine's President Volodymyr Zelenskyy warned the next 24 hours are "crucial" for his country.
Boris Johnson spoke to the Ukrainian president again on Sunday, praising the "heroic" resistance of the Ukrainian people in the face of the Russian attack.
"The Prime Minister lauded the bravery of the Ukrainian people following the Russian invasion and praised the leadership of President Zelenskyy in the face of such adversity," a No 10 spokesman said.
"The resistance of the Ukrainian people was heroic, the Prime Minister added.
"President Zelensky said he believed the next 24 hours was a crucial period for Ukraine, and the Prime Minister said he would do all he could to help ensure defensive aid from the UK and allies reached Ukraine."
On Sunday, Ukraine and Russia confirmed they were set for 'peace talks' at the Belarus border, near the Pripyat river.
"Alexander Lukashenko [Belarus's president] has taken responsibility for ensuring that all planes, helicopters and missiles stationed on Belarusian territory remain on the ground during the Ukrainian delegation's travel, talks and return," a statement from President Volodymyr Zelenskyy's office said.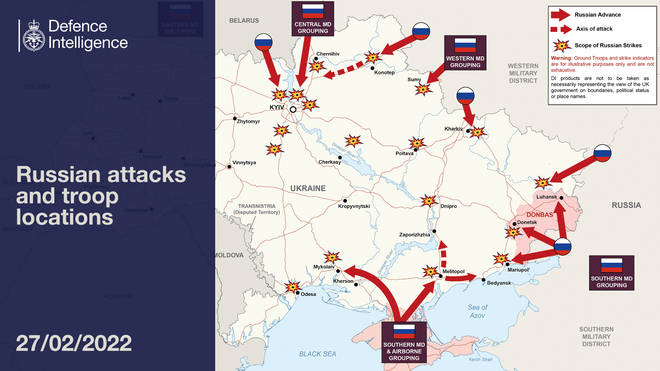 But even as the two appeared to agree to talks, Putin, who was also hit by sanctions, has ordered his country's nuclear deterrent on alert - apparently as a response to the sanctions.
His country's banks were cut off from an international transaction system and other financial institutions have been hit, along with oligarchs.
On Sunday, the European Commission announced a full ban of Russian aircraft over the EU and restrictions to the state-owned broadcaster Russia Today.
Its president Ursula von der Leyen also announced new sanctions against Belarus' president Alexander Lukashenko, who she described as the "other aggressor in this war" for supporting Russia's widespread military campaign.
In a meeting with top officials, Mr Putin said Nato countries had made "aggressive statements" and noted the sanctions.
He told his defence minister, Sergey Shoygu, to put nuclear deterrent forces on a "special regime of combat duty".
Read more: BP to offload 19.75% stake in Russian oil firm Rosneft after Putin's 'act of aggression'
Read more: Liz Truss backs Brits who want to fight Russia in Ukraine's 'international legion'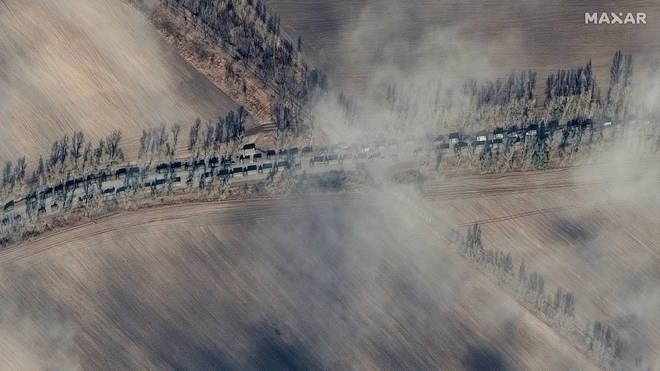 U.S. Ambassador to the United Nations Linda Thomas-Greenfield said: "It means that President Putin is continuing to escalate this war in a manner that is totally unacceptable and we have to continue to stem his actions in the strongest possible way."
Western leaders previously agreed to cut off some Russian banks from SWIFT, the international banking system, after slapping Putin, his foreign minister Sergey Lavrov, his oligarch supporters and other financial institutions with sanctions.
Countries also intend to send more military equipment to Ukraine.
⚡️ Explosions in Kyiv region: Mayor Vasylkova confirmed that an oil depot was burning as a result of an enemy missile. This can be a huge man-made and environmental disaster. pic.twitter.com/zFTBF6Fe1E

— SSSCIP Ukraine (@dsszzi) February 26, 2022
On Sunday evening, Boris Johnson said he has doubts Mr Putin was wanting to negotiate, adding: "There's nothing I've seen so far in his behaviour that leads me to think that he could possibly be sincere."
The Prime Minister also criticised broadcaster RT for "peddling" material that is "doing a lot of damage to the truth".
He added that Ofcom should look at it to assess whether it is "infringing the rules of this country".
Mr Johnson also announced the British government is to provide a further £40 million in humanitarian aid to Ukraine amid Putin's continued aggression.
He said that any person settled in the UK will be able to bring their Ukrainian immediate family members to join them here without a visa.
"This will benefit many thousands of people who at this moment are making desperate choices about their future," Downing Street said.
It said the funding will help aid agencies respond to the deteriorating humanitarian situation, creating access to basic necessities and medical supplies such as medicines, syringes, dressings and wound care packs.
Boris Johnson said: "In the last days the world has witnessed awe-inspiring displays of bravery and heroism from the Ukrainian people in response to those who seek to obliterate their freedom by force.
"The UK will not turn our backs in Ukraine's hour of need. We are providing all the economic and military support we can to help those Ukrainians risking everything to protect their country."
Foreign Secretary Liz Truss added: "Putin's regime has undertaken an illegal and violent assault against the people of Ukraine.
"The UK will provide £40 million in aid to help our Ukrainian friends, more funding to tackle what is becoming a humanitarian crisis.
"We stand with Ukraine, shoulder to shoulder, in its hour of need".
Russia has failed to make the progress it wanted in its invasion of Ukraine and is suffering from logistical challenges and determined resistance, the UK's Ministry of Defence says.
Russia has sustained casualties and "a number" have been taken prisoner, the Ministry of Defence said, adding that it is reported Russia has restricted social media to "conceal" the toll of the fighting from its citizens.
That came on the fourth day of fighting in which Ukraine claimed around 4,300 Russians have lost their lives.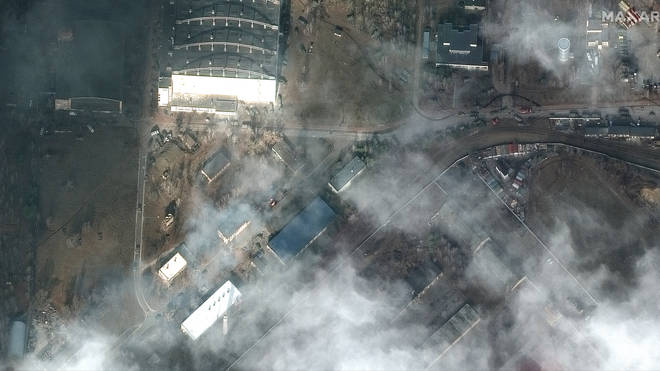 Russia unleashed another wave of attacks on Ukrainian infrastructure overnight, targeting airfields and fuel facilities.
The UK Ministry of Defence said late on Saturday: "Russian forces are not making the progress they had planned. They are suffering from logistical challenges and strong Ukrainian resistance.
"Russian forces are sustaining casualties and a number of Russian troops have been taken prisoner by Ukrainian forces.
Read more: Curfew extended to counter Russian 'saboteurs' as Kyiv braces for incoming missile attacks
Read more: Russian casualties 'heavy' and worse than Putin feared as Ukraine fights back
"The Russian government has reportedly restricted access to a number of social media platforms in a probable attempt to conceal details regarding the situation in Ukraine from their own people."
Russia is trying to overcome ferocious resistance by Kyiv's forces, which have mounted a determined defence of their country in the face of Vladimir Putin's military.
Huge explosions were seen early on Sunday south of Kyiv, the capital, which is considered the primary target of Russia's invasion – with experts expecting Russia to try and overthrow the democratically elected government of Mr Zelenskyy, the president who has refused to flee.
An oil depot was struck near an air base in Vasylkiv, south-west of the capital, where heavy fighting has been reported.
Another blast happened at Zhuliany airport, a civilian facility, President Zelenskyy's office said.
He called on Sunday for Russia to be stripped of its permanent seat on the UN Security Council, which grants it the ability to veto resolutions - as it did with a call for Moscow to withdraw from Ukraine in a recent vote.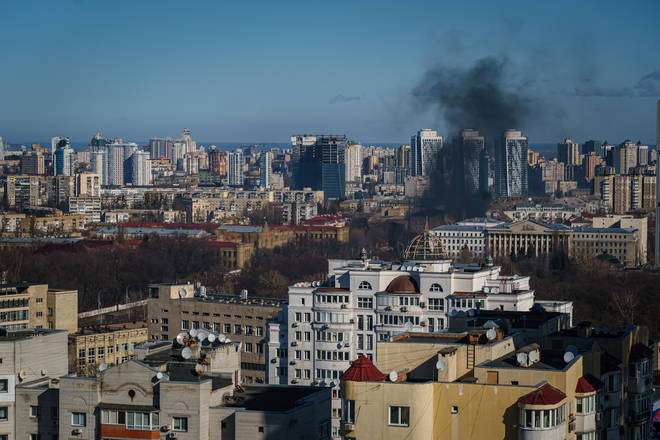 Read more: Western allies cut Russia out of SWIFT banking system amid Ukraine invasion
Read more: Chelsea's Russian owner Roman Abramovich hands over stewardship of club
The president's office added that Russians blew up a gas pipeline in Kharkiv, the second largest city in Ukraine, where the State Service of Special Communication and Information Protection warned the blast – which looked like a mushroom cloud – could cause an "environmental catastrophe".
The service advised people to cover their windows with damp cloth and drink plenty of fluids.
It comes as Ukraine reported more than 350 civilians have been killed.
The Ukraine Health Ministry said 352 civilians, including 14 children, have been killed in Russian assault so far.
Some 1,000 people have been injured in the first three days of fighting, and it claims thousands of Russian soldiers have been killed and 200 are captured.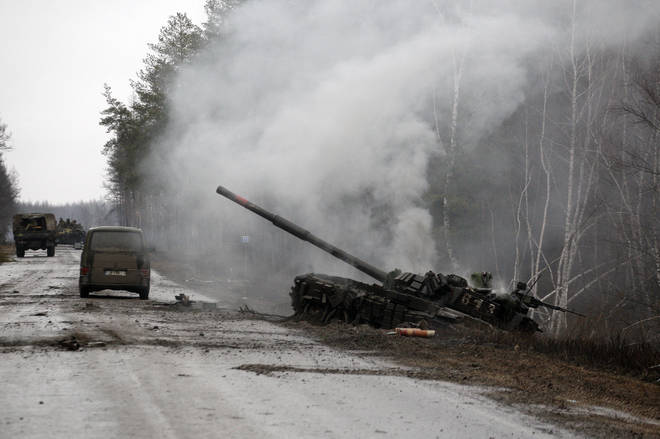 Street fighting was reported in Kyiv, which has been battered by missile strikes since the invasion began, with civilian housing getting caught up in the assault.
Residents have had to seek refuge in basements and the metro system, which has become a makeshift bomb shelter.
Around 368,000 Ukrainians are thought to have fled the fighting, escaping to Poland and other neighbouring countries. The UN warned 4 million could become refugees.