'Do not travel until Sunday': Travel chaos expected to last all weekend as Storm Ciaran roars in with 104mph winds
2 November 2023, 20:03 | Updated: 2 November 2023, 21:09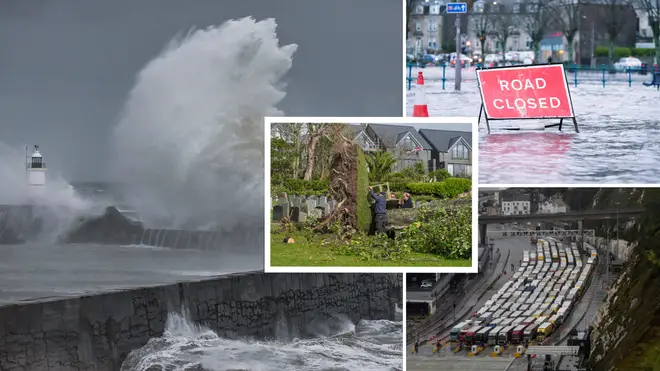 Brits have been issued with a 'do not travel until Sunday' warning as the disruption arising from Storm Ciaran is expected to last all weekend.
Much of the UK has been battered by strong winds and heavy rain today, with gusts reaching up to 104mph in some parts of the country.
Around 127,000 homes lost power across the country, with the Channel Islands being the worst hit areas.
Roofs were torn off the top of houses and trampolines were blown onto railway lines, with mass cancellations occurring across the UK.
King's Cross in central London is also in chaos this evening, with a signal failure causing all trains north to be either delayed or cancelled earlier this evening.
As for flights, more than 100 were cancelled in the UK today, travel journalist Simon Calder told LBC.
"Everything in and out of Jersey, Guernsey and Alderney airports was cancelled, that's because they decided to close them all because, obviously, the winds were extremely strong," Mr Calder told LBC's Andrew Marr. 
"That had a knock-on effect on places like Southampton, which is the main hub for the Channel Islands. 
"But actually you've had more cancellations in and out of London Heathrow. On British Airways, 50 flights cancelled, short-haul domestic and European."
Storm Ciaran has also brought disruption to Wales, where at the holiday park in Tenby, families were evacuated and LNER told passengers not to travel by train until Sunday.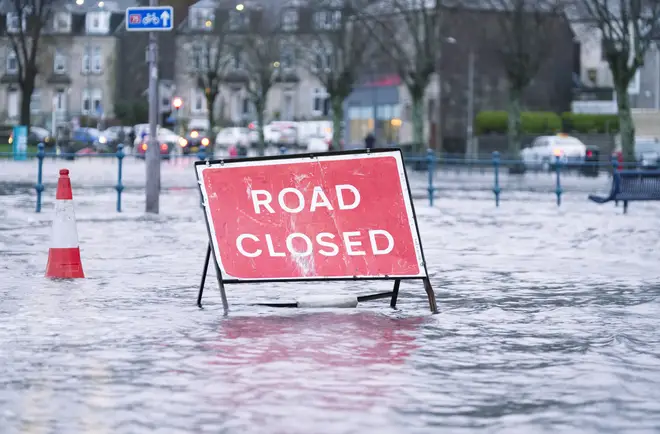 Meanwhile, a major incident was declared for Hampshire, the Isle of Wight and Jersey as schools shut and commuters faced severe disruption, with commuters in the south being urged not to travel on Thursday.
Authorities put 79 flood warnings in places across England on Thursday afternoon, meaning flooding is expected, and 195 flood alerts, where it is possible. Wales put 13 flood warnings in place, with Scotland flagging seven.
Jersey has seen some of the worst of the disruption so far, with windows smashed and roofs damaged by golf ball-sized hailstones amid gusts of 104mph. Several people have been taken to hospital.
Hundreds of schools in southern England were shut amid the storm, with massive travel disruption on motorways and railways. Southampton Airport and several other airports cancelled flights, while services were also suspended from the Port of Dover.
Follow the latest Storm Ciarán Live updates: 'Don't go outside' warning as gales of 100mph hit
Read more: Storm Ciaran batters Britain: Major incident declared and schools shut while 7,000 homes lose power as roofs blown off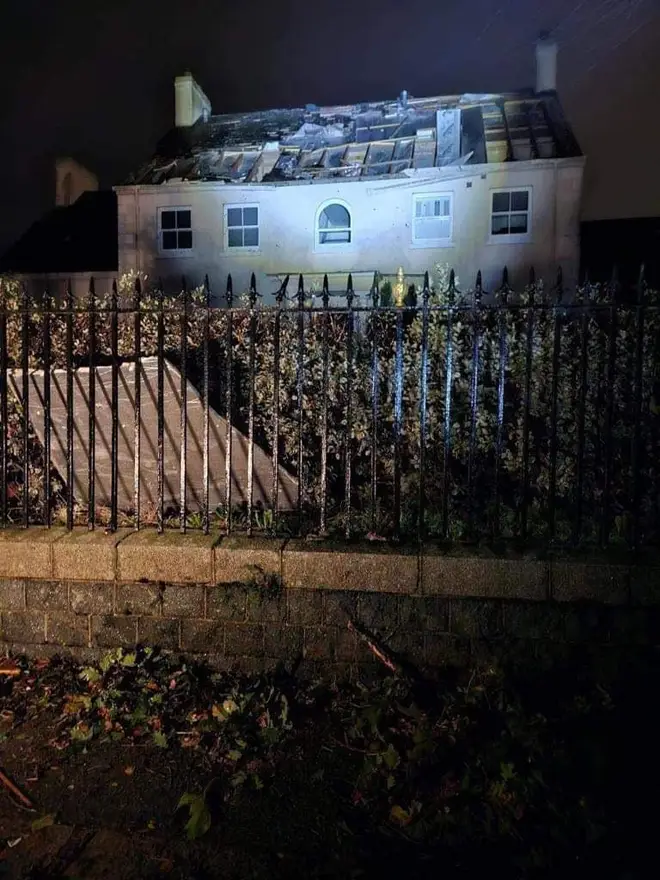 Several people had to be rescued from cars in flooded roads in Hampshire and the Isle of Wight, while a car was washed into the sea in Devon.
Carl Walker, 45, from the Jersey town of St Helier, said no one had expected the storm to be as bad as it had been, adding that it was "like a disaster movie".
Mr Walker and his family were woken by were woken by huge hailstorms at midnight, which he said were "marble-sized" and had gelled together to create "golf ball sized lumps of ice".
"We camped out in our living room downstairs with our children because it was just simply too noisy and too frightening to be upstairs in the bedrooms - tiles were lifting, debris was hitting the roof, windows were flexing," he added.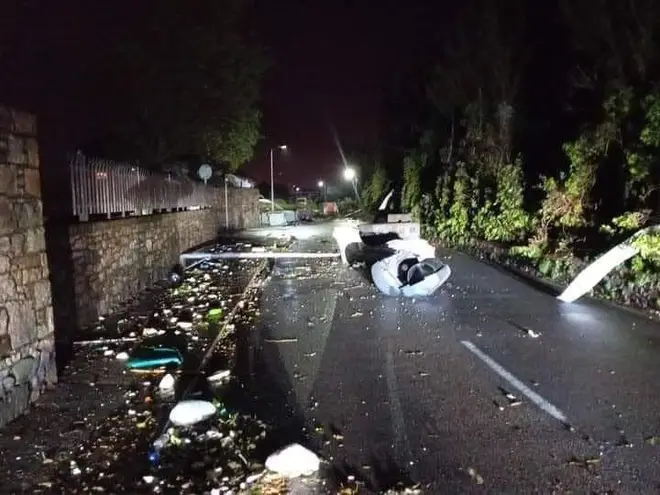 "The noise of the wind was just incredible and quite frightening. It was like a scene from a disaster movie."
He added: "The area is scattered with debris, whether it be roof tiles, bits of masonry, large pieces of trees and I think the authorities here are doing what they can to focus on opening up the main roads and help people whose homes have been ruined by (the storm)."
Another Jersey resident, Suzie Phillips, said: "The hailstones were quite a bit heavier and bigger than a golf ball and we've had three windows damaged by them - in my daughter's bedroom, a landing and a bathroom," she said.
Police in Jersey urged people to stay indoors and said they had taken more than 100 calls to 999. Dozens of people were taken to hotels as their homes were damaged. One video showed cars smashed amid uprooted trees and debris.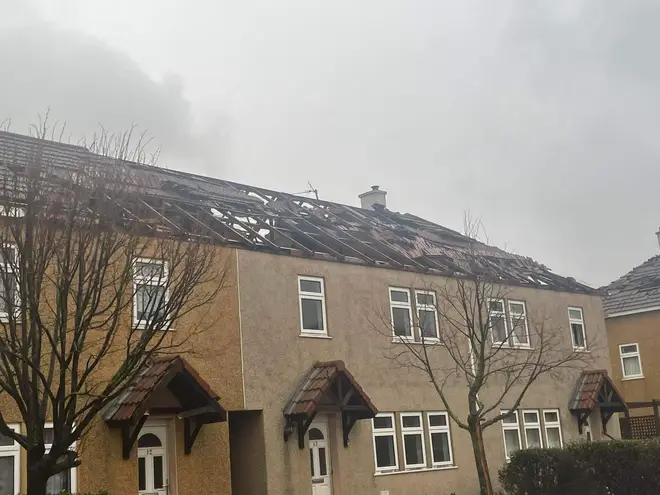 UK Power Networks worked overnight to restore more than 16,500 power supplies across the south-east. But about 7,000 homes were cut off from power in Cornwall, a local councillor said, as gusts of more than 100mph hit the south-west,
A severe amber weather warning for wind was put in place from 3am on the southwest coastline, covering Plymouth and Exeter, running until 11am.
Meanwhile, a separate weather warning for wind, covering the southern and southeastern coastline, was given for Portsmouth, Brighton and Canterbury.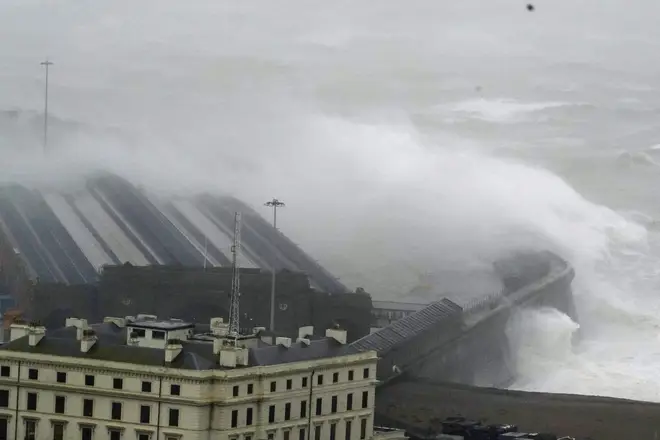 Elsewhere, a rain warning covering the north-east coast from Hull up to Aberdeen is set to last until 6am on Friday.
The storm has caused major travel disruption across much of southern England.
On the roads, extra tankers have been deployed to clear excess surface water in Kent, and crews have removed 'several' fallen trees on the roads.
Elsewhere, flooding has caused problems on the M23 near Crawley near Gatwick, and workers have been carrying out emergency repairs on the A29 in Bognor Regis, which have closed the road.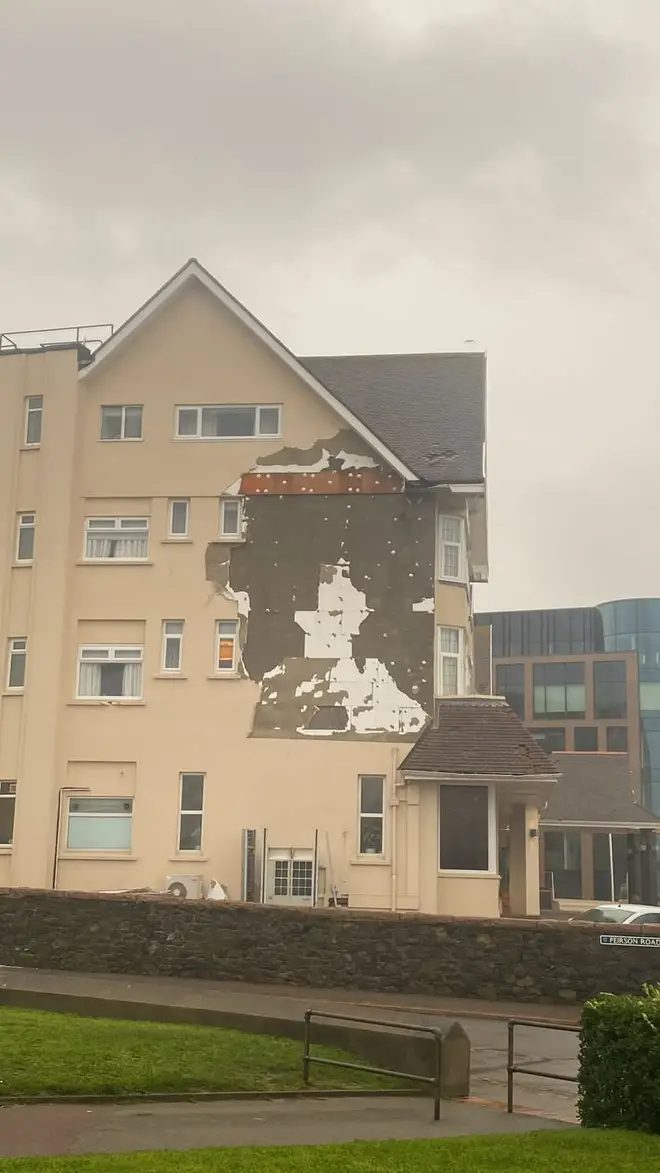 Emergency services workers have had to rescue people from cars stuck in flooded roads across Hampshire and the Isle of Wight.
One man had to be taken to hospital after his car went 150ft down an embankment, when he lost control after ploughing through a four-foot-deep puddle on the A303 in Hampshire. Sixteen firefighters needed 45 minutes to rescue him from his vehicle.
An unattended car was washed into the sea in Sidmouth, in Devon.
Somerset Council's highways teams responded to more than 100 incidents, about 30 of which involved fallen or hazardous trees. Many of the rest were flood-related issues.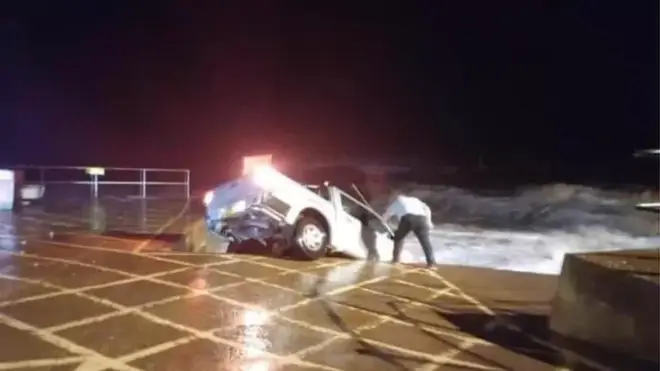 Two buses were struck by debris in Capel-le-Ferne in Kent, with local services disrupted. No-one was injured.
Southern Rail urged commuters to work from home while Southeastern said passengers should not travel in and out of London before 9am while they check for fallen trees and debris on the line.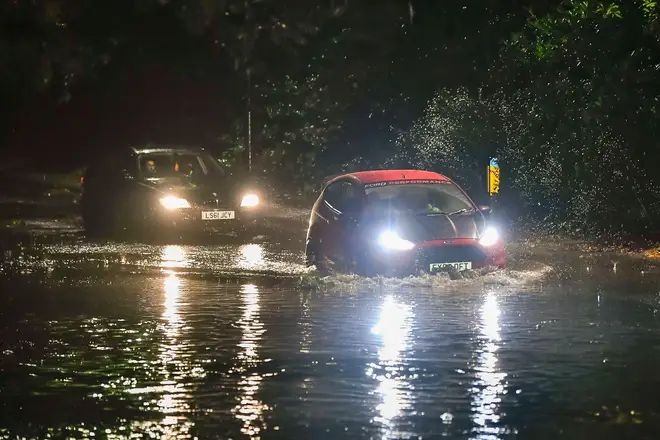 Services have been suspended on parts of the Southeastern network between Canterbury and Dover because of a fallen tree, and a landslide has meant that Southern services between Redhill and Tonbridge have also had to be suspended.
South Western Railway is also running a reduced service between Weymouth and Bournemouth due to earlier flooding. A trampoline was blown onto the line in Hastings, causing further disruption.
A spokesperson on behalf of train operators said: "Our colleagues will be working extremely hard over the coming days to keep passengers on the move but also to keep them safe during this bad weather.
"We will be working closely with Network Rail to understand the impact on the rail network, and we are encouraging passengers to check their journey before travelling."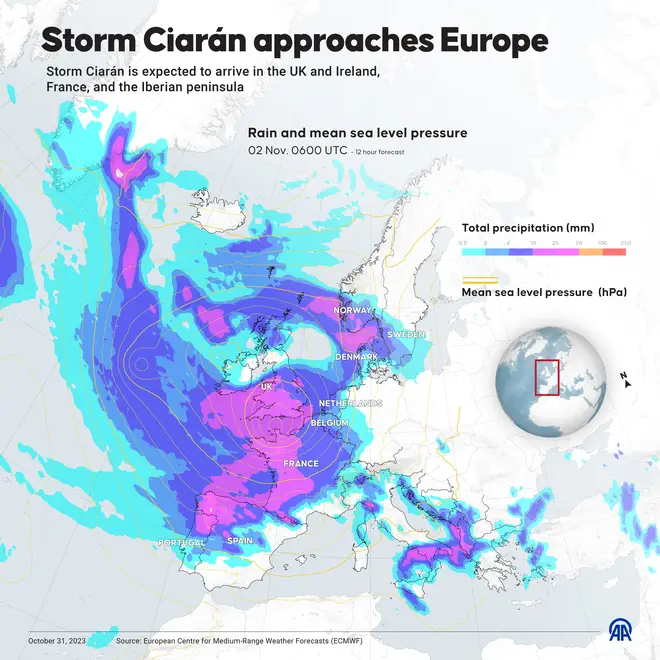 Network Rail said: "Heavy rain accompanied by strong winds in some areas could affect journeys across Wales, the south of England and the Midlands on Thursday, and across the northeast of England and central and eastern Scotland on Thursday and Friday.
"Owing to the adverse weather conditions, passengers should allow extra time for their journeys and check before travelling as services may be disrupted."
Heathrow, Gatwick, Southampton, Manchester, Bristol and other airports have had to cancel and delay some flights because of the weather.
British Airways has grounded 30 domestic and European flights, which includes two trips to Amsterdam, two to Belfast and two to Paris.
Meanwhile, KLM Royal Dutch Airlines told passengers: "Due to the expected weather conditions at Amsterdam Airport Schiphol, the runway capacity has been reduced on Thursday 2 November.
"As a result, some of our flights have been cancelled. We apologise for any inconvenience."
P&O cancelled ferry services between Dover and Calais, although traffic can now access the port after it was closed earlier.
Dozens of schools across southern England have also had to close because of the storm, with lessons taking place online instead.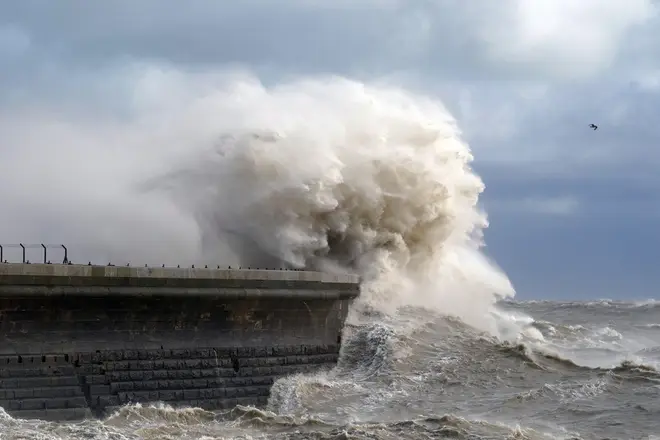 Officials were forced to close off Brighton city centre because of an unsafe building, while some people are reporting that tap water in Bournemouth and Christchurch is discoloured.
Bournemouth and Boscombe piers have also been forced to close, while the promenade in Bournemouth is covered with sand and debris.
Elsewhere, rivers in Dorset and Devon burst their banks amid torrential downpours.
Natural Resources Wales said Kiln Park caravan park in Tenby, Pembrokeshire, has already suffered flooding and the owners have asked guests to leave the site.
There was a severe flood warning in force for the River Ritec at Tenby.
The Royal National Lifeboat Institution (RNLI) has urged people watching the conditions to stay away from the coast.
People in several areas across southern England have been warned to stay home because of the weather in order to keep safe.
But Age UK said vulnerable people need "extra support" in storms like Ciaran.
The charity's director Caroline Abrahams said: "We need to do more in advance and when disasters hit to safeguard older people."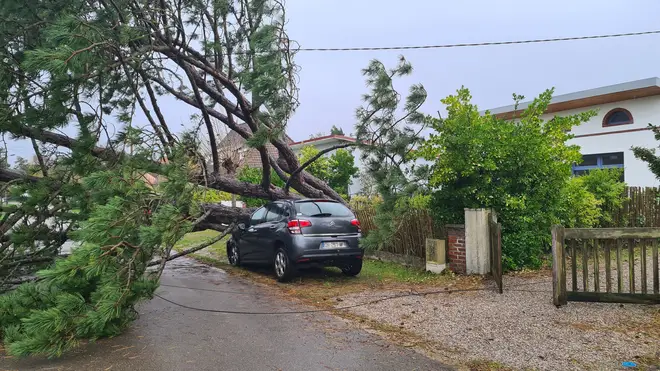 Met Office Deputy Chief Meteorologist, Chris Almond, said very strong winds were expected.
"Winds associated with Storm Ciarán are likely to gust to 80mph along the south coast of England, with a small risk of somewhere exposed seeing 90mph, and winds could even gust up to 50 or 60 mph further inland," he said.
"This deep low-pressure system will also bring heavy rain to much of the UK, but the heaviest rain is expected in southern and western areas with 20 to 25mm quite widely across the region but up to 40 to 60mm potentially over higher ground," Mr Almond continued.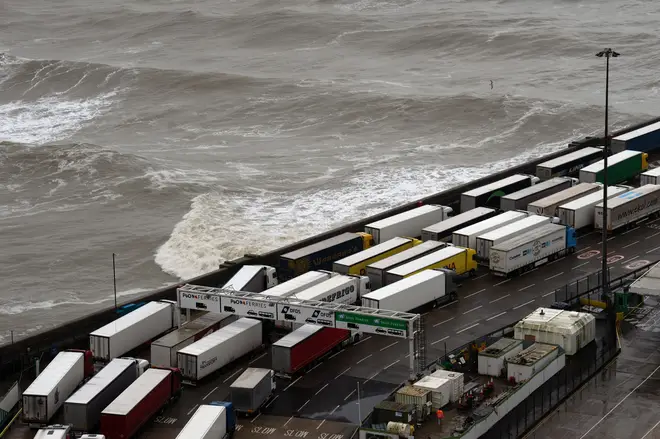 "Heavy and persistent rain will fall onto already saturated ground bringing a risk of further impacts such as flooding in areas that are already struggling to clean up from the heavy rainfall we have seen over the last week or so."
The storm has also affected the Netherlands and France, with one person killed as of Thursday afternoon.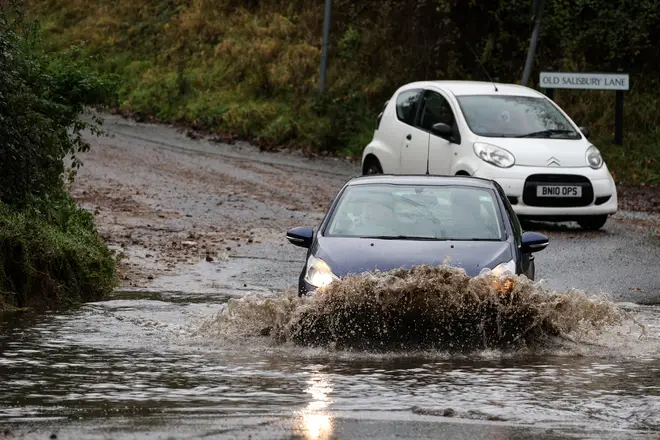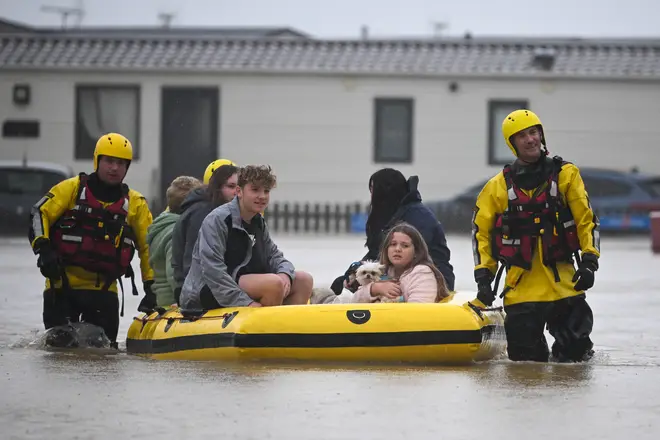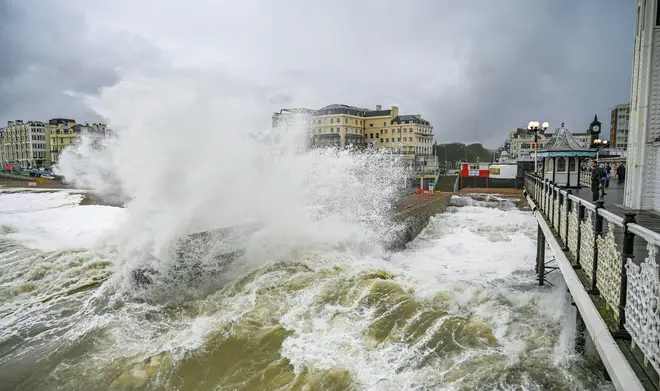 It comes less than two weeks after the UK was battered by Storm Babet, which also brought strong winds and heavy rain to the UK.
At least seven people are thought to have died in the storm, which caused the evacuation of an entire town in Scotland.