Ex-Osborne Adviser Says Budget Would Be "Very Different" Without Brexit
23 November 2017, 17:08 | Updated: 23 November 2017, 19:09
George Osborne's former chief of staff has told LBC yesterday's Budget would have been "very different" if Remain had won the EU referendum.
Rupert Harrison said although the UK's economy was not in "terrible" shape, it would have grown "significantly faster" without Brexit.
He joined Iain Dale on Thursday, 24 hours after Philip Hammond set out his Budget to the country.
The Chancellor revealed an extra £3bn to prepare for "all outcomes" of the Brexit talks.
The vast sum will be made available over the next two years and will run alongside the £700m already invested.
During the Budget it was also announced that the growth forecasts for the UK had been cut sharply by the Office for Budget Responsibility (OBR).
It now expects the economy to grow by 1.5%, down from the estimate of 2% it made in March.
Mr Harrison served as chief of staff to the former Chancellor until 2015 and is now a senior figure at BlackRock, one of the largest investment firms in the world.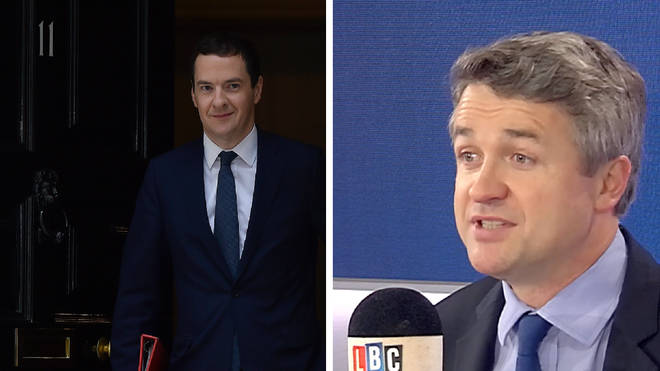 He told Iain the government would have had "more options" if Britain had voted to Remain.
He said: "The UK economy is not in terrible shape, it's still growing, we haven't had the recession that many people forecast after the referendum but look at the rest of the world, the rest of the world is really booming."
"If we hadn't had the referendum the UK would be growing right now significantly faster and we'd have more options.
"Of course, there were other issues at play during the referendum around sovereignty and immigration, but I think that would have given us more options.
"I think the deficit would be coming down, and a lot of the effort and energy going into Brexit would be going into things like reforming social care, new technologies, raising productivity - all the same subject matter but we'd have more freedom to deal with that matter."
You can watch the full interview below: