Teacher Won't Let Iain Dale Get A Word In Edgeways, So He Cuts Him Off
13 December 2017, 17:10 | Updated: 13 December 2017, 17:14
This teacher simply would not let Iain Dale get a word in edgeways, so the LBC presenter decided to cut him off.
The row was sparked after it emerged more than 130 schools in England had gone more than a decade without receiving a "good" inspection rating.
In her first annual report, Ofsted chief Amanda Spielman said disadvantaged pupils should not be used as an excuse.
The document also found more than 700 others needed an improvement.
Iain suggested that putting a good headteacher in charge would play a significant role in turning a failing school around.
But, Alex from Finchley, a teacher of more than 16 years, staunchly disagreed.
The caller asked: "Have you been in a school? Do you actually know what's like in secondary schools in and around London and across the country? I don't think you do.
"If you go into the schools what you'll find is behaviour and conduct is a significant factor in what teachers can do within the school."
He added: "This has got nothing to do with heads, this is just right-wing nonsense rhetoric."
However, when Iain attempted to respond, Alex kept trying to talk over him.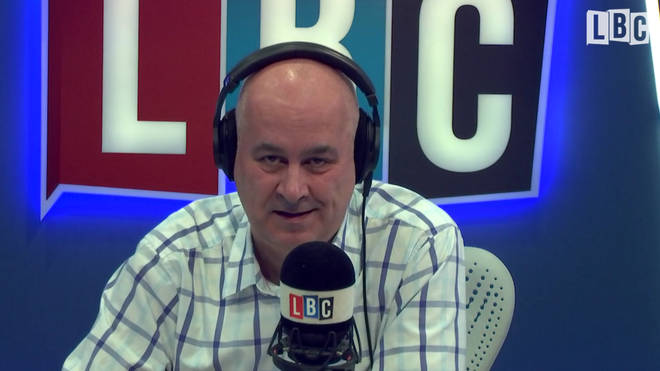 The LBC presenter warned: "Alex if you continue, I'll cut you off - I've got the fader and I can cut you off if you continue like this."
But the caller didn't back down, so Iain tried again: "Just shut up, just shut up and listen to what I'm about to say."
"No Iain," Alex replied.
So, Iain took action, sliding his fader shut while saying: "Well I'll shut you up for you then".
Watch the fiery row above.