Aldi, Lidl and Asda follow rivals Sainsbury's and Tesco in slashing milk prices amid supermarket dairy price war
14 April 2023, 19:55 | Updated: 14 April 2023, 20:05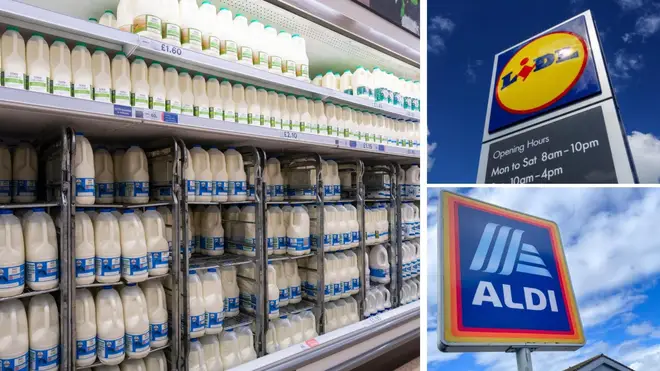 Aldi, Lidl and Asda have followed rivals Sainsbury's and Tesco in slashing their milk prices amid a dairy price war among supermarkets.
On Friday, Lidl and Aldi announced the price of their respective four-pint own brand bottles would be slashed from £1.65 to £1.55 - mirroring a price drop by Sainsbury's and Tesco earlier this week.
The German retailers often compete with the UK biggest supermarkets over prices.
The latest round of price reductions sees one-pint bottles of own-brand milk dropping by 5p to 90p, with two pints dropping from £1.30 to £1.25.
Asda then announced the same price cut later on Friday.
Read more: Heartless parents joked about selling their dead baby's pushchair hours after 'savage and brutal' Christmas Day murder
Read more: The Script guitarist and co-founder Mark Sheehan dies aged 46 after 'brief illness'
It followed announcements from Tesco and Sainsbury's on Wednesday and Thursday, respectively.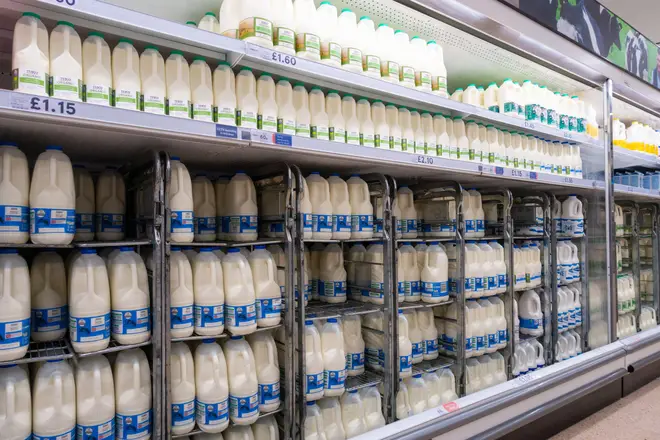 The price drops will be welcome news to households across the country squeezed by the cost of living, as the price of supermarket staples has soared.
ONS figures have showed the price of food has risen by 18 percent in the 12 months up to February.
Read more: Student who hurled 'at least five' eggs at Charles during York walkabout found guilty of threatening behaviour
Read more: Govt wants to give itself permission to turn bases into migrant camps 'without consulting locals and councils'
Morrison's, Iceland and Ocado are currently still pricing four pints at £1.65 with Waitrose at £1.70 and the Co-Op at a £1.85.
A Lidl spokesperson said the latest of its price drops wouldn't impact farmers, while Asda said it had taken "swift action" to support customers facing hard times with the cost of living.
Asda CCO Kris Comerford said: "Our latest income tracker shows over 11 million families in the UK don't have enough income to cover their weekly expenses, which is why we have invested to protect our customers through the cost of living crisis and have taken swift action to reduce the price of milk as commodity prices have eased.
Read more: 'I love you dad': National guardsman Jack Teixeria shouts in court as he's charged with leaking Pentagon documents
Read more: Nicola Bulley coroner 'unimpressed with police' as they return to River Wyre but force slams 'misinformed speculation'
"This is on top of the hundreds of prices lowered in our stories every week."
The decision by supermarkets to start reducing prices has been hailed by experts, with Laith Khalaf from investment firm AJ Bell saying it shows "some light at the end of the inflationary tunnel".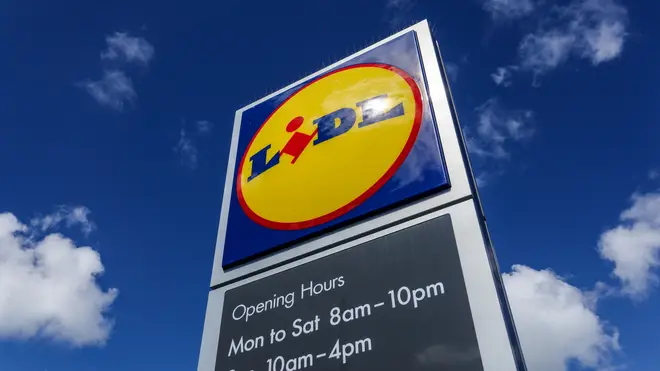 Speaking the BBC, Mr Khalaf, the company's head of the investment analysis, said: "It also suggests that the UK's fiercely competitive supermarket sector isn't simply going to cash in on profits as wholesale cost fall, because there's always a competitor waiting in the wings to do some undercutting."
Chris Daly, CEO of the Chartered Institute of Marketing told the MailOnline that the price drops represent "a positive sign that price rises for the average weekly shop could be starting to ease".