'Aww, are your people dead?': shocking footage shows pro-Palestine protester taunting Jewish man
12 October 2023, 12:08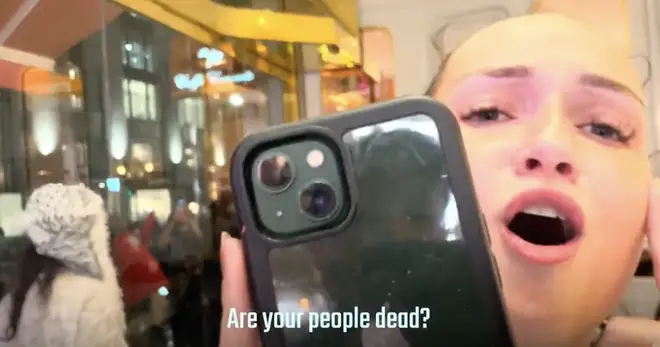 A video of a Palestinian activist has emerged where she publicly mocks a Jewish person and the victims of Hamas' invasion, of Israel, asking, "Are your people dead?"
The woman, wearing a "Boycott Israeli Apartheid" sticker, runs a finger down her cheek, pretending to cry.
She asks, "Are your people dead?", to which the man filming the footage says, "Yes".
"Aw, good," she replies.
The video appears to have been filmed in a London restaurant on Monday.
London 2023

Palestinian activist: Are your people dead?
Jewish person: yes…
Palestinian activist: aww, good!

This IS the free Palestine movement.

pic.twitter.com/Mc9PmaFCOm

— Emily Schrader - אמילי שריידר امیلی شریدر (@emilykschrader) October 10, 2023
More than 1,200 people have been killed in Israel since Hamas's invasion on Saturday, according to the latest updates.
Over 1,000 people have been killed in Gaza.
Read more: UK has seen 89 anti-Semitic incidents since Hamas attack on Israel, Jewish charity warns
Since the attack, the number of "anti-Jewish" hate incidents has trebled in the UK, with 50 of the incidents taking place in London alone, according to Jewish charity the Community Security Trust (CST).
The CST said the figure represents a 324% rise in anti-Semitic attacks over the same period last year.
Security minister Tom Tugendhat said he was "very concerned" by the soaring number of attacks.
Other examples of assault given by CST include a Jewish person being called "a dirty Jew" as they walked into a synagogue.
The stranger continued to shout: "No wonder you're all getting raped."
The director of policy at CST, Dave Rich, said: "The rate since Saturday is roughly triple what we would normally expect to see over that period.
"It is likely to increase further as we process more reports."
Many Jewish schools in London have now ramped up security measures with one Jewish mixed comprehensive, JFS, allowing its pupils to take off their blazers in public to avoid being identified.
A Deputy Assistant Commissioner for the MET police, Andy Valentine, has pledged the force's "full support" to London's Jewish communities, since Hamas's attack.
The Home Secretary, Suella Braverman, explained how it was unacceptable to "drive through Jewish neighbourhoods" and to "single out Jewish members of the public, to aggressively chant or wave pro-Palestinian symbols at [them]."