Bank of England holds interest rates at 5.25% and says plan is 'working' to curb inflation
2 November 2023, 12:21 | Updated: 2 November 2023, 12:24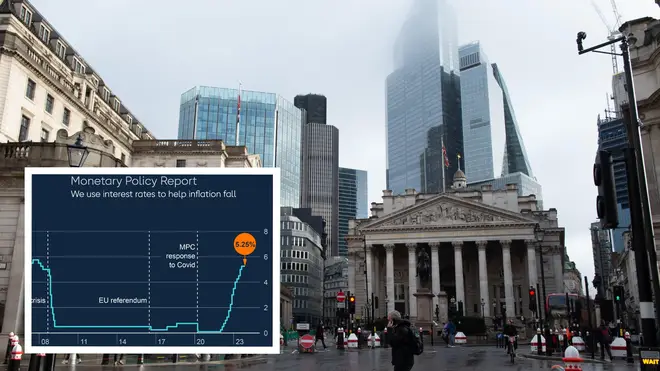 The Bank of England has held the base interest rate at 5.25%, the second time in a row the rate has been held.
Since the end of 2021, the Bank had made 14 consecutive interest rate rises as it tried to keep inflation in check.
Six members of the nine-person Monetary Policy Committee voted to keep the Bank of England's base interest rate unchanged at 5.25%, but three voted to raise it to 5.5%.
Those who voted for no-change warned that current projections "indicated that a restrictive monetary policy stance was likely to be warranted for an extended period of time," in order to bring inflation back to the 2% target level.
The 6-3 decision was less close than the 5-4 decision to hold rates unchanged at the last MPC meeting in September.
Governor Andrew Bailey said: "Higher interest rates are working and inflation is falling. But we need to see inflation continuing to fall all the way to our 2% target.
"We've held rates unchanged this month, but we'll be watching closely to see if further rate increases are needed. It's much too early to be thinking about rate cuts."
The Bank of England's forecast shows that the Government is likely to meet its target to halve inflation by the end of this year, but it will take longer to return to the 2% target than previously thought.
The Bank said that Consumer Prices Index (CPI) inflation is likely to be around 4.6% in the fourth quarter, down from its previous 4.9% forecast. The Chancellor had promised to get inflation to 5.4% by the fourth quarter.
Officials had previously thought that inflation would return to the 2% target by the second quarter of 2025. But they revised that forecast on Thursday to say that inflation will remain above 2% until the final quarter of 2025.
The Bank expects gross domestic product (GDP) growth to flatline for four consecutive quarters from March next year in a downbeat forecast for the UK economy.
The Monetary Policy Committee (MPC) said that it thinks growth will be 0.6% in each of the last two quarters of 2023 compared to a year earlier and then fall to 0.2% in the first quarter of 2024.
Growth will then drop to 0.0% in the second quarter of next year and stay there until the second quarter of 2025.
The forecast is based on the Bank starting to reduce interest rates in the latter half of next year.