Burst main floods roads and leaves 100,000 homes in Scotland without water
24 January 2023, 20:30 | Updated: 24 January 2023, 21:04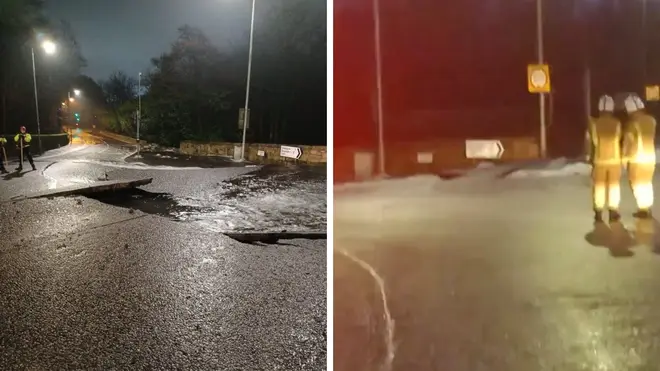 100,000 homes in Scotland have been left without water due to a burst pipe in Milngavie, Glasgow.
Shortly before 5pm, Scottish Water confirmed they were trying to resolve the issue.
Footage shared on social media showed the surface of Auchenhowie Road in Milngavie where the pipe burst was torn and buckled, and water was pouring out to nearby roads.
Bars and pubs in Glasgow were packed as hometown hero Lewis Capaldi played a concert at the OVO Hydro in the city.
The gig went ahead despite the issues, but elsewhere, services were thrown into chaos.
Read more: UK 'more likely than not' heading for recession, Former Bank of England Governor Mark Carney warns
Read more: Princess Eugenie 'delighted' as reveals she is pregnant with her second child
In East Dunbartonshire, children were evacuated from a nursery after the breach caused a road to split open.
Meanwhile, in Lullaby Lane nursery in Milngavie, children were safely taken to the nearby Rangers Training Centre.
Earlier, Scottish Water confirmed that teams were working with Police Scotland and Scottish Fire and Rescue Service crews at the scene.
The water supplier said a 3ft main ruptured, which caused localised flooding and hit water supplies in Glasgow.
Areas affected included Glasgow City centre, Kelvinside, Tradeston, Ibrox, Knightswood, Yoker, Scotstoun and Partick area.
"The taps went from being a normal flow to a trickle," said Jack, a barman at Panang in Glasgow's city centre.
"Without water, there's not a lot you can do at all, it's a big safety issue"
"People need to be able to wash their hands."
Describing the situation as "frustrating", Jack said it posed a bigger issue to staff in terms of a loss of tips than it did to the business as a whole.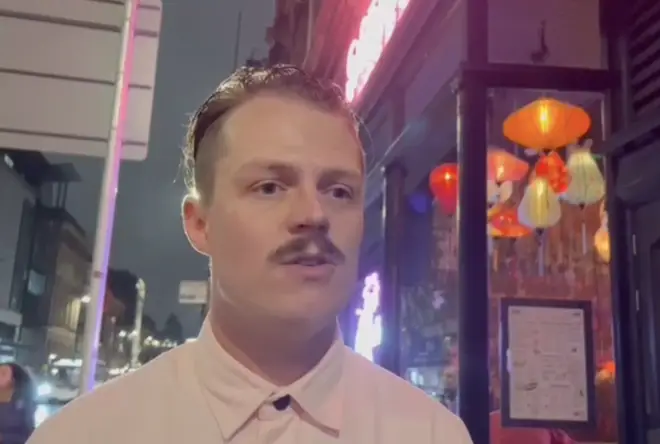 "We'd really like to get an answer on whether or not we'll be trading tomorrow by later on tonight," he said, adding that prolonging the closure for more than a day would be "a nightmare"."
"If something like this happens in your flat, you go and shower at the gym, don't you?" he said, "But when this happens to an entire city, that's not an option for anyone."
Scottish water posted an update at 7.30pm saying its teams had isolated the main that was damaged and had begun restoring supplies to 56,000 customers across Knightswood, Yoker, Scotstoun and Partick.
Network alterations mean that water supplies to the remaining areas that were affected - Glasgow city centre, Kelvinside, Tradeston and Ibrox - should be back online by 10pm.
A spokesperson said: "Once these alterations are being undertaken and as the network begins to regain pressure, please be aware that you may experience low/intermittent water pressure or discoloured water.
"If your water is brown discoloured, please be assured that this is the natural lying sediment within the mains that has been disturbed and we advise to allow your cold water kitchen tap to run at reduced pressure until this runs clear.
"Whilst doing so, please do not run any other taps or water appliances until this is clear from your cold water kitchen tap. Please follow this process for any other taps affected."