Penny Mordaunt backs Liz Truss as next Prime Minister in blow to Rishi Sunak
1 August 2022, 19:16 | Updated: 1 August 2022, 20:36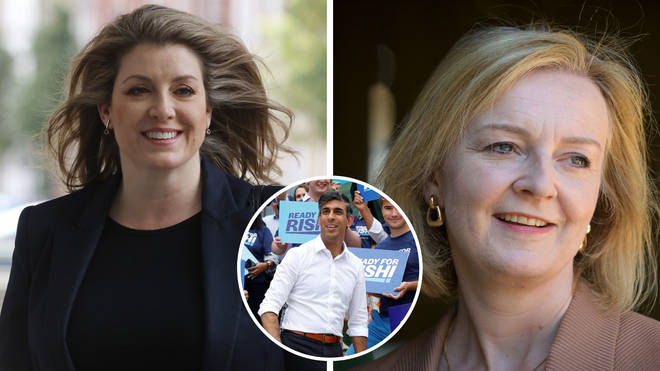 Penny Mordaunt has announced she is backing Liz Truss to be the next prime minister, in a blow to Ms Truss' rival Rishi Sunak.
Ms Mordaunt, who was knocked out the Tory leadership contest in July, made the announcement at a hustings in Exeter.
"I want to say nice things about both of them," she said at the second of 12 official leadership hustings.
Read more: Beyoncé vows to remove ableist slur from new Renaissance song after backlash
Read more: Firefighters tackle blaze near Heathrow with black smoke billowing into sky
"Choosing between them is hard but this contest is a test, a test that precedes an even greater test... I've seen enough to know who the person I'm going to put my faith in is.
"And that is Liz Truss."
She told Tory party members Ms Truss had "that bold economic plan that our nation needs" and understood "people need help with the cost of living now".
She also said Ms Truss would "clobber our opponents" at the next general election.
"Her graft, her authenticity, her determination, her ambition for this country, her consistency and sense of duty - she knows what she believes in," Ms Mordaunt went on.
Read more: 'Not a dream any more': Lionesses lift Euro trophy in front of thousands of fans in Trafalgar Square
Read more: Tearful Archie Battersbee's mum vows to 'fight to the end' to keep son alive
"And her resolve to stand up against tyranny and fight for freedom.
"That's what our country stands for and that's why I know, with her, we can win."
She closed her speech by saying: "She, for me, is the 'hope' candidate... my choice in this contest to lead us, and our, nation is Liz Truss."
Liz Truss said of Penny Mordaunt: "She's a great person, she's a great politician, she's a great patriot and I'm proud to call her my friend."
The Foreign Secretary used her opening speech at the hustings in Exeter to declare she would "win back Tiverton and Honiton", which the Lib Dems secured at a by-election after Neil Parish resigned after admitting he had watched pornography twice on his phone in Parliament.
Read more: 61-year-old female caller tells LBC of 'vindication' when England won Euro 2022
Read more: Mick Lynch attacks 'vicious form of Toryism' taking over UK politics
Ms Truss ran through her policies and acknowledged the "difficult times" facing the country, adding: "Now is not the time for business as usual, now we have to be bold, we need a plan for growth, and that is what I will do."
She namechecked farmers and fishermen in a nod to the south west members, adding: "I will back our fishermen. In 2026, there's going to be a new negotiation and I will make sure as an independent coastal state we have full control over our fishing waters."
Ms Truss and Mr Sunak are the final two candidates in the Tory leadership contest.
They will face one another in a vote by Tory party members in September, after a series of hustings over the summer.