'We need a better deal': Sadiq Khan weighs in on Brexit row after Keir Starmer says he won't 'diverge' from EU
22 September 2023, 12:06 | Updated: 22 September 2023, 12:19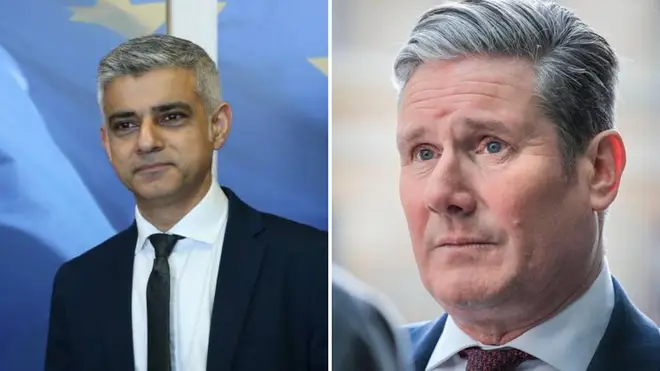 Sadiq Khan has said Sir Keir Starmer is right to want a better deal with the European Union, after the Labour leader was filmed saying he didn't want to "diverge" from the bloc.
Mr Khan backed the Labour leader, who said last week that there was "a lot more common ground than you might think" between Britain and Brussels.
Sir Keir appeared to row back from his comments on Friday morning, saying there was "no case for rejoining the EU, no case for the customs union or the single market."
London mayor Mr Khan told LBC: "The current deal we have with the European Union isn't working. It's an extreme hard Brexit deal we've got with the European Union."
Apparently citing research from a pro-EU think tank, Mr Khan said that GDP was 5.5% less than it would have been if the UK had stayed in the EU, trade in goods and services was about 7% less, and investment was down by around 11%. These figures are not universally accepted.
Read more: 'Immense damage' done by Brexit is something I cannot ignore: Sadiq Khan attacks government 'denial'
Read more: 'It's an act of solidarity:' Sadiq Khan defends bid to fly EU flag above City Hall on Brexit anniversary day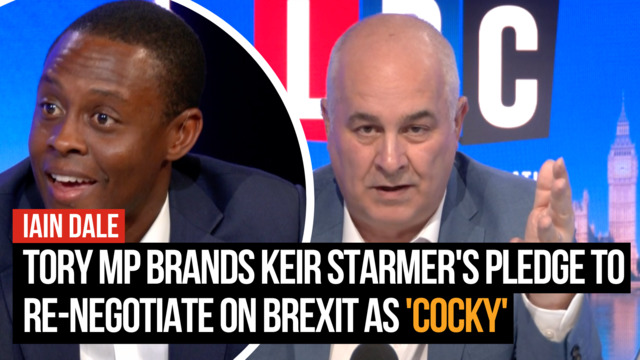 Bim Afolami on Keir Starmer's pledge to re-negotiate Brexit
Mr Khan added: "What I'd like to see us us get a better deal with the European Union. I think that there's nothing wrong in saying that the current deal is not working, let's get a better deal with the European Union.
"We know that the current deal we have is up for review in 2025. I think Keir Starmer is right to say 'look sector by sector, we should be looking at the deal with the EU and improving it.'"
Mr Khan has long been a vocal critic of Brexit and has flown the EU flag at City Hall until he was blocked by the government.
Sir Keir was speaking at a conference for progressive leaders in Montreal on Saturday. His comments were criticised by Chancellor Jeremy Hunt, who told LBC's Nick Ferrari that Britain was already making a "tremendous success" out of leaving the EU and would continue to do so.
Read more: Jeremy Hunt warns Keir Starmer's EU stance could 'unpick Brexit' and worry Leave voters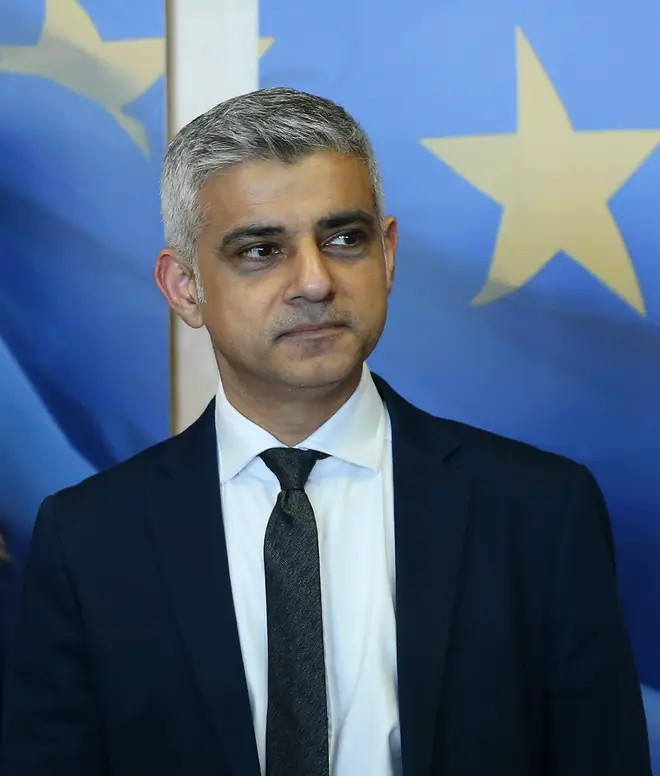 Sir Keir said in comments revealed by Sky News: "Most of the conflict with the UK being outside of the UK [sic] arises in so far as the UK wants to diverge and do different things to the rest of our EU partners," the Labour leader said.
"Obviously the more we share values, the more we share a future together, the less the conflict. And actually different ways of solving problems become available.
"Actually we don't want to diverge, we don't want to lower standards, we don't want to rip up environmental standards, working standards for people that work, food standards and all the rest of it.
"So suddenly, you're in a space where, notwithstanding the obvious fact that we're outside the EU and not in the [European Economic Area], there's a lot more common ground than you might think."
Nick Ferrari discusses Brexit with Jeremy Hunt
But Mr Hunt hit back at Sir Keir's admission, telling LBC: "Those kinds of comments about not wanting to diverge will worry a lot of people, that what he really wants to do is unpick Brexit."
He went on: "We are going to make a tremendous success of Brexit, we have already started to do so, and there is lots more to come.
"We want to be good friends with our neighbours across the channel.
"Any suggestion you want to align our laws with the EU will worry a lot of the people who voted for Brexit."
Sir Keir appeared to pull back from his comments on Friday morning, saying that there was "no case for rejoining the single makret and the customs union".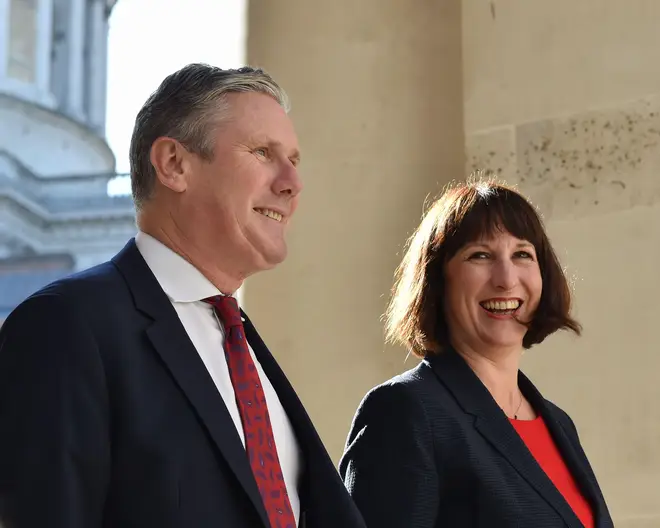 "Equally, we will not be a rule-taker," he added. "The rules and laws of this country will be made in parliament according to the national interest.
"But that does not mean that a Labour government wants to lower standards on food, lower standards on peoples' rights at work. The Labour Party has been completely consistent on this."
Earlier this week the Labour chief admitted he wants to strike a new deal with Brussels – in a bid to try and improve our agreement.
But he was forced to shut down speculation that he could join an EU-wide agreement to take more migrants from the bloc after his comments sparked a backlash.
Earlier on Friday, Mr Khan announced the members of a new London Policing Board to oversee and scrutinise reform of the Metropolitan Police.
The idea of the body was recommended by Baroness Casey in her review of the force back in March. The former Victims' Commissioner was appointed to lead an independent review of culture and standards into the Metropolitan Police following the murder of Sarah Everard.
But the social media posts of some members have called their suitability into question.
One of the members of the new body is Sayce Holmes-Lewis – the CEO of the mentoring organization Mentivity – who has expressed strong views on social media.
He has previously tweeted: "The overarching culture within the Met is deeply insidious, racist, misogynistic, immoral and a threat to society" – he has also described the force as a "cancer".
In a later tweet, he added "this is how the Met Police has always been, and that is reflective of this country's white imperialist and deeply racist DNA" and "I do not trust or respect the Met Police."
Mr Holmes-Lewis has also seemingly called for the forcible overthrowing of the Conservative government. He previously posted on social media "we don't live in a democracy, this is a fascist dictatorship... We have to overthrow and oust this government through force before it's too late. Enough is enough."
Khan said he did not support "the forceful overthrowing of anybody".
"What we've got is 12 independent people who've been chosen on their expertise who will be on the board assisting me, supporting the police and holding them to account."