Arch-Remainer Nicky Morgan Doesn't Support A Second EU Referendum
4 December 2017, 18:56 | Updated: 5 December 2017, 15:53
Former education secretary and arch-Remainer Nicky Morgan has told LBC she does not support the idea of a second EU referendum.
The Conservative MP joined Iain Dale on Monday as the UK and Brussels failed to reach an agreement on the Irish border.
It follows a shock poll over the weekend which showed a majority of Brits now want another vote on the final Brexit deal.
One in two say there should be a second referendum after talks are completed, against 34 per cent who are opposed, according to the survey.
But when asked whether there should be a second referendum, Ms Morgan, who voted Remain, believed that would be the wrong choice.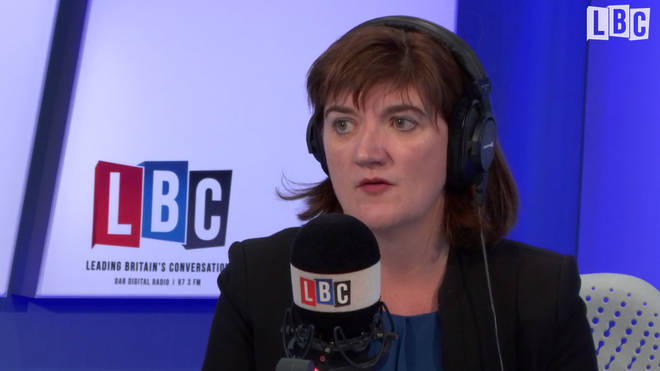 "I've always been not very supporting of a second referendum on the basis the first has been so divisive," she told LBC.
"I think politicians and public in this country and I think I've made a remark saying Brexit has been banned at the Christmas table.
"It was in last year and it will be I suspect this year from debate from my family because it's the quickest way to have a Christmas Day row and i don't really want to see that continue.
"The prime minister I believe is doing the right thing, she is carrying on the negotiations, she's there in Europe, she's leading from the front and it might sound strange coming from me but I think that actually she is providing really important leadership in all of this and it's incumbent on us before we start second guessing just to give her the support for the next couple of weeks to get you know to see what happens at that the EU Council next week."