Iain Dale's 100 Most Influential People On The Right - 2015
6 October 2015, 12:25 | Updated: 21 September 2016, 11:12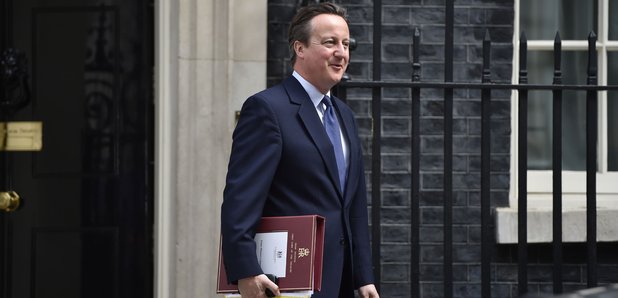 In the final part of his series looking at the most influential political figures in Britain, Iain Dale gives his verdict on the Top 100 people on the Right in 2015.
"Each year I convene three panels to compile lists of the Top 50 Liberal Democrats, the Top 100 People on the Left and the Top 100 People on the Right. Each list is published to coincide with the three party conferences. Today, it's time to look at the Right."
Iain Dale
1. (HOLD) David Cameron
Prime Minister. Having won an unexpected majority at the election, David Cameron takes over the top place in this list once again, having lost it to both Nigel Farage and George Osborne in recent years. He now has two to three years to create a lasting political legacy. Will he be the prime minister who leads us out of the EU, or seals our place at the heart of it?
2. (+1) George Osborne
Chancellor of the Exchequer. Like Lynton Crosby, George Osborne is at the height of his powers. His image has been transformed. The economy is on the up. He's effectively running the government's domestic policy. He's also taken over the mantle of favourite to succeed David Cameron, a dangeous position to hold as he well knows.
3. (+2) Lynton Crosby
General Election Campaign Director. Tim Ross's forthcoming book Why The Tories Won ays bare the contribution Lynton Crosby made to the Tory victory in May. Revered as a God-like figure in CCHQ, Crosby is at the peak of his powers and the next Tory leader will prostrate themselves in front of him, begging him to return to run the campaign in 2020, and rightly so.
4. (-3) Nigel Farage
Leader of the United Kingdom Independence Party. It's been a funny old year for Nigel Farage. Nearly 4 million votes, yet only one MP to show for it. The disaster of his post election non resignation is still a millstone around his neck and he shows little sign of being able to unify his warring forces.
5. (+1) Theresa May
Home Secretary. Now the longest serving Home Secretary for decades, it was in some ways a shame that Theresa May wasn't made Foreign Secretary in the post election reshuffle, giving her more experience of issues she'd need to be on top of if she succeeds David Cameron. Her weakness is the lack of identifiable 'Mayites' on the backbenches. She's got a couple of years to work on that.
6. (+3) Jeremy Hunt
Secretary of State for Health. On election night, when they thought the Tories would lose, there was a conversation around the Cameron dining table in which he and his colleagues identified Jeremy Hunt as Cameron's successor. If he discovers a harder political edge, it could still happen. The outsider often wins in the end.
7. (+4) Samantha Cameron
Wife of the Prime Minister. Evidence grows by the month of the quiet, behind the scenes influence Samantha Cameron has on her husband. She knows her own mind and she'd not be human if she didn't use every opportunity to get her husband to do what in her mind is the "right thing", especially on humanitarian intervention in the Syrian crisis.
8. (NEW) Sajid Javid
Secretary State for Business, Innovation & Skills. A smooth operator, Javid is being talked about as one of the leading contenders to take over from David Cameron. He's in a job which will allow him to shine, and his response to the Redcar steel crisis has been impressive. We now need to see more of his personality and personal narrative.
9. (+33) Ruth Davidson
Leader, Scottish Conservatives. Ruth Davidson has had a stonking year in charge of the Scottish Conservatives. They may only have one MP but she expects to increase the number of MSPs in the Scottish elections next May. If she were in Westminster she'd be a serious candidate to lead the UK party.
10. (-6) Boris Johnson
Mayor of London. Not the best of years for the newly elected MP for Uxbridge, but no one should write him off. Still the darling of rank and file Tories, he's got time to rebuild his reputation and bounce back, but his main challenge is to convince his fellow MPs that he should be in the final two in a leadership contest.
11. (+1) Michael Gove
12. (-5) Philip Hammond
13. (-3) Lord Michael Ashcroft
14. (NEW) Michael Fallon
15. (NEW) Mark Harper
16. (+31) Zac Goldsmith
17. (NEW) Chris Grayling
18. (NEW) Iain Duncan Smith
19. (NEW) Nicky Morgan
20. (-4) Edward Llewellyn
21. (+10) Lord Daniel Finkelstein
22. (+37) Lord Andrew Feldman
23. (NEW) Thea Rogers
24. (-1) Matthew Hancock
25. (-3) Graham Brady
26. (-5) Oliver Letwin
27. (+19) John Whittingdale
28. (+21) Robert Halfon
29. (+1) Catherine Fall
30. (-5) Patrick McLoughlin
31. (+12) Greg Clark
32. (-3) Andrew Tyrie
33. (+4) Daniel Hannan
34. (NEW) Paul Goodman
35. (NEW) Jesse Norman
36. (-9) Jo Johnson
37. (+8) Matthew Elliott
38. (+1) Lord Stephen Gilbert
39. (-24) Grant Shapps
40. (+18) Anna Soubry
41. (-28) William Hague
42. (+31) Greg Hands
43. (+14) Neil O'Brien
44. (-11) Douglas Carswell
45. (-9) Tim Montgomerie
46. (+4) Donal Blaney
47. (NEW) Graeme Wilson
48. (-4) Nicholas Boles
49. (+48) Suzanne Evans
50. (NEW) Brandon Lewis
51. (-13) Mark Littlewood
52. (-14) Sir Edward Lister
53. (NEW) Fraser Nelson
54. (+15) Stephen Crabb
55. (NEW) Sheridan Westlake
56. (-8) Craig Oliver

57. (+6) Priti Patel
58. (NEW) Amber Rudd
59. (NEW) Tracey Crouch
60. (NEW) James Chapman
61. Dominic Cummings
62. (+36) Stuart Polak
63. (NEW) Steve Baker

64. (+36) Gavin Williamson

65. (NEW) Adam Atashzei

66. (-4) Paul Staines

67. (NEW) Katie Hopkins
68. (+15) David Gauke
69. (-41) Liz Truss
70. (+10) Syed Kamall
71. (NEW) Christopher Booker
72. (-52) Eric Pickles
73. (-20) Dean Godson
74. (+4) Liam Fox
75. (+7) Douglas Murray

76. (NEW) Charles Moore

77. (-2) Theresa Villiers
78. (NEW) Simon Heffer
79. (NEW) Matthew Parris
80. (NEW) Arron Banks
81. (-5) Sarah Wollaston
82. (+14) Raheem Kassam
83. (-6) David Davis
84. (NEW) Ameet Gill
85. (-21) Paul Nuttall
86. (NEW) Camilla Cavendish
87. (+3) Andrew Mitchell
88. (NEW) Peter Hitchens
89. (NEW) Elliott Johnson
90. (+5) Mark Wallace
91. (NEW) Paul Abbott
92. (NEW) Tim Stanley
93. (-9) Baroness Tina Stowell
94. (NEW) Christian Guy
95. (-8) Jonathan Isaby
96. (NEW) Giles Kenningham
97. (NEW) Julia Hartley-Brewer
98. (NEW) Andrew Kennedy
99. (NEW) James Marshall
100. Steven Woolfe