British Steel to shut down Scunthorpe blast furnaces under environmental plans, putting 2,000 jobs at risk
6 November 2023, 15:18 | Updated: 6 November 2023, 17:26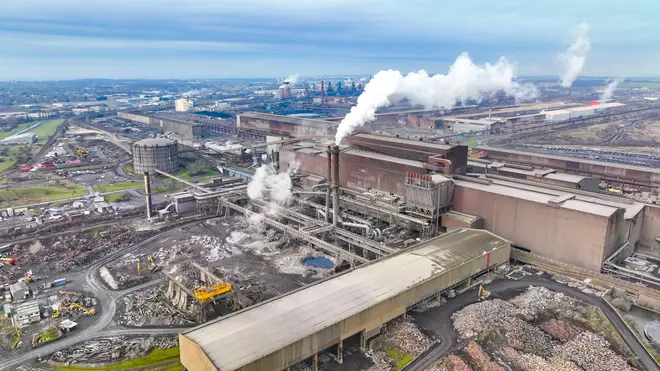 British Steel has confirmed decarbonisation plans to close down blast furnaces in Scunthorpe, placing 2,000 jobs at risk.
The Chinese-owned company said they would replace the furnaces at the North Lincolnshire manufacturing plant with two greener electric arc furnaces - one in Scunthorpe and another in Teeside.
The £1.25 billion proposal would make the company a "clean, green and sustainable business," British Steel said.
However the plans are still "subject to appropriate support" from the UK government.
If the plans go ahead, the Chinese company Jingye Group, said the new electric furnaces would be in operation by the end of 2025.
The proposed arc furnaces will be able to recycle scrap steel using clean energy - unlike blast furnaces that require coal.
Xijun Cao, Jingye Group's Chief Executive, said they were not able to maintain their environmental commitments while keeping the blast furnaces in use.
Between 1,500 and 2,000 jobs are expected to be lost, unions have claimed.
But British Steel said they would work with the local North Lincolnshire Council to attract new businesses to the area and the current site which would become vacant under the plans.
It comes years after Teeside lost its main steelworks in 2015 when Thai firm SSI made the decision to mothball the manufacturing plant.
Read More: What is green steel and why are there potential job losses at Tata?
Read More: Union makes plea for steel in King's Speech
Jingye Group said the new plans would reduce British Steel's carbon dioxide emissions by 75 per cent.
Chief executive Xijun Cao said: "Decarbonisation is a major challenge for our business but we are committed to manufacturing the home-made, low-embedded carbon steel the UK needs.
"We have engaged extensively with the public and private sector to understand the feasibility of producing net zero steel with our current blast furnace operations. However, thorough analysis shows this is not viable.
"Detailed studies show electrification could rapidly accelerate our journey to net zero and drive British Steel towards a sustainable future."
If the plans continue, Britain would be left without the capability to manufacture industrial-grade steel.
It comes after India's Tata Steel said it plans to close down two blast furnaces in Port Talbot, South Wales.