Tier 4: Extra police in London to crack down on non-essential travel
20 December 2020, 10:38 | Updated: 21 December 2020, 09:07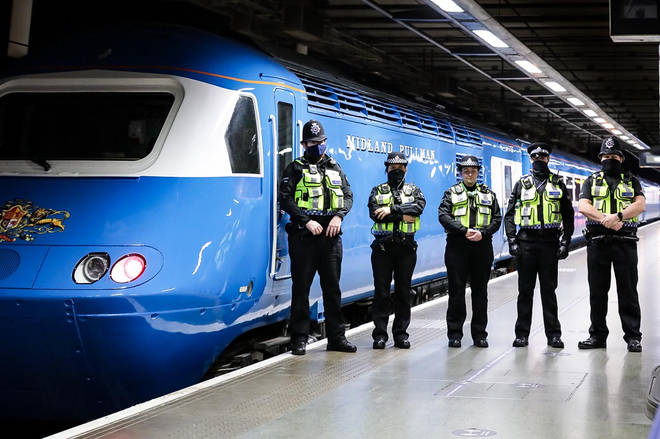 Following chaotic scenes at London's train stations, the government have announced extra British Transport Police officers will be deployed to crack down on non-essential travel.
Aside from a small number of exemptions, it is illegal to enter or leave a Tier 4 area, which covers 16 million people across London, the South East and East of England.
The government say these strict restrictions are needed to stop the spread of the faster-spreading mutant coronavirus strain.
Read the latest developments as Europe closes doors to UK
Watch: Sadiq Khan's plea to Londoners in Tier 4: 'Stay in London, follow the rules'
In a statement on Sunday morning, Transport Secretary Grant Shapps said: "It is incredibly important that people follow the guidance, stay at home and do not attempt to travel.
"Our focus must be stopping the spread of this virus, protecting lives and our NHS.
"If you are in Tier 4, the law means you must stay at home and you cannot stay overnight away from home. Across the rest of the country, you must stay local."
Read more: France and Germany join list of countries banning UK travel over Covid variant
Explained: What is Tier 4 and which areas are going into toughest measures?
Mr Shapps added: "Follow the guidance and please do not come to a station unless you are permitted to travel.
"Extra BTP officers are being deployed to ensure only those who need to take essential journeys can travel safely."
Ahead of the introduction of the new restrictions at midnight, Saturday evening saw chaotic scenes at major London train stations as people left the capital.
People were told that social distancing "will not be possible" due to the volume of travellers on board, and those that felt "uncomfortable" were advised not to stay on the train.
Read more: Scotland: Travel ban with rest of UK as strict Christmas Covid rules announced
Read more: UK sees biggest-ever daily rise in cases after recording 35,928 more infections
Unfortunately the new #Covid_19 strain is up to 70% more transmissible! It's vital to follow the new guidance to protect others & our NHS. If you're in Tier 4 you must not travel – or stay away from home overnight. Stay at home! Extra @BTP officers deployed to keep people safe.

— Rt Hon Grant Shapps MP (@grantshapps) December 20, 2020
The RMT trade union, which represents transport workers, said "The scenes of overcrowding and chaos on rail services last night were a disgrace and must not be repeated.
"They reflect the shambolic approach of the Government that has been a hallmark of their management of the Covid pandemic.
"Our reps and officials have been reiterating the guidance to our members that they have a right to remove themselves to a place of safety and that enforcement of the new measures is a matter for the police."
Read more: London protests: 29 arrests as police break up anti-lockdown demonstration
However, the former head of the British Transport Police, Andy Trotter, told LBC's Swarbrick on Sunday he thinks the role of the police will be about "assisting" rather than "interrogating" people.
"If you think of how many people were travelling last night... it would be impossible for them to go checking everyone who was scrambling onto those trains," he explained, "It is the last thing they could possibly do.
Read more: Covid-19: Londoners who fled Tier 4 city told to reduce contacts for 10 days
"It is much more around assisting people and that goes for the police everywhere.
"It is about helping people through this, dealing with the very serious breaches of the law, but it is not about - in my opinion - trying to interrogate people as to the purpose of their journey."
As the Prime Minister announced fresh restrictions for London and the south east of England to control the spread of Coronavirus, Met action will continue to focus on keeping London safe and enforcing the regulations https://t.co/PJK6b8KlTM

— Metropolitan Police (@metpoliceuk) December 19, 2020
Speaking on LBC on Sunday, Mayor of London Sadiq Khan said people should remember they may have Covid-19 "and not realise it".
"You may have the virus, you may pass it on to an elderly relation at a time when the vaccine is being rolled out and so how are you gonna feel if you, God forbid, pass the virus on?"
The Mayor issued a plea to Londoners to "stay in London, try and follow the rules," reminding people "we have as many people with Covid now as we did at the peak in April".
Read more: Christmas Day mixing in Wales despite lockdown
Meanwhile, the Christmas Transport Tsar, Sir Peter Hendy, said: "The message is clear – to combat this virus, you must follow the guidance and stay at home.
"At stations we will be deploying extra staff, announcements will make the law clear, and additional BTP officers are in place to ensure that only essential journeys take place.
Read more: Netherlands and Belgium ban flights from UK over mutant Covid-19 strain
"People considering driving should also stay at home or stay local. The new restrictions mean that people should not travel into or out of Tier 4 areas, and across the country you should stay local.
"You should play your part in tackling the spread of this virus."
Listen & subscribe: Global Player | Apple Podcasts | Google Podcasts | Spotify