France and Germany join list of countries banning UK travel over Covid variant
21 December 2020, 07:34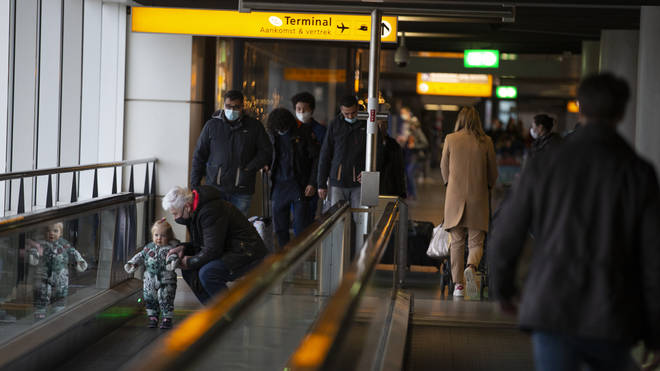 France and Germany have joined the growing list of countries banning travel from the UK due to the new, mutated coronavirus variant.
Italy and Austria also banned travel from Britain due to the mutated strain of Covid-19 which has spread to other countries.
The Netherlands were the first to announce a ban which came into effect from 6am (0500 GMT) on Sunday until 1 January, and comes in the midst of a five-week lockdown which has seen all shops and schools closed in the country to slow the spread of the virus.
Dutch politicians sprang into action after confirming a case of the variant in December.
Meanwhile, Belgium has banned flights and rail connections from the UK and on Sunday afternoon Israel's government banned entry to all non-Israelis flying from Britain.
In addition, Poland, Belgium, Austria, Bulgaria, Finland and Denmark have all said they will halt flights arriving from the UK.
Outside of Europe, Turkey and Morocco have announced they will be suspending air travel from the UK, while the official Saudi Press Agency reports Saudi Arabia is also suspending international flights for one week.
Canadian prime minister Justin Trudeau said from midnight Sunday, Canada was putting a 72-hour stop on flights from the UK.
Read more: Ireland brings in restrictions for UK travellers over mutant Covid strain
Read more: UK sees biggest-ever daily rise in cases after recording 35,928 infections
A statement on Germany Embassy London's Twitter account said: "As of midnight tonight (Berlin time), all flights from the UK to Germany are prohibited due to the coronavirus mutation."
Likewise, the French government said: "All flows of people from the United Kingdom to France are suspended from midnight tonight, for 48 hours, and for all means of transport."
Belgian prime minister Alexander De Croo said he was issuing the order for 24 hours starting at midnight "out of precaution".
"There are a great many questions about this new mutation and if it is not already on the mainland," he said.
He hoped to have more clarity as of Tuesday.
The Dutch health ministry said in a statement: "An infectious mutation of the Covid-19 virus is circulating in the United Kingdom. It is said to spread more easily and faster and is more difficult to detect."
A spokesperson added that the health authority "recommends that any introduction of this virus strain from the United Kingdom be limited as much as possible by limiting and/or controlling passenger movements".
The government said other forms of transport into the country are also under review.
Read more: New Covid strain 'could increase R rate by up to 0.93'
Watch: Hancock says 'November lockdown didn't work,' can't say when Tier 4 will end
As of midnight tonight (Berlin time), all flights from the UK to Germany are prohibited due to the coronavirus mutation. Click below for more information. https://t.co/IjTBugPww9

— German Embassy London (@GermanEmbassy) December 20, 2020
It comes as London and the South East are plunged into Tier 4 restrictions to curb the rampant spread of the virus, effectively cancelling Christmas for millions.
The restrictions are more similar to the initial lockdown seen in the Spring, and bring in ban on household mixing.
Those in Tier 4 are also banned from mixing households over Christmas.
Read more: London and SE enter Tier 4 and told to stay home over Christmas
Explained: What is Tier 4 and which areas are going into toughest measures?
Evidence has so far shown that over 60% of new infections in London alone are the new strain.
The government's chief scientific adviser, Sir Patrick Vallance, warned that the new variant was becoming the dominant strain following a rapid rise in cases in recent days.
It is so far thought to be 70% more transmissible that the original strain.
Although the new variant is spreading faster, and therefore harder to control, there is currently no suggestion that it is more deadly or causes more sever symptoms.
There have also already been various mutations of Covid-19 that have enter communities with no real consequence.
However, Prime Minister Boris Johnson said that early analysis showed the new strain could increase the reproductive rate by 0.4.
Sir Patrick confirmed this, saying the variant had a "significant substantial increase in transmissibility".
New strains are not always necessarily a bad thing and it could even be less virulent, but if it spreads quicker and has the same severity then more people will become ill in a shorter period of time.
Explained: New coronavirus variant - What is the new strain and are there different symptoms?
Listen & subscribe: Global Player | Apple Podcasts | Google Podcasts | Spotify