Three arrested and cordons still in place after Liverpool hospital explosion
14 November 2021, 14:13 | Updated: 15 November 2021, 10:54
Police cordons remain in place as investigations continue into a car explosion outside a hospital in Liverpool.
As well as a large police presence at Liverpool Women's Hospital, police confirmed a cordon was also in place on a street a 20-minute drive away, with some residents evacuated.
"A large cordon is in place on Rutland Avenue in Liverpool and a small number of addresses have been evacuated as a precaution," said a spokesperson from Greater Manchester Police, which is providing updates from Counter Terrorism Police North West.
"This is part of our ongoing enquiries into the car explosion outside the city's Women's hospital on Sunday morning."
Overnight, a fire crew was on standby outside the row of terraced homes, as well as six marked police vans and four cars.
Earlier on Sunday officers wearing vests marked 'Negotiator' entered the cordon, and overnight armed officers appeared to intermittently enter and exit the property.
At the hospital, police were stopping cars for checks as they entered the car park and a heavy police presence could be seen at the entrance to the building.
Read more: CCTV footage shows Remembrance Sunday blast outside Liverpool hospital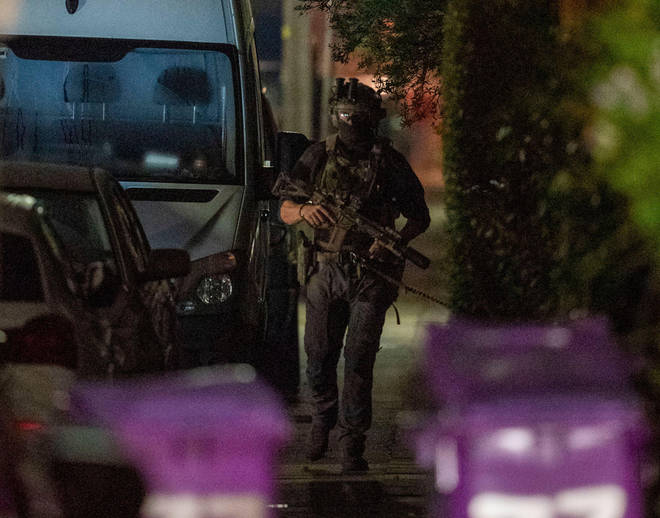 Counter-terror police arrested three men after a taxi explosion killed one man and injured another outside a hospital in Liverpool.
Emergency services rushed to Liverpool Women's Hospital on Sunday after a number of loud bangs were reported and a car was pictured on fire.
Footage on social media shows smoke billowing outside a building and a series of bangs.
In a statement, Merseyside Police confirmed one person had died and another suffered injuries, which are not thought to be life-threatening.
The passenger of the car - a man - was declared dead at the scene and is yet to be formally identified.
The driver - also a man - was injured at the scene and remains in hospital in a stable condition.
Counter Terrorism Police for the North West have since arrested three men - aged 29, 26, and 21 - in the Kensington area of the city.
They were detained under the Terrorism Act in connection with the incident.
Liverpool Women's Hospital said visiting access had been restricted "until further notice" and patients had been diverted to other hospitals "where possible".
In a statement, the hospital said: "We are reviewing our patient activity for the next 24-48 hours and patients should wait to be contacted for updates about any planned appointments or other attendance at the hospital.
"Our staff are being permitted to leave and enter the hospital under the supervision of Merseyside Police.
"We would like to say thank you for the co-operation and support of our patients, visitors and staff who have been impacted by this incident, in particular those members of staff who were at the scene at the time of the incident."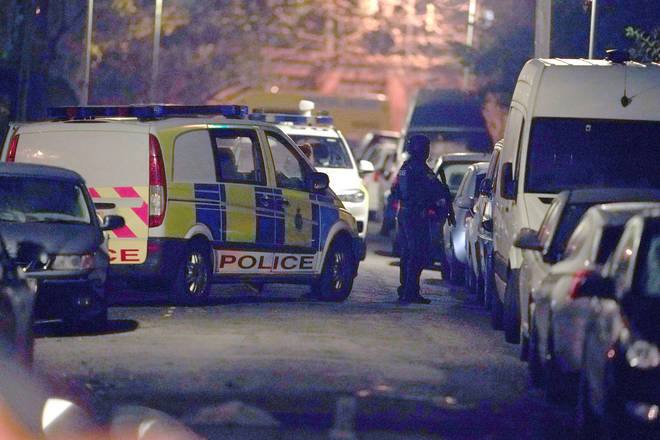 A spokesman for Merseyside Police said earlier: "We can confirm that at 10.59am today (Sunday, 14 November) police were called to reports of a car explosion at the Women's Hospital in Liverpool city centre.
"Police immediately attended, along with Merseyside Fire and Rescue Service and the North West Regional Ambulance Service.
"Unfortunately, we can confirm that one person has died and another has been taken to hospital where he is being treated for his injuries, which thankfully are not life-threatening."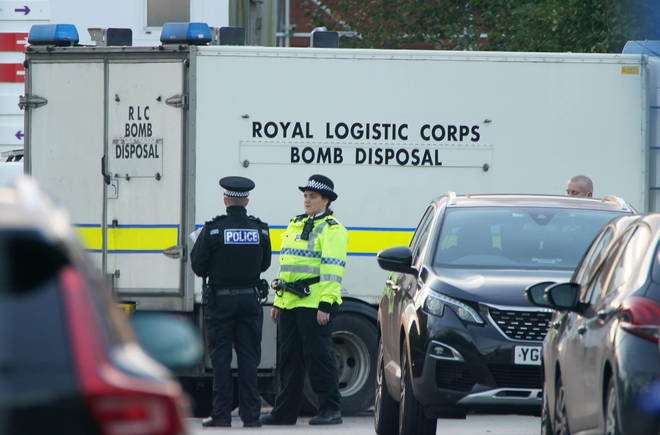 The car involved was a taxi which pulled up at the hospital shortly before the explosion occurred - just moments before the two minute silence was observed for Remembrance Sunday.
Police said work is still going on to establish what has happened, and it could take some time before they are in a position to confirm anything.
"We are keeping an open mind as to what caused the explosion but given how it has happened, out of caution, Counter Terrorism Police are leading the investigation supported by Merseyside Police," the spokesman continued.
"The emergency services have well-rehearsed plans for dealing with major incidents. Our response is ongoing at the hospital and will be for some time. Cordons are in place, and there are some road closures.
Home Secretary Priti Patel said she is being regularly updated on the "awful incident" at the hospital.
"Our police and emergency services are working hard to establish what happened and it is right they are given the time and space to do so," she tweeted.
The three arrests took place around Boaler Street in the Kensington area of the city.
A number of locals said armed officers swooped on a terraced house in Sutcliffe Street, off Boaler Street, in the afternoon and arrested one suspect.
Sections of Boaler Street and Sutcliffe Street remained cordoned off, with a heavy police presence at the scene as inquiries continue.
A similar police scene was in place at Rutland Avenue in Sefton Park, with counter-terror officers sighted in the neighbourhood.
I am being kept regularly updated on the awful incident at Liverpool Women's Hospital.

Our police and emergency services are working hard to establish what happened and it is right they are given the time and space to do so.

Please follow @MerseyPolice for updates.

— Priti Patel (@pritipatel) November 14, 2021
The Chief Constable of Merseyside Police, Serena Kennedy, later offered her reassurance over the incident.
She said: "While I understand that today's incident may cause concern in our communities, it should be pointed out that events of this nature are very rare.
"Merseyside Police will continue to liaise with community groups, community leaders, partner agencies and individuals in the coming days and weeks to make sure any concerns are addressed and ensuring that we provide the best possible service to local people.
"There will also be an increased and visible police presence on the streets of Merseyside and I would encourage people to engage with my officers and raise any concerns they may have."
During his LBC call-in, Labour leader Sir Keir Starmer praised the "first-class" response from emergency services.
"It's an emerging picture but it looks really concerning," he said.
"I'm sure communities in Liverpool will wake up and be very worried this morning, particularly those in and around the hospital area. It looks as though the response has been first-class, as you would expect.
"A little bit more detail is needed as to what may have happened but let's let the investigation run its course.
"It is serious. The arrests have been under the counter-terrorism provisions so that tells you where the investigation may be heading."
Speaking at a medical centre in east London, Prime Minister Boris Johnson commended the efforts of the taxi driver involved in the Liverpool explosion.
He said: "This is an ongoing investigation so I can't comment on the details or exactly what type of incident it was, what type of crime it may have been.
"But it does look as though the taxi driver in question did behave with incredible presence of mind and bravery.
"But I've got to say this is something that is an ongoing investigation. I think it would be premature to say much more than that."
He previously said: "My thoughts are with all those affected by the awful incident in Liverpool today.
"I want to thank the emergency services for their quick response and professionalism, and the police for their ongoing work on the investigation."