Nicola Sturgeon laughs off online rumours she is 'secret lesbian who had relationship with French diplomat'
2 April 2023, 12:38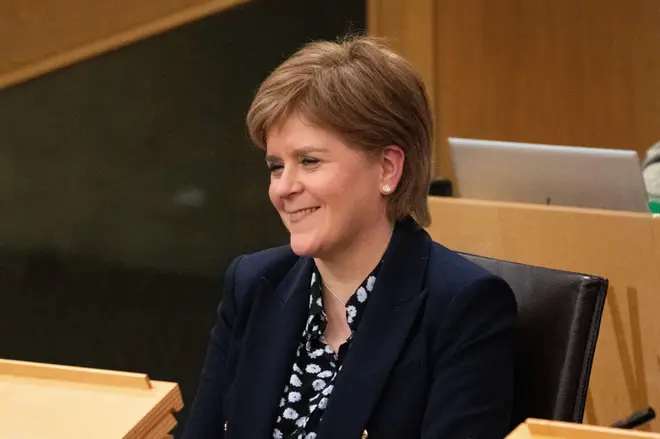 Nicola Sturgeon has laughed off internet rumours that she is a "secret lesbian" but admitted online claims could formed part of her decision to quit as first minister.
The ex-SNP leader shot down wild online claims that she secretly had an affair with a French diplomat, saying she had actually laughed about it with her.
Odd rumours on the internet claimed they had bought a house in Bridge of Allan, Stirling, that previously belonged to Andy Murray's mother Judy to use as a love nest.
But speaking to a BBC podcast, she said: "I read accounts of my life on social media and I think, 'you know, it is so much more glamorous sounding and so much more exciting'. You know, I've got houses everywhere, if you believe social media."
Read more: 'I'm the luckiest man in the world': Humza Yousaf to take over from Nicola Sturgeon after winning SNP battle
Asked which French diplomat she was meant to be having an affair with, according to the wild speculation, she replied: "I'll tell you off camera which one it is supposed to be, but whichever one it is we've actually had a laugh about it."
But despite her shrugging off the rumours, she admitted gossip about her private life "maybe" played a role in her sensational and unexpected decision to quit.
She explained: "I'm not naive, I'm not of the view that I will step down one day and be completely anonymous the next day, I understand the realities of what I have done and I'll still be in parliament, but I want to have a bit more privacy.
"I want to have a bit more anonymity and I just want to protect some of what people take for granted in their lives that I've forgotten to have."
Her departure triggered a fraught election process within the SNP for its new leader, which led to Humza Yousaf being elected.
Mr Yousaf served in ministerial roles for Ms Sturgeon and was widely regarded as a continuity candidate.
Kate Forbes, his leadership rival who made news over her religious views, has refused to serve in his cabinet.