First British nationals leave Gaza as Rafah crossing opens for first time since October 7 attacks
1 November 2023, 17:25 | Updated: 2 November 2023, 07:35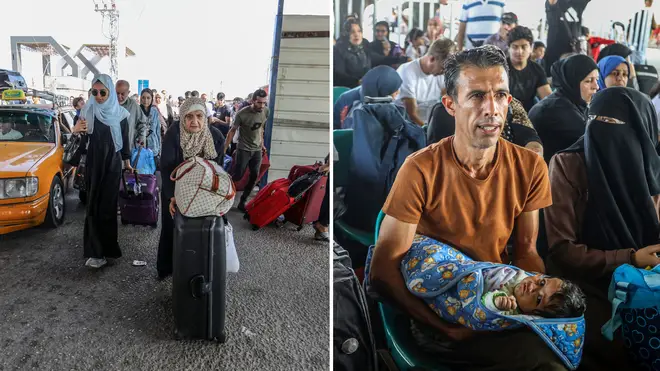 At least 400 foreign nationals used the Rafah crossing to leave Gaza today, including British nationals, the first time it has been used since Hamas' attacks on Israel on October 7.
The border crossing opened this morning, allowed critically injured civilians and foreign nationals into Egypt.
Six buses crossed the border carrying foreign nationals, according to a Palestinian official in Gaza.
A spokesperson for the Foreign, Commonwealth and Development Office (FCDO) said: "We will continue working with partners to ensure the crossing is opened again, allowing vital aid into Gaza and more British nationals to leave safely.
"We are regularly updating all British nationals registered us.
"The crossing will be open for controlled and time-limited periods to allow specific groups of foreign nationals and the seriously wounded to leave.
"We have agreed a list of British nationals that want to leave Gaza with Egyptian and Israeli authorities. We will be informed in advance when those on the list can use the crossing to ensure we can provide assistance."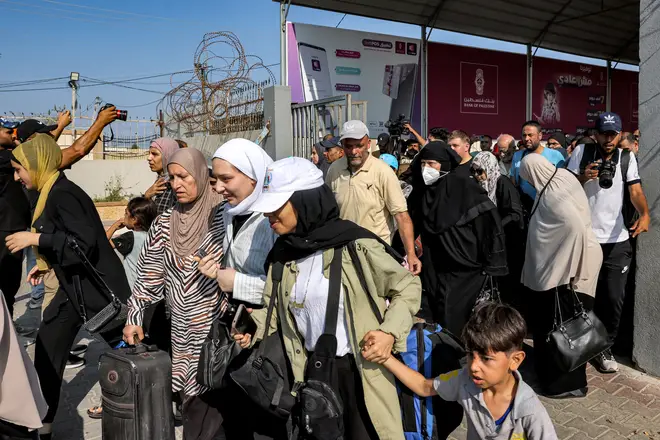 Western countries have been calling for the border crossing into Egypt, which is the only route out of Gaza not controlled by Israel, to open for weeks to allow foreigners to leave the region. 
The crossing has been closed since October 7 but has been opened briefly to allow some aid into the region.
Read More: Israel's military confirms senior Hamas commander killed in deadly air strike on Gaza refugee camp
Read More: More mice released in McDonald's: Second restaurant targeted after Palestine activist slams chain's 'Israel support'
James Cleverly said previously that today's move would allow the "first group of foreign nationals" to leave. 
"UK teams are ready to assist British nationals as soon as they are able to leave," he posted online.
"It's vital that lifesaving humanitarian aid can enter Gaza as quickly as possible."
It is understood that around 500 people with foreign passports and some badly injured Palestinians will be allowed to leave.
In one of the latest attacks, dozens of Palestinians were killed and over 150 wounded in Israeli strikes on the Jabaliya refugee camp in northern Gaza.
Lieutenant Colonel Peter Lerner told Nick Ferrari at Breakfast that Israeli ground operations are "expanding day by day", and that "the paradigm on the ground needs to change once and for all, for the good of all decent people in this region, for Israelis and Palestinians alike".
"Hamas can never, ever be allowed to have the power of government, the powers that come with government in the Gaza Strip to utilise those powers to conduct such atrocities against Israel", he added.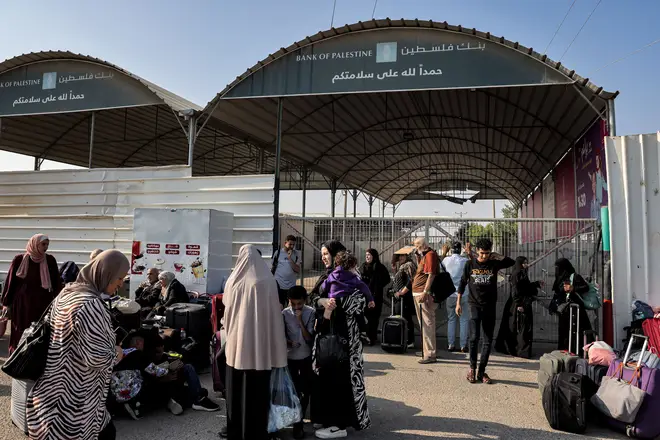 The Israel Defence Forces admitted carrying out the strikes - saying it targeted Hamas infrastructure.
The Hamas-run health ministry in Gaza has accused Israel of being behind the blast, which it says killed at least 50 people.
Pictures from the scene show a huge crater in the ground, caused by an explosion, and several collapsed buildings.
The blast took place at the Jabalia refugee camp in northern Gaza, an area where Gazans were told to move to ahead of Israel's ground offensive.
An IDF spokesperson said: "A short while ago, IDF fighter jets, acting on ISA intelligence, killed Ibrahim Biari, the Commander of Hamas' Central Jabaliya Battalion.
"Biari was one of the leaders responsible for sending "Nukbha" terrorist operatives to Israel to carry out the murderous terror attack on October 7th."
"Numerous Hamas terrorists were hit in the strike", they added.
DF spokesperson Rear Admiral Daniel Hagari added: "During this operation many terrorists were killed. Terrorists who were with him inside the building as well as under the building in tunnels.
"The targeting of the building he was in led to destruction in other buildings because of this extensive underground infrastructure.
"The purpose of that infrastructure was to carry out attacks against Israel and that infrastructure has collapsed."
It did not confirm how many civilians were killed.