Gaza's biggest hospital is 'nearly a cemetery', says WHO, as hundreds are buried in mass grave amid relentless strikes
14 November 2023, 16:11 | Updated: 14 November 2023, 16:20
Gaza's biggest hospital is "becoming a cemetery", the World Health Organisation has warned - as bodies pile up, leaving officials to dig a mass grave for the victims.
Fighting continues to rage around the Al-Shifa Hospital, Gaza City's largest medical facility, preventing bodies from being removed amid the relentless strikes.
Israel has accused Hamas of running a military base beneath the hospital. Both Hamas and the hospital deny the claims.
WHO spokesperson Christian Lindmeier said some 600 people were inside the building, with many forced to shelter in hallways.
"Around the hospital there are dead bodies which cannot be taken care of or not even be buried or taken away to any sort of morgue," WHO spokesperson Christian Lindmeier said.
He said there were 2,0000 people inside the hospital, including 600 patients.
"The hospital is not working at all any more as it should. It's nearly a cemetery," he added.
The IDF has contended that the hospital is not under "siege". A spokesperson said the east side of the hospital remained open and those inside could leave safely. Hospital administrator Dr Mohammad Abu Salmiyah contested the IDF's claim.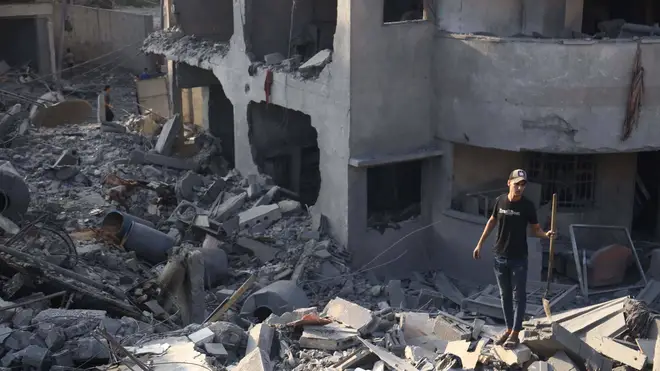 Read More: Palestinians call for evacuation of hundreds of patients from Gaza hospital
Read More: Thousands flee Gaza's main hospital but hundreds still trapped by fighting
Earlier today the hospital's director said 179 people, including babies, had been buried in a mass grave within the facility's grounds.
"There are bodies littered in the hospital complex and there is no longer electricity at the morgues," he told multiple news agencies.
"We were forced to bury them in a mass grave."
He said that many of the patients died after vital hospital equipment failed after the hospital lost power due to a lack of fuel to run generators.
It comes after doctors at the Al-Shifa hospital on Monday refused a mandatory evacuation order issued by the Israeli Defence Forces (IDF).
Joe Biden said the Al-Shifa hospital "must be protected" as fighting continued to rage around the facility.
Dr Salmiyah called the conditions inside the hospital as "catastrophic" amid the lack of power.
He said 36 premature babies were being rapped in foil due to lack of hot water to keep them alive due to the lack of power for incubators.
WHO spokesperson Christian Lindmeier said the only way to save the newborn babies was to call a cease-fire and transport them away form the war-torn region.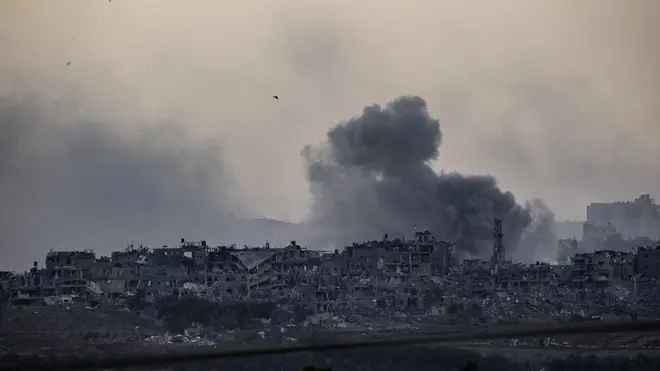 Only one hospital in the territory's north is still capable of receiving patients, and about 200,000 Palestinians have streamed out of the area towards worsening conditions in the south in recent days, the UN humanitarian office said on Tuesday.
The war, now in its sixth week, was triggered by Hamas's surprise attack in Israel, in which militants killed hundreds of civilians and dragged some 240 hostages back to Gaza.
The conflict has killed thousands of Palestinian civilians and wreaked widespread destruction on the impoverished enclave.
Hamas released a video late Monday showing one of the hostages, who identifies herself as 19-year-old Noa Marciano, before and after she was killed in what Hamas said was an Israeli strike. The military later declared her a fallen soldier, without identifying a cause of death.
She is the first hostage confirmed to have died in captivity. Four were released by Hamas and a fifth was rescued by Israeli forces
Israel accuses Hamas of using hospitals as cover for its fighters, and alleged that the militants have set up their main command centre in and beneath Shifa. Israel says these claims are based on intelligence but has not provided visual evidence to support them.
Both Hamas and Shifa Hospital staff deny the allegations, and the Health Ministry in Hamas-ruled Gaza says it has invited international organisations to investigate the facility.