Ukrainian sniper claims new world record for executing the longest combat kill in history
20 November 2023, 14:50 | Updated: 20 November 2023, 15:08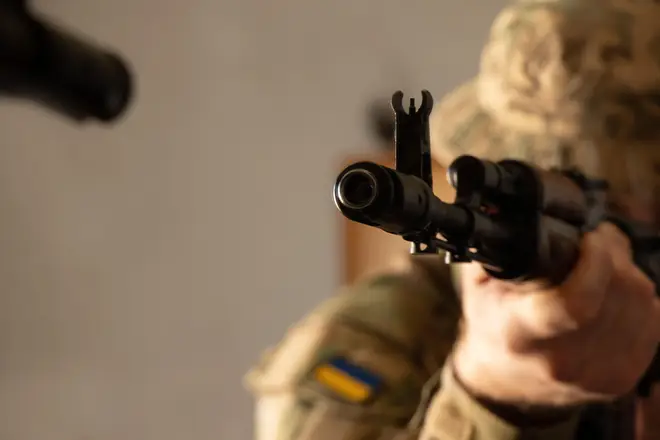 A Ukrainian sniper has claimed the world record for the longest sniper kill after reportedly gunning down a Russian soldier over two miles away.
The unknown Ukrainian gunned down his Russian counterpart from 2.36 miles away using an elite custom weapon dubbed 'Lord of the Horizon'.
The soldier, who serves in the Security Service of Ukraine (SBU), purportedly claims the world record from a Canadian Tier 1 special forces sniper who fired from 2.2 miles away during the Iraq Civil War in 2007.
Footage circulated on Telegram claims to show the Russian target being gunned to the ground seconds after the Ukrainian pulled the sniper trigger.
Three figures, claimed to be Russian soldiers, can be seen in the far distance before the man on the right is shot to the ground.
Responding to the world record claim, the SBU said: '[Our] snipers are rewriting the rules of global sniping, showcasing unparalleled abilities to operate effectively at remarkable distances.'
Ukraine's forces provided no further details of the killing - not disclosing the location or the date of the shot.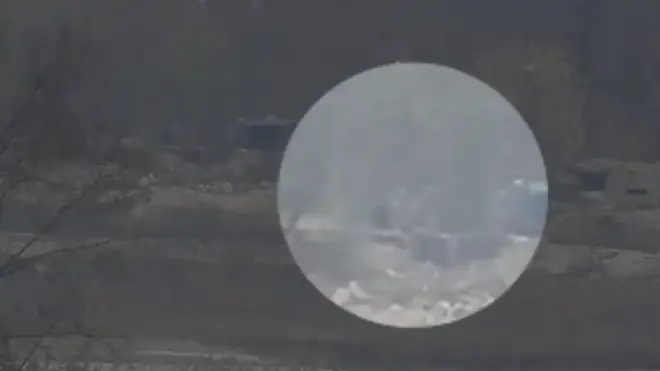 Read More: US defence secretary meets Zelensky to show ongoing support for Ukraine
Read More: Cameron pledges to support Ukraine for 'however long it takes' on his first overseas trip as Foreign Secretary
The custom Volodar Obriyu rifle - or 'Lord of the Horizon' - was developed and manufactured by Ukrainian arms firm MAYAK.
The gun is a staggering 6ft in length and is capable of firing bullets faster than the speed of sound, the Firearms Blog reports.
In November last year, another Ukrainian sniper claimed to have fired the second furthest kill in combat history.
The soldier - whose name was not again not disclosed - gunned down a Russian soldier from 1.7 miles away, Ukraine claimed at the time.
It published the footage released last year purportedly showing the killing down the sniper's scope.
Confirming military kills is difficult as it largely relies on self-reporting by soldiers. The necessary information cannot always be gathered from behind enemy lines amid conflicts.
In this instance, where kills are several miles away, it is almost impossible to verify deaths, other than viewing through scopes.
This means that over-reporting is common, and death totals are unreliable.