The government has been 'tribal' and treated union leaders as the 'enemy', says ASCL General Secretary
14 July 2023, 10:51
ASCL General Secretary joins Nick Ferrari to discuss the latest public sector pay offers
As teachers postponed planned strikes following the government's offer of a 6.5% pay rise, the General Secretary of the Association of School and College Leaders shares his views with Nick Ferrari.
Teachers are set to end months of strikes after the Prime Minister announced pay rises of up to 7 per cent for millions of public sector workers.
A 6.5% rise was offered to teachers, with junior doctors receiving a 6% rise, plus an additional £1,250.
General Secretary of the Association of School and College Leaders Geoff Barton joined Nick Ferrari at Breakfast to unpack the promised increase.
Nick began by questioning Mr Barton as to whether industrial action by teachers will "be shelved", to which he replied, "We're not quite at that stage".
The ASCL leader stated: "I think at last there is a sense of common sense prevailing because it seems to me government can't have it both ways.
"They can't say, 'let's put evidence to the independent pay review body and then let's ignore what that body is saying'.
"That body is saying 6.5% is enough to start to make amends, we've accepted that, in fact, all the teacher unions have accepted that".
Praising Gillian Keegan for being the first Education Secretary to unite the teacher unions, Mr Barton continued saying: "Is 6.5% and the other things that go with it, additional funding for the people I represent, school leaders sufficient and some promises around workload, is that enough?"
Read More: Rishi Sunak agrees to give millions of public sector workers pay rise - but how much has everyone been offered?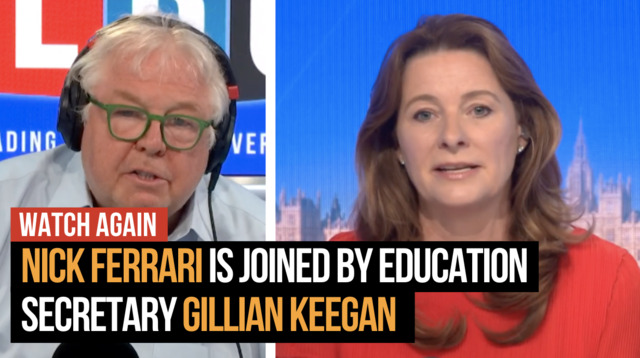 Watch Again: Education Secretary Gillian Keegan joins Nick Ferrari | 14/07/23
The Education Secretary joined Nick Ferrari later this morning, where she accepted the praise noting: "It's been a really difficult time, but I'm delighted they've recommended for the teachers to accept this".
Hypothesising as to what action teachers will take next, Mr Barton added: "My guess is that people will say, let's get rid of the threat of industrial action, let's focus on teaching young people.
"But they'll also say, you know, last year the number of teachers who left the profession, was 44,000, and the government missed its targets for recruitment by 50%, so this is probably not the long-term solution if we want good graduates to choose teaching."
The ASCL leader told Nick the deal was "the best we could get in the circumstances and it's taken a heck of a long time to get here".
Read more: Public sector pay rises give Sunak hope but questions remain on how he can cover the bill, writes Andrew Marr
Nick questioned Mr Barton, stating "What you'd want to move to now?"
The ASCL leader replied: "We don't want to see money taken out of special needs funding, which is absolutely essential for vulnerable young people, it must be taken out of further education, etc.
"So I don't know where the money is coming from and we will want some reassurances around that".
Noting a report from the National Foundation for Education Research which said that 6.5% will not be enough to recruit graduates in the future, Mr Barton said: "We have to do something around that."
He added: "It would be nice to get into some constructive talks, instead of a government that has been tribal on the scene, and has seen us, people like me, union leaders, as the enemy rather than part of the solution."
Concluding by commenting on other public sector union leaders, Mr Barton said: "I wouldn't be so pompous as to comment on what it might be like if you were a consultant or a junior doctor or whatever, but I would say that trade unionism is a very proud tradition, and those people are fighting on behalf of the public to get the very best people to come into those professions."